Netanyahu: Trump Is Changing the World by Supporting Israel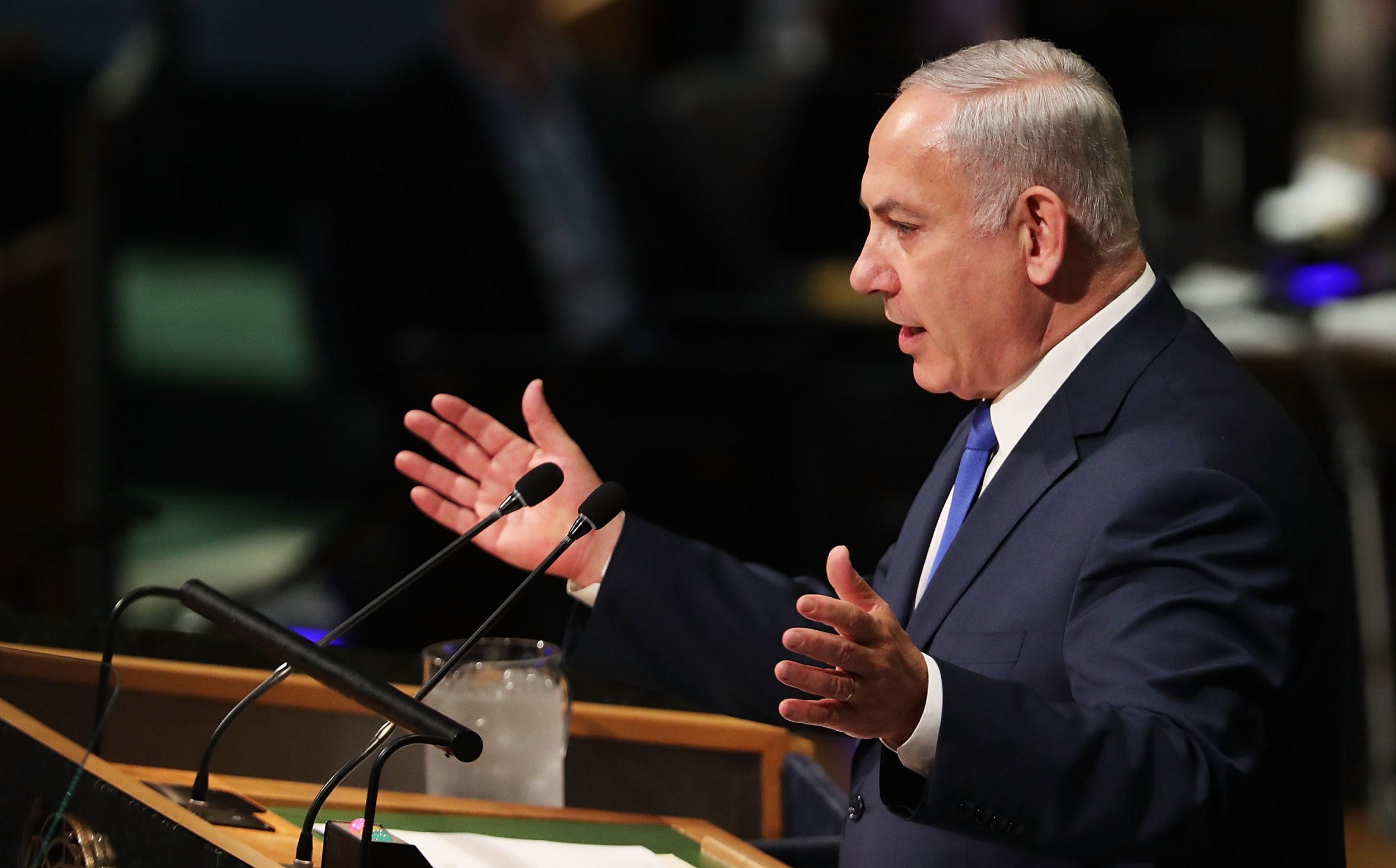 Israeli Prime Minister Benjamin Netanyahu took an opportunity at his U.N. General Assembly speech Tuesday to praise President Donald Trump, who he said was improving Israel's reputation abroad.
Netanyahu joined his U.S. ally, President Donald Trump, in disparaging the Joint Comprehensive Plan of Action (JCPOA), signed by President Barack Obama, along with the leaders of Iran, China, France, Germany, Russia and the U.K in July 2015. The landmark agreement lifted sanctions against Tehran in exchange for Iran severely restricting its nuclear production capacity, but Netanyahu and Trump have accused Obama of being too soft on their mutual foe and. After facing a cold shoulder from Obama last year, Netanyahu embraced Trump's tough talk Tuesday, which he said proved a crucial defense for Israel.
Related: Iran threatens to destroy Israel's Tel Aviv, but Gulf Arab states appear closer to former foe
"After 70 years, the world embraces Israel and Israel embraces the world," Netanyahu said. "Slowly but surely, there are signs of positive change—even in the U.N.," which he called "the epicenter of global anti-Semitism."
"There's also a marked change in the positions of some of our key friends," he added. "Thanks to President Trump's unequivocal support for Israel in this body, that positive change is gathering force."
Netanyahu echoed his previous criticisms of the JCPOA, saying it actually paved the way for Iran obtaining a nuclear bomb by taking advantage of so-called sunset clauses that roll away restrictions against Iran's nuclear production over time. He warned of an "Iranian curtain descending across the Middle East," creating a "vast Iranian Islamist empire" that could one day wield nuclear weapons as a result of the deal.
"From the Caspian Sea to the Mediterranean, from Tehran to Tartus, an Iranian curtain is descending across the Middle East. Iran spreads this curtain of tyranny and terror over Iraq, Syria, Lebanon and elsewhere, and it pledges to extinguish the light of Israel," Netanyahu said.
"The light of Israel will never be extinguished," he added, addressing Iran's Ayatollah Ali Khamenei directly. "Those that threaten us with annihilation put themselves at peril."
While Iran and Israel have never engaged in a direct conflict, Israel has clashed with Iran-sponsored organizations, such as the powerful Lebanese Shiite Muslim militia and political party Hezbollah. Hezbollah, which fought two all-out wars in Israel in 1985 and in 2006, has become a central player in neighboring Syria, where it supports Syrian President Bashar al-Assad. Assad's recent nationwide victories against rebels and jihadis attempting to overthrow him since 2011 have resulted in an increased Iranian and Hezbollah presence in Syria, something Israel fears could compromise its national security.
In response, Israel has become increasingly involved in the Syrian conflict, despite publicly remaining neutral, and has launched airstrikes on suspected Iranian, Syrian and Hezbollah positions. Israel shot down a suspected Hezbollah drone Tuesday as brewing tensions between the two foes raise concerns about a new war. Netanyahu said Tuesday it would not allow Iranian permanent bases in Syria.
Iran has also been a primary supporter of Hamas, a Palestinian Sunni Islamist militant group and political party in charge of the Gaza Strip. Like Hezbollah, Hamas has been deeply critical of Israel's treatment of the Palestinian community and has fought with Israel on multiple occasions, most notably during two major uprisings known as intifadas launched in 1987 and 2000.
Israel has had a controversial relationship with the U.N., with the U.S. using its veto power as a permanent member of the Security Council to block a number of resolutions critical of Israel. A row erupted between Netanyahu and Obama last year when the U.S. abstained rather than veto a resolution condemning Israel's occupation of Palestinian territories. Netanyahu took an opportunity Tuesday to criticize a July report by the U.N.'s cultural organization, UNESCO, which declared a site known to Jews as the Cave of the Patriarchs and to Muslims as the Ibrahimi Mosque to be a Palestinian World Heritage Site.
In 2012, Netanyahu brought with him to the U.N. podium a cartoon sketch of a bomb intended to detail Iran's path to building weapons. The Obama administration later mocked the Israeli leader by displaying its framework for the JCPOA using Netanyahu's drawing as the background.