Iran's New Nuclear 'Understanding' with World Atomic Agency Explained
A last-minute arrangement between the International Atomic Energy Agency and the Islamic Republic of Iran has so far ensured the survival of an embattled 2015 nuclear deal among major world powers while allowing Tehran to terminate certain transparency commitments known as the Additional Protocol.
While the details of the new compromise remain murky, Laura Rockwood, director of the One Earth Future think tank's Open Nuclear Network program and the principal author of the document that served as the basis of the IAEA's Model Additional Protocol, explained on Monday how this could move could potentially save the accord by giving a temporary off-ramp to rising tensions surrounding the deal.
"What we have is a technical understanding that provides some breathing space for the political actors to find a political solution," Rockwood told a press call hosted Monday by the European Leadership Network and attended by Newsweek.
She quoted IAEA Director-General Rafael Grossi, who called the outcome a "good, reasonable result" following his return to Vienna from Tehran on Sunday.
Rockwood broke down the new dynamic into three points:
"That Iran will continue to implement its Comprehensive Safeguards Agreement without any limitations, that they reached a temporary bilateral technical understanding—and every one of those words carefully negotiated—whereby the Agency will continue its necessary verification and monitoring activities up to three months as per a technical annex that has yet to be released," she said, "And then finally, that the parties will keep this understanding under constant review and that it could be suspended or extended."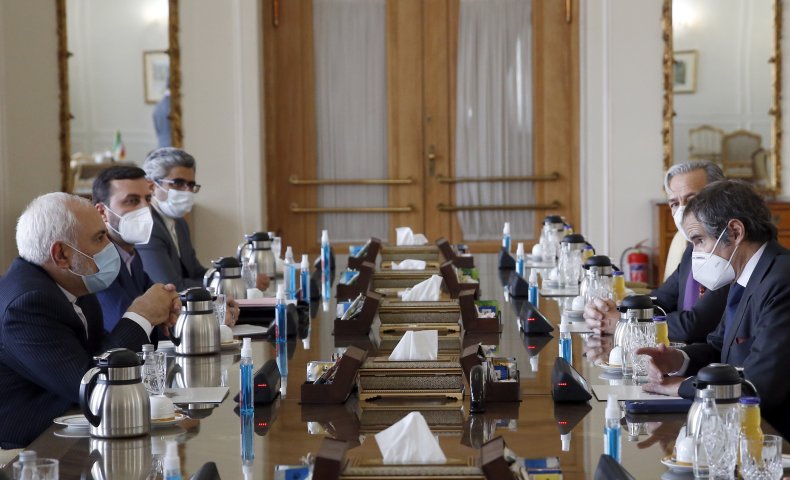 As to how this actually translates into real-world action is "kind of hard to say with the limited details that were provided by Iran and the IAEA," Rockwood said. Still, she weighed what appears to have emerged from the latest, crisis-averting round of diplomacy surrounding the agreement known officially as the Joint Comprehensive Plan of Action (JCPOA).
Rockwood said a total cutback to the core Comprehensive Safeguards Agreement would mean cutting off vital JCPOA measures such as uranium enrichment quantity and level caps, centrifuge and centrifuge rotor tube monitoring, access to the Natanz nuclear facility, monitoring of efforts to build or obtain uranium ore concentrate, the use of modern monitoring methods, the heavy water production cap and Iran's commitments not to produce or acquire separated plutonium or high enriched uranium and not to produce plutonium or uranium metals.
Iran still must submit the design information for any new nuclear facilities or modifications of existing facilities to the IAEA as part of obligations under the Comprehensive Safety Agreement found in the Modified Code 3.1.
The total loss of the Additional Protocol would also mean sizable setbacks for the IAEA, however. This includes curbing access to news and information about Iran's nuclear fuel cycle-related research, non-nuclear development activities, sites involved in activities such as the development of centrifuge rotor tubes, uranium mines and concentration plants, Rockwood said, adding that certain other privileges such as short notice complimentary access would also be lost.
While Iran has moved forward with its plans to suspend the Additional Protocol, the actual result of IAEA-Iran negotiations appears to fall short of a total reset.
"What the director-general seemed to say yesterday was that there would be no reduction in the number of designated inspectors or their presence in Iran," Rockwood said, "and that it did sound like in the press conference that it included what the reporter referred to as 'snap inspections.'"
She said, "it was important that he underscored that this arrangement—this understanding—shouldn't be seen as an alternative to the implementation of an Additional Protocol."
The distinction is especially key for Iran's domestic political landscape, where the tides of diplomacy with the West have turned since former President Donald Trump's unilateral exit from the JCPOA in May 2018. The United States has since implemented increasingly tough sanctions that have strangled the Iranian economy and negated much of the benefits for which the country entered the agreement in the first place.
Iran's envoy to the IAEA, Kazem Gharibabadi, said Sunday that the U.S. had until the end of the three-month period set up by the new understanding reached in Tehran to lift sanctions. Otherwise Iranian officials would destroy footage of nuclear facilities that is supposed to be shared with inspectors under the Additional Protocol but will be withheld as a result of the new arrangement.
The IAEA-Iran settlement comes just in time. Sunday would mark the deadline imposed by Iranian lawmakers for Iran suspending the Additional Protocol in response to ongoing U.S. sanctions that have not been lifted despite President Joe Biden assuming office last month.
But some legislators felt Iranian President Hassan Rouhani went too far in securing the new arrangement with the IAEA.
A 23-strong team from Iran's Islamic Consultative Assembly issued statements criticizing the Rouhani administration's dealings with the Vienna-based monitor, viewing it as a violation of the Strategic Action Plan passed late last year in response to ongoing JCPOA disputes.
Gharibabadi and Iranian Foreign Minister Mohammad Javad Zarif have defended the IAEA understanding as legal.
"This is not a deadline for the world. This is not an ultimatum," Zarif told Iran's Press TV outlet in an interview aired Sunday as consultations were happening between IAEA and Iranian officials. "This is an internal domestic issue between the parliament and the government."
The Iranian top diplomat said it was a matter of Iranian law despite how the administration felt.
"We have a democracy," Zarif said. "We are supposed to implement the laws of the country, and the parliament adopted legislation—whether we like it or not."
Supreme Leader Ayatollah Ali Khamenei, Iran's top authority, also asserted that his country would proceed by Iranian law and unconstrained by certain external limitations until the U.S. lifted sanctions and European signatories normalized trade ties.
"We are determined to develop our nuclear capabilities in line with the needs of the country," Khamenei said Monday during the eighth session of the fifth term of the Assembly of Experts. "For this reason, Iran's enrichment will not be limited to 20%, and we will take whatever action is necessary for the country. For example, for developing nuclear propulsion and other activities, we may even increase enrichment to 60%."
The JPCOA caps enrichment at just 3.67 percent.
But Khamenei has sworn his country did not wish to develop a nuclear weapon, and has issued a religious ruling against such the pursuit of such capabilities.
"The issue of building a nuclear weapon is merely an excuse," Khamenei said. "They are even opposed to us having normal weapons because they wish to remove all elements of power from Iran."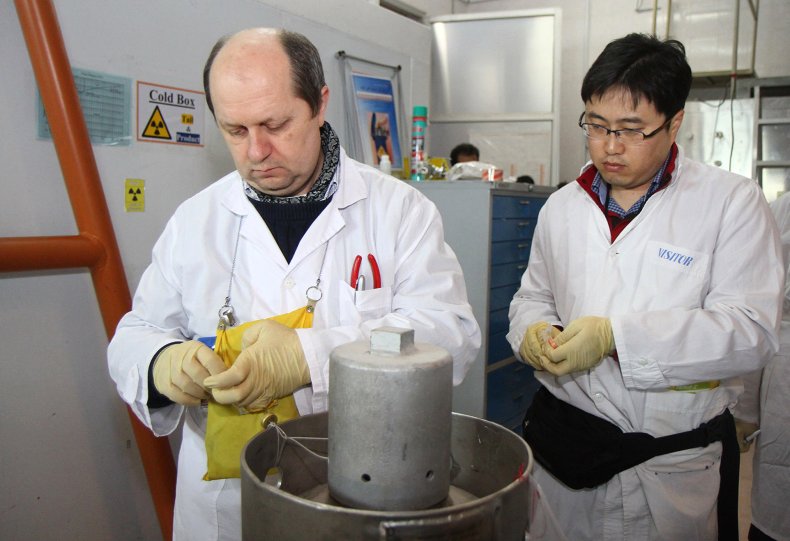 While Biden—who served as vice president to former President Barack Obama when the JCPOA was reached—has said he wished to salvage the agreement, his administration has pushed for an even more comprehensive, lengthier agreement to address Iranian activities beyond the nuclear realm. U.S. officials have also so far maintained Washington would not reenter the agreement until Tehran first reinstated a number of limits suspended in response to the Trump administration's total exit.
"President Biden has been clear for some time that if Iran returns to compliance with its obligations under the nuclear agreement, the United States would do the same thing," Secretary of State Antony Blinken told BBC World News on Monday. "But then we would work with our partners both to lengthen and strengthen the agreement and to confront other issues, other challenges posed by Iran, including its destabilizing activities in the region, its ballistic missile program, that need to be addressed."
He criticized the previous administration's "maximum pressure" approach that not only severely raised tensions across the Middle East, but divided the U.S. and European allies who remain supportive of the JCPOA. At the same time, Blinken said he would maintain sanctions for now.
Still, State Department moves suggest a potential path around the impasse was being paved regardless. These include the rescinding of the widely rejected Trump-era "snapback" argument at the U.N. Security Council, the repealing of travel restrictions on Iranian diplomats in New York and indications that U.S. officials would accept an invitation to a European Union-overseen meeting of JCPOA parties, including Iran.
"I think if this does come to fruition—the talks with Iran in the P5+1 context—we will, of course, be there with our European allies," State Department spokesperson Ned Price told reporters Monday, "and we will be there to undertake the hard diplomacy, the discussions that can lead us to that point where Iran can resume full compliance and the United States would be prepared to do the same."
As for the IAEA and Iran's new agreement, he had mixed feelings.
"We fully support the IAEA director general's efforts to this end while also reiterating the call on Iran to fully meet its verification and other nuclear nonproliferation commitments," Price said.
While the road ahead for the JCPOA remains uncertain, all sides have illustrated a shared interest in returning to the table in one form or another.
Rockwood, for her part, said she saw room for an ultimate nuclear deal return if the parties involved could demonstrate the right levels of diplomacy, determination and creativity.
"I think we just need to keep talking," she said. "I think it's not going to be a simple way to proceed on this but as we see with it with a lot of commitment and a little bit of imagination these things can be managed.