The Iran Nuclear Deal Isn't Perfect. It Doesn't Need to Be. | Opinion
After 17 months of on again off again negotiations to revive the Iran nuclear agreement known as the Joint Comprehensive Plan of Action (JCPOA) and a renewed international effort led by the European Union to close remaining gaps between Washington and Tehran, the finish line appears to be in sight. Should a deal be reached, this would be an important win for President Biden who campaigned on a return to the multilateral JCPOA (also signed by France, Germany, the UK, Russian and China) after former President Donald Trump's 2018 withdrawal.
A deal would secure important nuclear nonproliferation benefits, including reviving Iran's permanent commitment stated on the first page of the deal to "ensure the exclusively peaceful nature of Iran's nuclear program." It would also reduce Iran's enrichment stockpile, remove advanced centrifuges, block alternate pathways to a nuclear weapon and reimpose a stringent monitoring and inspections regime. Above all, at a time of global tensions and the war in Ukraine, a return to the deal would stabilize a burgeoning crisis that has broader geopolitical, regional and energy security implications in the Middle East and beyond.
Originally promised by President Barack Obama to be transformational, the JCPOA should rather be seen as a solidly transactional agreement. The basis of the deal would see Iran rollback its rapidly advancing nuclear program to the terms agreed upon in 2015 in exchange for the relief of U.S. sanctions that have imposed significant constraints on the Iranian economy preventing Tehran from exporting oil and accessing the international banking system. Important to note is that prior to Trump's withdrawal, Tehran's compliance was repeatedly verified by the International Atomic Energy Agency (IAEA).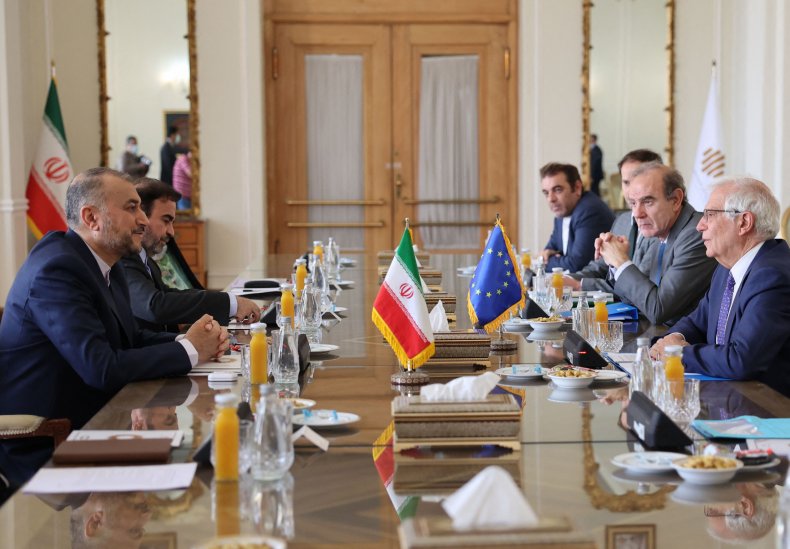 However, the ongoing negotiations have been even more complex due to profound mistrust on all sides and most particularly between Iran and the United States who, since the 1979 Iranian, revolution continue to have an adversarial relationship. Over four decades on from the revolution, Iran sees the US as trying to perpetually destabilize its post-revolutionary state. This dynamic that has been made only worse by Trump's JCPOA withdrawal and the ensuing cycles of escalation that have been seen in the Persian Gulf and around the region. A few key points of tension seen since 2019 include attacks on tankers, strikes on Saudi oil facilities, the killing of Iran's IRGC commander Qassem Suleimani followed by Iran's missile strikes on a U.S. base in Iraq, an Israeli sponsored assassination of Iran's top nuclear scientist, significant advancements in Iran's nuclear program and missile attacks on Abu Dhabi. Effectively, Trump's withdrawal did not result in the promised bigger and better deal with Iran, but rather saw significant regional instability combined with major advances in Iran's program that have reduced Iran's nuclear breakout time down to a number of weeks by some estimates.
Domestic politics in Tehran and Washington have also impeded the negotiations. Iran's hardliners, who have since President Ebrahim Raisi's June 2021 election gained a monopoly in the elected and unelected branches of government, have little trust in the Biden administration. To strengthen the deal and win over skeptical Iranian conservatives, Tehran has tried to earn significant sanctions relief to bolster its lagging economy. But even more importantly it has demanded that the deal be made as sustainable as possible to prevent a repeated U.S. withdrawal. This latter demand has been harder to address and continues to be one of the final sticking points because the Biden administration cannot make longstanding commitments beyond its own term in office.
But it is not just fears of a U.S. withdrawal from the deal should Republicans take back the White House in 2024. There are concerns among regional states in the Middle East that the deal will strengthen Iran's destabilizing regional role rather than constrain it.
In trying to resolve final differences and secure the JCPOA before the deal is no longer seen as salvageable due to its sunset clauses, the Biden administration is solely focused on the nuclear issues, hoping that the deal's stabilization could, over time, lead to broader discussions on regional stability, Iran's missile and drone program, and support for non-state actors in Lebanon, Syria, Iraq, and Lebanon. The challenge, of course, is that opposition to the deal in the U.S. Congress is heavily partisan. Iran, with its pitiful human rights record and detention of four Iranian American dual nationals, is rightly seen as a regionally destabilizing revisionist state that continues to challenge Israel. That makes it particularly hard to defend in an election year.
Despite these challenges, the status quo is equally unsustainable. If no deal is made, Iran's acceleration of its nuclear program, alongside ongoing regional violence, would certainly continue if not increase. These are tensions that would be opportunistically exploited by Russia and China. Most dangerously, other Middle Eastern states, such as Saudi Arabia, Turkey, or Egypt could also emulate Iran's nuclear model by kick-starting their own nuclear programs. It is therefore important to see the JCPOA for what it is. It cannot promise an Iranian or regional transformation, but as seen in the past, it can enforce transactional accountability over Iran's nuclear program and that is a positive outcome.
Dr. Sanam Vakil is the deputy head of the London based Chatham House's Middle East and North Africa program.
The views expressed in this article are the author's own.