Iranian Government Official Posts 'Space Suit' on Twitter That Turns Out to Be Kids Costume
After Iran's minister of information and communications technology posted an image of a "space suit" on his Twitter account, it was quickly revealed to be a children's play costume with an Iranian flag sewn on.
Polygraph.info, a fact-checking site, reported that Mohammad Javad Azari Jahromi posted the tweet with text that translates as "Space suit #brightfuture," shortly before Iran attempted to launch a satellite to celebrate the 41st anniversary of the Iran's Islamic Revolution.
Shortly afterward, Twitter users noticed the similarity of the suit in the photograph to an outfit available from several online retailers, including Amazon, Walmart and Wonder Costumes. The telltale rectangles on the front, where the costume's original patches appear to have been removed, bear out that theory.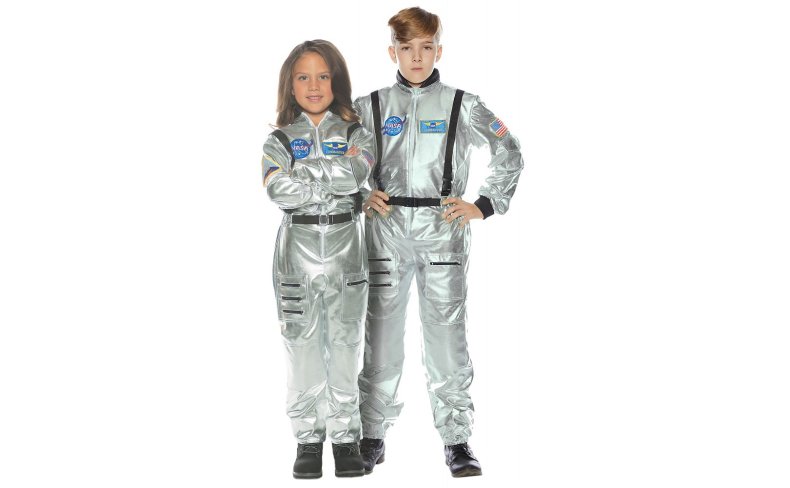 Social media users in the country quickly began mocking Jahromi and pointing out where the outfit came from, with several creating images using the costume through Photoshop.
One placed the shiny suit on the astronauts from the Apollo 11 mission, while another compared the material to glittery sneakers.
Undaunted, Jahromi met with a group of students later the same day and told them that Iran is seeking to plant a flag on the moon as part of an expanded space program.
The country's Space Agency was founded in 2004 and achieved orbital launch capability in 2009. Iran has not yet placed a human in orbit but has launched monkeys, turtles and earthworms.
The nation has embarked on a particularly aggressive propaganda campaign in recent weeks, with some theorizing it is in response to the United States' killing of Iranian general Qassem Soleimani in a Baghdad airstrike last month.
According to U.S. News & World Report, the Iranian government said that it has reverse engineered the U.S. Navy's MQ-4 Triton surveillance drone and can now deactivate it from hundreds of miles away, a claim that analysts find extremely unlikely.
Internal propaganda also pushes Iran's speculative science achievements. The Drive reported that the government erected a billboard in Tehran's Valiasr Square in January 2019 that depicted the U.S. space shuttle as an accomplishment of Iran's space program.
According to Space.com, Iran's most recent satellite launch, the Zafar 1, failed to reach orbit on Sunday because of insufficient speed. Jahromi commented on Twitter, saying, "FALCON 9, Juno II, ATLAS, PROTON M, ANTARES are just few samples of US launch failures. But We're UNSTOPPABLE! We have more Upcoming Great Iranian Satellites!"