Iranian Nationals Charged in Alleged Attempt to Purchase Oil Tanker to Help Country Evade U.S. Sanctions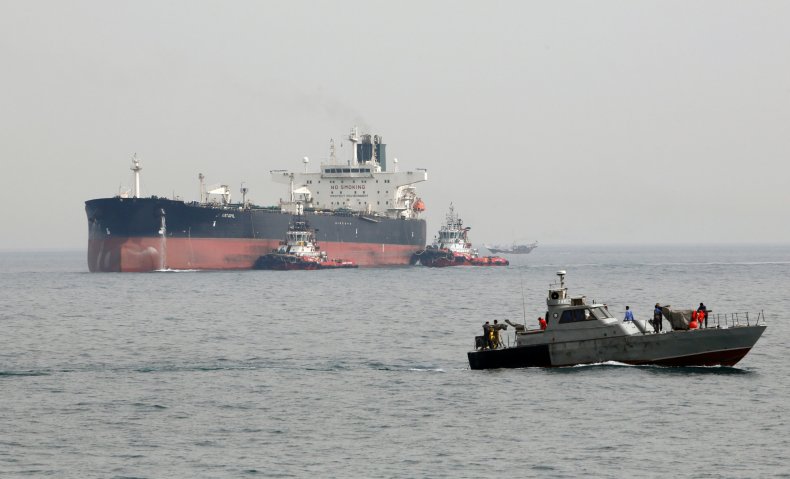 The Department of Justice named two Iranian nationals in a criminal complaint Friday against allegations of attempting to evade U.S. sanctions by purchasing an oil tanker.
Amir Dianat, 55, and Kamran Lajmiri, 42, are accused of conspiring to disguise their role in a scheme to purchase the Nautic, a petroleum carrier that was being sold by the Greek shipping company Polembros in 2019.
It is illegal to conduct transactions benefiting Iran or its government without the prior approval of the Treasury Department. Lajmiri did not respond to a message on a LinkedIn account appearing to belong to him.
Dianat could not be reached for comment. He is believed to be an associate of high-level officials in the Islamic Revolutionary Guard Corps' Quds Force, an elite, paramilitary unit responsible for Iran's clandestine overseas operations.
The Treasury Department believes Dianat has supported Quds Force smuggling operations "for several years, including efforts aimed at the shipment of weapons including missiles."
If formally charged and prosecuted, both men could face up to 20 years' imprisonment. Their whereabouts were not indicated by the Department of Justice.
"Iran's petrochemical and petroleum sectors are primary sources of funding for the Iranian regime, and the FBI will continue to aggressively pursue those who illegally use the U.S. financial system for their benefit," Rainer Drolshagen, a special agent in charge at the bureau's office in Minneapolis, said in a press release.
In 2019, as Polembros enlisted a Liberian subsidiary to facilitate the sale, Dianat and Lajmiri made overtures indicating their interest in the vessel, according to the Department of Justice. A Japanese broker whom Lajmiri retained informed him that the Iranian company employing Dianat, which had originally intended to make the purchase, could not do so.
Soon thereafter, an "Indian" company known as Taif Mining Services was established to complete the sale. But Taif has an address listed at a P.O. box in Oman, and the FBI believes it was a front owned in majority share by Dianat and an associate.
Later in June, Taif signed an agreement to purchase the ship, attesting that the buyers and their affiliates were not under U.S. sanctions. A few months later, Taif wired $2.3 million as a down payment through a U.K. brokerage firm. An additional $10 million soon followed. The funds were frozen, however, in transit at a U.S. bank for sanctions and anti-money laundering review.
The FBI said that the Liberian company never ultimately received the full payment and obtained a civil order in the United Arab Emirates allowing seizure of the Nautic. Before the ship was recovered, it managed to make a voyage to Iran to obtain a shipment of crude oil.
A related civil action was filed by the Department of Justice seeking forfeiture of the $10 million payment that had been held at the U.S. bank for compliance review, in addition to the portion of the proceeds that made it to the Liberian firm.
Sanctions such as the one prohibiting the Nautic deal have had a devastating effect on Iran. During a period of U.S. sanctions from 2011 to 2015, the country's economy contracted around 20 percent, according to an April report from the Congressional Research Service.
By 2014, Iran's crude oil sales were less than half of what they were three years prior. The report noted that by 2011, Iran had lost $60 billion worth of investment in its energy sector due to sanctions programs.
On Friday, the Treasury Department formally listed Dianat and Taif as Specially Designated Nationals, a determination that they are controlled by or work on behalf of a foreign country. This designation freezes their U.S. assets and prevents U.S. residents and corporations from conducting business with them.