U.S. Sanctions Deny Us Food and Medicine Mid-Pandemic, Iran Foreign Minister Says
Iran's foreign minister has accused the U.S of "conspiring to starve a population" during the coronavirus pandemic with its fresh round of sanctions that are expected to hit its economy hard.
The comments by Mohammad Javad Zarif come after the U.S. slapped fresh sanctions on the financial sector of the Islamic republic targeting 18 banks and further isolating the country from the global banking sector.
The measures by the U.S. come days before a United Nations arms embargo on the country is set to expire and threaten to effectively lock Iran out of the global financial system, with possibly dire consequences for its currency, the rial, and its economy.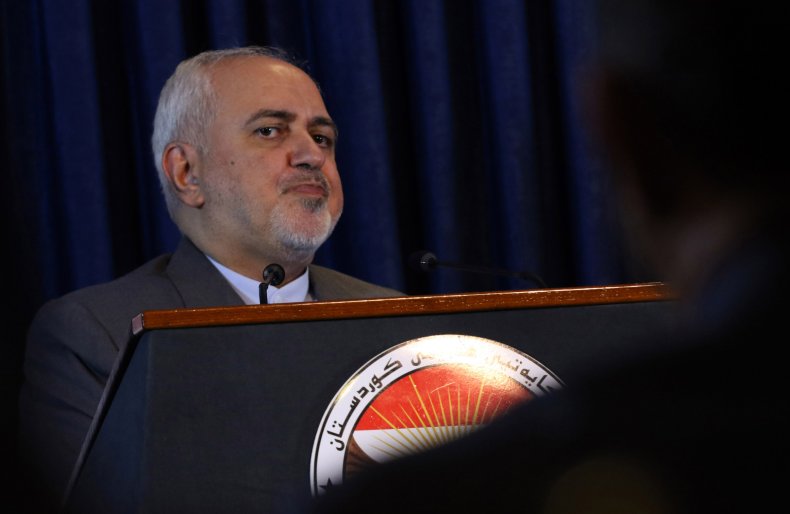 Steven Mnuchin, U.S. Treasury secretary said in a statement that the latest sanctions aimed to cut off Tehran's "illicit access to U.S. dollars," and tough measures would continue "until Iran stops its support of terrorist activities and ends its nuclear programmes."
But Zarif condemned the move, tweeting: "Amid Covid19 pandemic, U.S. regime wants to blow up our remaining channels to pay for food & medicine. Iranians WILL survive this latest of cruelties."
"But conspiring to starve a population is a crime against humanity. Culprits & enablers—who block our money—WILL face justice," he added.
The Iranian Central Bank governor, Abdolnaser Hemmati linked the sanctions to the U.S. election in the next four weeks, saying in a statement that "rather than having any economic effect, the American move is for U.S. domestic propaganda and political purposes, and shows the falsity of the human rights and humanitarian claims of U.S. leaders."
Meanwhile, Iran's foreign ministry spokesman Saeed Khatibzadeh accused Israeli Prime Minister Benjamin Netanyahu of being behind the sanctions in a bid to "lure (U.S. President Donald) Trump into doubling down on inhumane targeting of ordinary Iranians".
"The same gang has carelessly gambled with America's interests & reputation for (the) past 4 years," he tweeted.
Critics have said the new U.S. sanctions are unlikely to force Tehran back in negotiations to limit its nuclear program and hostilities in the region and could hamper humanitarian aid from flowing into the country, where over 27,000 people have died from the coronavirus pandemic.
The Treasury Department is providing exemptions for humanitarian aid transactions, The New York Times reported, with Mnuchin insisting the sanctions issued Thursday would "continue to allow for humanitarian transactions to support the Iranian people."
The Trump administration faced criticism last month over its to reimpose United Nations Sanctions, partly aimed at keeping a global arms embargo in place beyond its expiry date of October 18.
Daniel Fried, a former State Department's coordinator for sanctions policy in the Obama administration told The Times: "These sanctions are messaging sanctions. The messaging seems less to Iran and more to the American electorate."
Newsweek has contacted the White House for comment.