Iran Prepares to Restart Nuclear Program, Blasts Israel and U.S. Over Attacks in Syria
The Iranian government said Friday that the country was planning to restart its nuclear program if a multilateral nuclear agreement collapsed in the wake of a controversial U.S. exit.
Iran has condemned President Donald Trump's efforts to dismantle a 2015 nuclear accord reached under the administration of former President Barack Obama. Under the terms of the agreement, Iran extensively curbed its nuclear activities in exchange for billions of dollars in sanctions relief. Trump felt the deal did not go far enough and did not address other foreign policy quarrels between Washington and Tehran. On Tuesday, he officially reinstated sanctions, upsetting European allies and angering Iran.
As fellow signatories China, France, Germany, Russia and the U.K. scrambled to save the landmark deal, the Iranian government said in a statement Thursday that "the President of the Atomic Energy Organization of Iran has been tasked with taking all necessary steps in preparation for Iran to pursue industrial-scale enrichment without any restrictions, using the results of the latest research and development of Iran's brave nuclear scientists."
"The people of Iran will with calm and confidence continue their path towards progress and development and the Government of the Islamic Republic of Iran has foreseen all necessary measures to facilitate this under any circumstance," the statement added.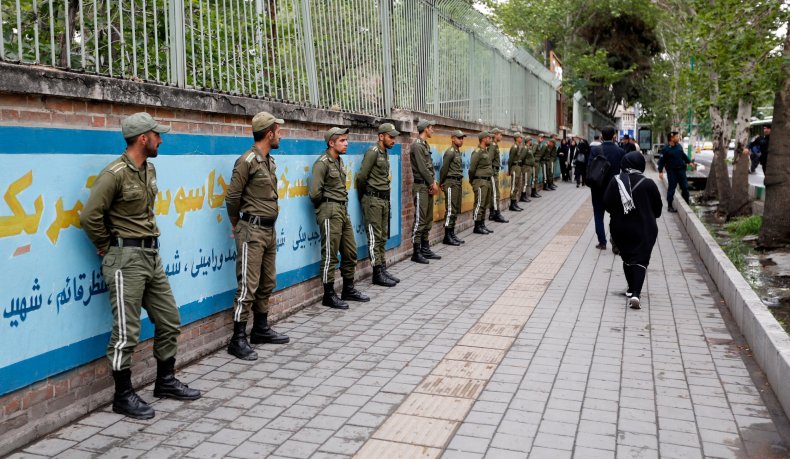 Trump's decision to withdraw was opposed by the other five powers also signed on to the agreement, but was supported by leading Iran foes Israel and Saudi Arabia. Despite repeated verifications by the International Atomic Energy Agency, Israel has accused Iran of being deceitful about its nuclear activities, which Iran has maintained are strictly for peaceful purposes. Israel has also charged Iran with undermining its national security by building up military positions in neighboring Syria.
Iran and its local and region, mostly Shiite Muslim partner militias have deployed in Syria to assist Syrian President Bashar al-Assad in his fight against rebels and jihadis. With their help and a Russian military intervention, Assad has mostly overcome the 2011 uprising that was backed by the West, Turkey and Gulf Arab states, but pro-Syrian government forces, including Iranians, have increasingly been targeted by the U.S. and Israel. The Syrian government only recognizes Russia and Iran as state partners in the civil war and considers other any other military presence to be illegal.
Related: Did Trump Break the Law? U.S. Leaves Iran Deal, Violates World Order and Risks War, Experts Say
Hours before Trump left the deal, Israel boosted its security in the Golan Heights, a territory it annexed from Syria without international recognition. Shortly after Trump said he left the deal, Israeli jets struck a suspected Iranian military site near Damacus. Syrian or Iranian forces then fired a number of rockets against Israeli targets in the occupied Golan Heights, many of which were reportedly intercepted. Israel then responded with a massive barrage of airstrikes, damaging Syrian and Iranian infrastructure and killing a number of their personnel.
The escalation proved to be the largest flare-up between Israel and Syria since the Yom Kippur War in 1973. Both sides blamed one another for the violence, but the U.S. quickly took Israel's side, claiming the strikes were in self-defense. Iran, however, saw it differently, with Iranian Foreign Ministry spokesman Bahram Qasemi arguing Friday that "the Zionist regime's repeated attacks on Syrian soil under self-proclaimed, baseless pretexts amount to a blatant violation of Syria's sovereignty and goes against all international conventions," according to Iran's Press TV.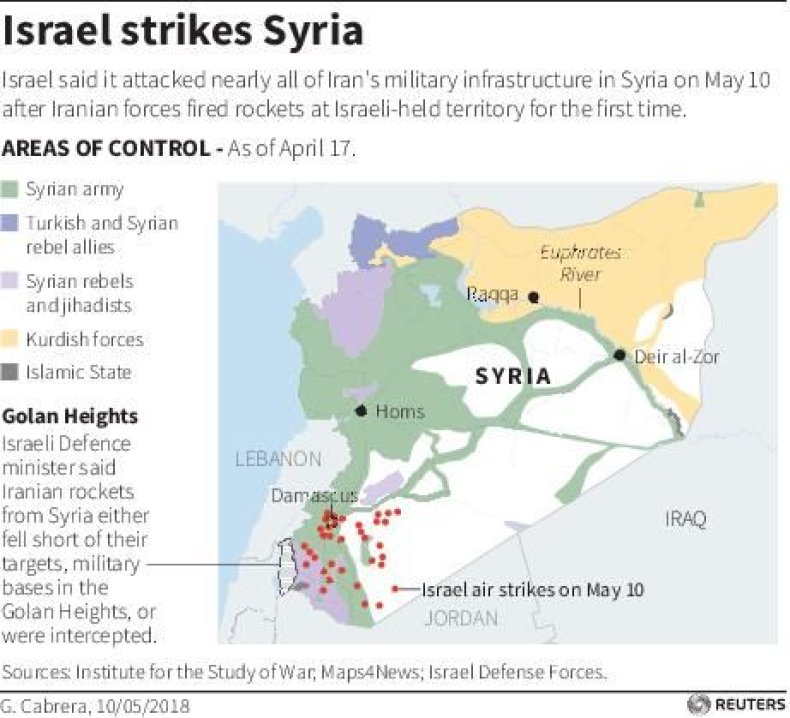 Qasemi also accused Israel and the U.S. of using attacks against Assad and his supporters as a pretext to support the embattled insurgent groups trying to topple his government. He said: "The main supporters of these groups are directly attacking and invading Syrian territories in an attempt to avenge the many failures of their self-created terrorists and tip the scales in their favor."
Meanwhile, Moscow has appealed for calm amid spiraling tensions in the Middle East. Russia is a staunch ally of Assad and maintains a strategic alliance with Iran in Syria, but also keeps in close touch with Israel. Russian Foreign Minister Sergey Lavrov said Thursday that he had assurances from both Iran and Israel that they would not provoke one another, "but, as you know, incidents, nevertheless, happen."
Read more: In Pictures: U.S. Embassy Move to Jerusalem Sparks Violent Clashes Between Israeli Troops and Palestinian Protesters
"It is particularly alarming that they occur despite the fact that all of us have underscored our commitment to respecting the sovereignty and territorial integrity of Syria. Russian military experts are now analyzing the incident on Syria's Golan Heights that took place in the early hours of May 10 in great detail. They observed the incident. I believe that the relevant conclusions will be made public," Lavrov said.