Iran's President Calls on Iranians to 'Put All Your Curses' on U.S., Israel and Saudi Arabia
Iran's President Hassan Rouhani once again turned to fiery rhetoric to condemn his country's adversaries, calling on the Iranian people to curse the United States, Israel and Saudi Arabia.
"Put all your curses on those who created the current situation," Rouhani said in a televised address, Radio Free Europe reported. He argued that the U.S., "the zionists" (or Israel) and Saudi Arabia were to blame for Iran's ongoing economic problems.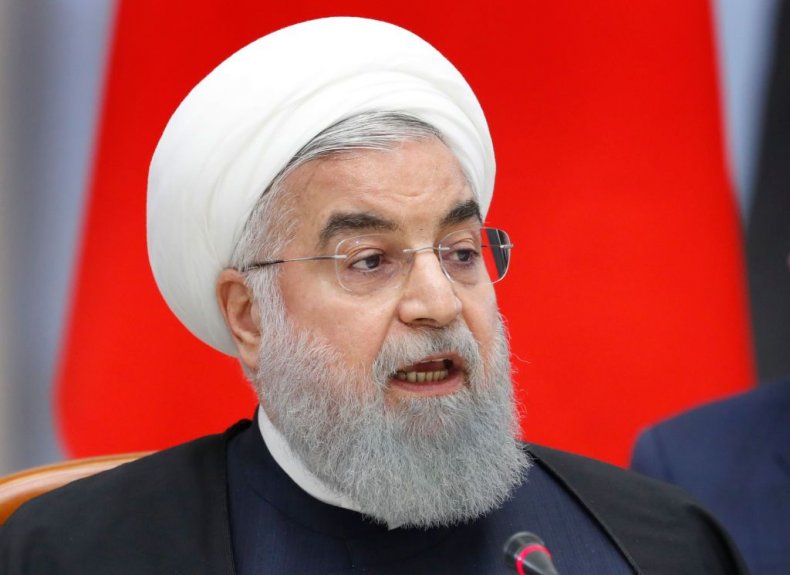 With the backing of Saudi Arabia and Israel, President Donald Trump withdrew the U.S. from the 2015 Iran Nuclear Deal, known formally as the Joint Comprehensive Plan of Action, and reimposed sanctions on the Persian Gulf nation last year.
The international treaty, which was signed by the U.S. under former President Barack Obama as well as by the United Kingdom, France, Germany, the European Union, Russia and China, gave Iran sanctions relief in exchange for it curbing its nuclear program. Trump's withdrawal came despite the international community's and his own intelligence leaders' assessment that the deal had effectively reduced Iran's nuclear ambitions.
Pointing to Trump's decision to walk away from the treaty, Rouhani said the goal of the White House was "returning to Tehran and dominating the people," the Islamic Republic News Agency reported. Washington has not had an official diplomatic presence in Tehran since the Iranian Revolution in 1979, when ties were severed between the two countries.
"No one can defeat a nation which pursues resistance," the Iranian president said. "They will never reach their goals."
The U.S. move to reimpose sanctions put additional economic pressure on Iran and caused tensions for Rouhani, whose government signed the agreement with the Obama administration. Although the treaty's other signatories have continued to back Iran despite Trump's withdrawal, Washington's pressure has taken its toll on the Iranian economy. Regionally, Saudi Arabia and Israel also see Iran as the biggest threat to their security, which has led them to put aside historic differences and quietly increase cooperation in an effort to counter the Islamic Republic's influence.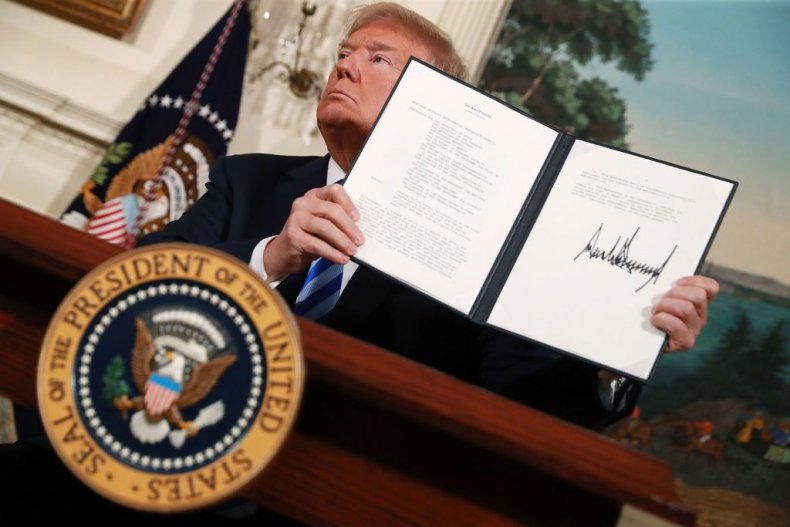 Rouhani and other Iranian leaders have frequently used harsh rhetoric to rally support and lash out at rivals. Last summer, the Iranian president warned the U.S.: "Don't play with fire, or you will regret." He also said that "war with Iran is the mother of all wars."
Trump responded with an all-caps tweet saying: "NEVER, EVER THREATEN THE UNITED STATES AGAIN OR YOU WILL SUFFER CONSEQUENCES THE LIKES OF WHICH FEW THROUGHOUT HISTORY HAVE EVER SUFFERED BEFORE."
More recently, Iran's Supreme Leader Ayatollah Ali Khamenei harshly criticized U.S. leaders and the renewal of sanctions. He argued that the Trump administration was made up of "first-class idiots" and that their defeat would be "unprecedented."