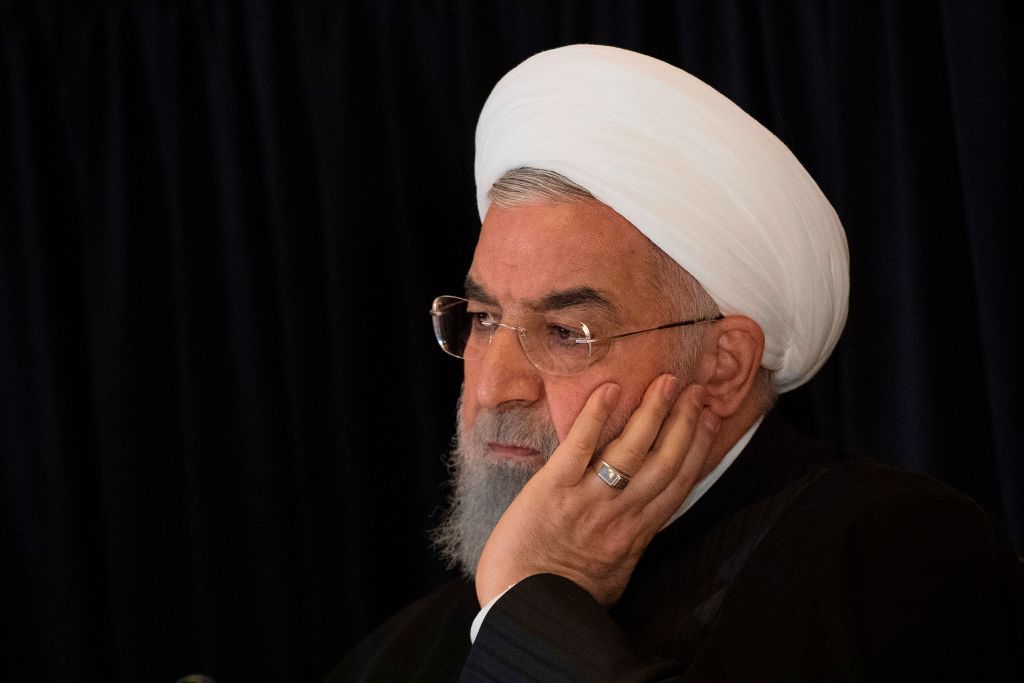 The mobile phone of Iran's President Hassan Rouhani has "recently" been tapped, an Iranian military general revealed Monday.
General Gholam Reza Jalali, the head of a military unit charged with combatting sabotage was quoted by local Iranian media, revealing that the president had apparently been targeted, the Associated Press reported. Although Jalali said that the Iranian leader's phone would be replaced with a more secure device, he did not reveal further details or suggest who had hacked the phone.
The news comes after a report last week by The New York Times alleged that President Donald Trump also often uses unsecure mobile phones. The president reportedly has several iPhones that he uses to call friends and other associates. Chinese and Russian spies routinely listen in on these calls, and Beijing has even developed a strategy to influence Trump based off the information it has gleaned, according to The Times report.
Trump said the report was "soooo wrong!" on Twitter, also saying that he has "only one seldom used government cell phone."
But administration sources told the newspaper that the president has been "repeatedly" warned by aides against using his insecure devices, but has "refused" give up the phones.
"American spy agencies, the officials said, had learned that China and Russia were eavesdropping on the president's cellphone calls from human sources inside foreign governments and intercepting communications between foreign officials," the report alleged.
In 2011, Iran took steps to boost its cybersecurity following an attack by the Stuxnet computer virus, which destroyed thousands of centrifuges involved in its controversial nuclear program, according to the AP. The cyber attack was widely believed to be created through a partnership between the U.S. and Israel.
Tehran has also allegedly moved to target the U.S. with its own hackers. In March, the Trump administration indicted members of an Iranian hacker network, claiming that the group was responsible for "one of the largest state-sponsored hacking campaigns" the U.S. has prosecuted.
The attack allegedly targeted dozens of U.S. universities, companies and government agencies—as well as the United Nations—and stole some 31 terabytes of data and intellectual property from entities globally, according to officials.
According to the recent report by The Times, listening in on mobile phone calls is one of the more basic forms of espionage carried out by foreign governments.
"Intercepting calls is a relatively easy skill for governments," the report explained. "American intelligence agencies consider it an essential tool of spycraft, and they routinely try to tap the phones of important foreign leaders."
Back in 2015, during the tenure of President Barack Obama, a diplomatic row developed between Germany and the U.S. after it was revealed that American spy agencies had tapped the phones of German journalists and politicians, including that of Chancellor Angela Merkel.