Iran Encourages Citizens to Spy on Each Other and Report Moral Code Violations Via Text Message
Iran's government is urging its citizens to use text messages to report on their neighbors or on strangers if they believe they are guilty of violating the country's public code of conduct.
The country's judiciary has set up a text messaging system that will allow people to report on others for doing things like removing their Islamic headscarf, throwing co-ed parties, drinking alcohol, or even posting messages on social media that are considered inappropriate. The government is now encouraging citizens to avoid entering into arguments with one another about codes of conduct and instead to record and report any offenses to the government through an official complaint.
Experts say that Iran's government is encouraging its citizens to play vigilante and spy on one another in order to enforce the government's hard-line religious and moral codes of conduct.
"Iranian officials' policies and regulations towards women's dress code have long surpassed the lines of invasion of privacy and violating freedom of expression, reaching into the territory of fanatical obsession. It is deeply troubling to see officials promote the spying of citizens on citizens, enlarging the circle of those who violate women's basic rights," Omid Memarian, deputy director at the Center for Human Rights in Iran, told Newsweek.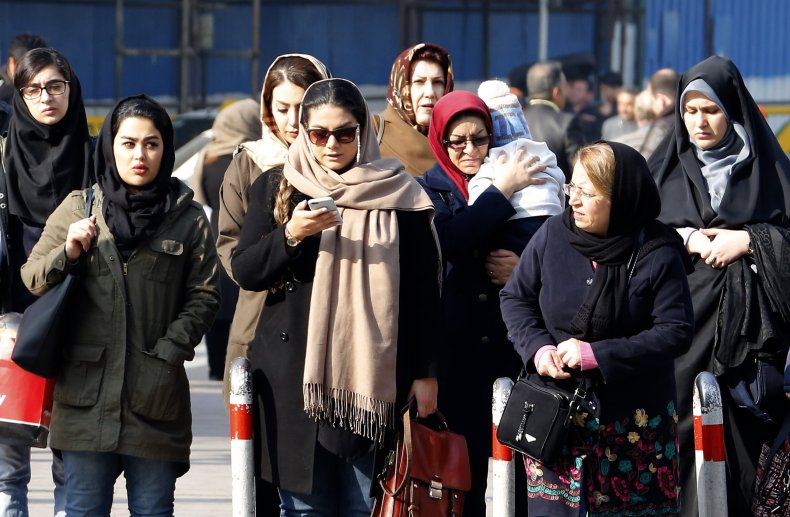 "What hardliners are doing is turning people against people. It's divisive and opens the door to abusive behaviors. If it stays in place, it will create an atmosphere of fear and intimidation, even greater than is presently the case," Memarian added.
Trita Parsi, President of the National Iranian American Council, added that U.S. pressure on Iran, including economic sanctions and the recent threat of military intervention, is strengthening the position of religious hardliners in the country.
"It seems like [Ebrahim] Raisi—who just took over the Judiciary—is making his mark," Parsi told Newsweek. "I fear there will be more of this repression escalation in the coming months, as the hardliners feel they have momentum as a result of the weakening of [President Hassan] Rouhani, mainly due to Trump's sabotage of the [Iran nuclear deal]."
People in Iran told Newsweek that the government launched the new service in response to a viral tweet by a woman whose driver for Snapp, the Iranian version of Uber, threw her out of his vehicle for removing her headscarf in his car. After the woman's tweet complaining about the incident gained traction, a state-run television channel invited the driver to appear on TV, where he was commended for having enforced the compulsory headscarf. The woman was also forced to apologize for her Tweet.
"It's horrible," Reihane Taravati, a fashion photographer in Tehran, told Newsweek. "Like we haven't had enough in the last year with sanctions, being scared of war, the tragedies we have to deal with everyday. And now we have less privacy everyday."
"We never have privacy, even in our houses or in our cars. And now they are trying to make everything worse," Taravati added.
Meanwhile, experts say that the new text message feature contradicts provisions in Iran's constitution that protect privacy.
Article 25 of Iran's constitution enshrines the right to privacy and data protection by prohibiting the recording and disclosure of telephone conversations, eavesdropping and all forms of covert investigation, Mahsa Alimardani, an expert on technology and human rights in Iran, told Newsweek.
"Additionally, Chapters 4 and 5 of the Computer Crimes Law indicate that any oral or printed disclosure of personal information, fabrication of facts to publicly vilify the dignity of persons or damage the reputation through insults and defamation, and casting aspersions on individuals are considered a breach of the reputation of others, and therefore are treated as defamation," Alimardani added.
Both of these laws would make it technically illegal for individuals to record others and engage in the type of reporting that Iran's judiciary is now encouraging. Still, legal challenges to the new service are not expected.