Iran Protests Hit Embassies Around the World; Officers Hurt in London
Protesters across the world have taken to demonstrating outside Iranian embassies following the death of 22-year-old Mahsa Amini.
Amini was arrested by morality police on September 13, who accused her of breaking Iran's strict law requiring women to cover their hair fully with a headscarf.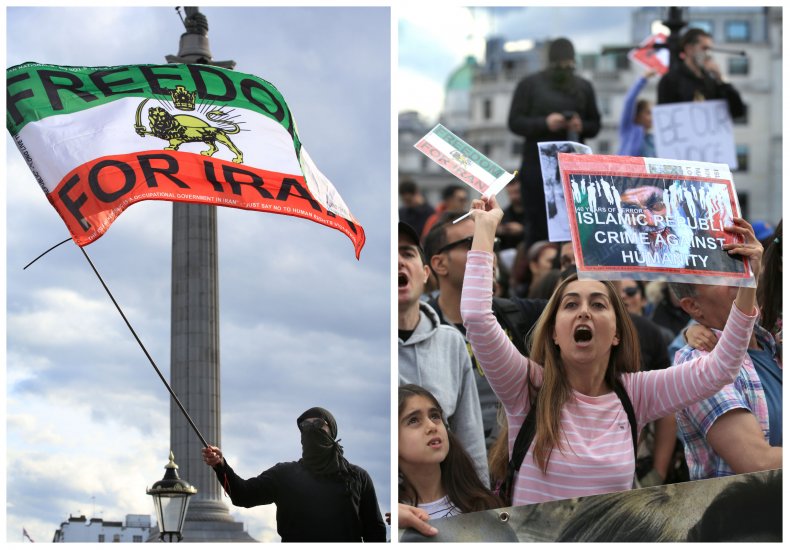 Amini, who was reportedly beaten after her arrest, died in a Tehran hospital, having spent three days in a coma. Iranian authorities say she suffered a "sudden heart failure," but this explanation has been rejected by her family.
After the 1979 Islamic Revolution, under the new rule of Ayatollah Ruhollah Khomeini, any female over the age of 9 had to wear a hijab in public in Iran.
Protests first surfaced in the country on September 16, with some women cutting their hair or burning their hijabs in defiance. By Sunday, more than 35 people had died in global demonstrations.
There have been protests in Athens, Paris and New York, with the Metropolitan Police in London saying multiple officers had been injured in demonstrations.
"Officers have sustained injuries including broken bones after they were attacked with masonry, bottles and other projectiles in unacceptable scenes of violent disorder," the Metropolitan Police Events Twitter page read on Sunday.
"12 arrests were made and we will work to identify other offenders in the coming days."
The protests were largely peaceful until a large group of individuals arrived to confront officers and the demonstrators.
"Officers were on duty at the embassy in Princes Gate, [London] SW7 to facilitate peaceful protests. Large gatherings had taken place in the area in recent days and all had been largely good natured," the Twitter report read.
"While the majority of those who attended the embassy on Sunday continued to act responsibly, a significant group who arrived actively sought to confront officers and protestors from groups they were not in agreement with."
"Public order teams with protective equipment including helmets and shields had to be brought in to restore order among the protestors and to protect other officers.
"The disorder initially broke out in the immediate vicinity of the embassy before moving to Marble Arch and then to Maida Vale where the Islamic Centre of England was targeted."
Footage from other demonstrations has shown some clashes between those protesting, those opposing them and authorities.
Conservative journalist and commentator Andy Ngo also shared a video of a protest in Paris that has gone viral on Twitter.
In the footage, which has been viewed more than 160,000 times, protesters and police in riot gear can be seen pushing one another outside the Iranian embassy.
According to a VOA news report, around 4,000 protesters had gathered for demonstrations in Paris.
The protest began peacefully at Trocadero Square in the center of the French capital. However, as demonstrators neared the Iranian embassy, police in full anti-riot armor, backed by a line of vans, blocked their path. Tear gas was also used by police to disperse protesters.
A Times of Israel report also said some protests descended into violence and that a firebomb was hurled at Iran's embassy in Athens, Greece.
According to the police, at around 1 a.m. local time, two people with their faces covered riding a motorcycle hurled a Molotov cocktail bomb at the wall of the embassy. No damage was caused, however.
On Saturday afternoon, around 200 people gathered at Syntagma Square in downtown Athens to denounce Iran's crackdown on protests following the death of Amini.
Newsweek has reached out to the Iranian Foreign Ministry for comment.