Iran: Protesters Threatened With Revolutionary Guards' 'Iron Fist' If Unrest Continues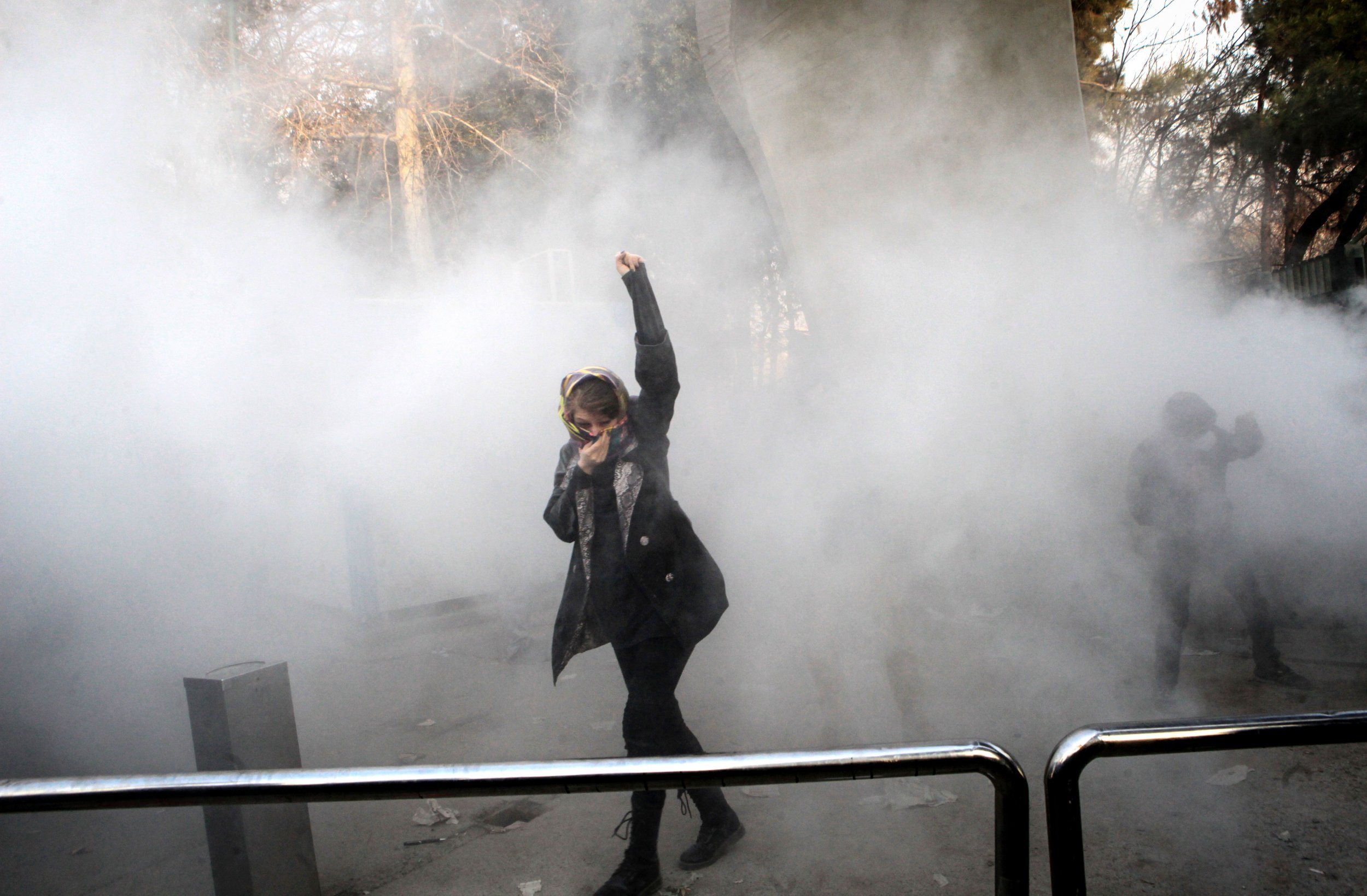 Two people have reportedly died in ongoing anti-government protests in Iran, the largest civil unrest the authoritarian country has faced in almost a decade.
Videos uploaded on social media showing protests in Dorud, in the Lorestan province of western Iran, displayed two men covered in blood, lying motionless on the ground, as a voiceover describes how they were shot dead after riot police opened fire on the protesters, Reuters reported Sunday.
According to a local source who spoke to CNN, a mob stormed the governor's office and set it on fire, and five people were shot as the riot police opened fire.
Dorud is one of the cities where a protest that began on Thursday in Mashhad, Iran's second-largest city, spread to the rest of the country the following day and continued on Saturday, reaching the capital Tehran where clashes between protesters and riot police erupted in the area of the main university. Pro-government crowds, who were called to the streets in Tehran and in as many as 1,200 cities and towns across the country to mark the crushing of the 2009 unrest by the security forces, were parading nearby the clashes, Reuters reported.
But despite the state-sponsored events, across the country protesters could be heard chanting "Death to the dictator!" protesting both President Hassan Rouhani, who was re-elected in 2015 on a promise to improve the country's economy, and Ayatollah Khamenei. Demonstrations, catalyzed by a series of price hikes called for an end to ongoing Iranian involvement in regional conflicts in Iraq and Syria and an improvement in the country's economic conditions.
A commander of the country's Revolutionary Guards told a local news agency the situation in Tehran was under control, but warned thatprotesters would face "the nation's iron fist" if unrest persisted.
"If people came into the streets over high prices, they should not have chanted those (anti-government) slogans and burned public property and cars," Brigadier-General Esmail Kowsari told ISNA, quoted in the BBC, referring to reports of protesters storming local authorities' offices and burning banners bearing Khamenei's pictures.
President Donald Trump warned against the use of violence to stem protests in a series of tweets on Friday. "Many reports of peaceful protests by Iranian citizens fed up with regime's corruption & its squandering of the nation's wealth to fund terrorism abroad. Iranian govt should respect their people's rights, including right to express themselves. The world is watching!" he wrote, before linking to snippets of his September speech at the U.N. General Assembly in which he said "oppressive regimes cannot endure forever."
Iranian Foreign Ministry spokesman Bahram Qasemi rejected Trump's remarks as "worthless, lacking credibility and opportunistic."