Iran Rebels See Hardliner Ebrahim Raisi as Chance to Bring Down Regime
After decades of struggle and exile, the People's Mujahedin of Iran (MEK)—a controversial opposition group outlawed by Tehran—now sees a new window of opportunity in its decades-long fight against the theocratic regime.
The victory of hardliner president-elect Ebrahim Raisi in June's election has been broadly interpreted as an entrenchment of the regime's more authoritarian and zealous sentiment.
MEK members told Newsweek in a series of interviews that Raisi's election vindicates their skepticism of the supposed battle between reformers and hardliners in Iran. For them, anyone playing the political game is part of the problem.
And the only solution is to tear down the Islamic Republic entirely.
The Iranian government dismisses the MEK as a "terroristic cult." Their supporters laud them as Iran's best chance at toppling the authoritarians and ushering in a new democracy.
This weekend, the National Council of Resistance of Iran (NCRI)—the diplomatic wing of the MEK—will hold its latest annual meeting, which it says will bring together tens of thousands of dissident Iranians spread around the world, coinciding with rallies in 17 major world cities.
Dissidents and reformers are worried. Raisi, the former head of the judiciary, is known as "The Butcher" for his role overseeing post-revolution purges in the 1980s when leaders of the new Islamic Republic snuffed out opposition to its rule—including from the MEK. Raisi is said to have been directly involved in the executions of some 30,000 people.
His election may herald an intensification of authoritarian rule in Iran, though even under moderate President Hassan Rouhani, the State Department accused the regime of gunning down as many as 1,500 protesters in late 2019.
Raisi was chosen by Supreme Leader Ayatollah Ali Khamenei, who is 82 years old and reportedly ailing. The ayatollah likely does not have many years left and needs the next president to be ideologically sound and strong enough to oversee a tense succession.
The historically low turnout rate—less than 50 percent—for the latest election hints at voter apathy in Iran.
Ali Safavi, a member of the NCRI foreign affairs committee, claimed the MEK's network of poll watchers inside Iran reported a turnout in the single digits. "Our message has found resonance among Iranians, a vast majority of Iranians," Safavi told Newsweek.
"There's absolutely no chance for any change whatsoever from within the regime...a viper will never give birth to a dove.
"More and more people are going to look outside of the regime, outside the ruling apparatus—whether the Khamenei faction or its rival faction—for change. And of course that provides a very unique opportunity for our message."
Once a far-left militant organization, the MEK now says it is committed to a secular democratic system representing all Iranians. Safavi and others say the MEK has no grand designs on power, only facilitating the collapse of the regime and helping usher in a new era of Iranian politics.
Leader Maryam Rajavi's 10 point plan for a future Iran, laid out in 2006, demands a non-nuclear Iran run under a "pluralist system" with separation of government and religion, plus full freedom of expression and human rights, and the end of Sharia law.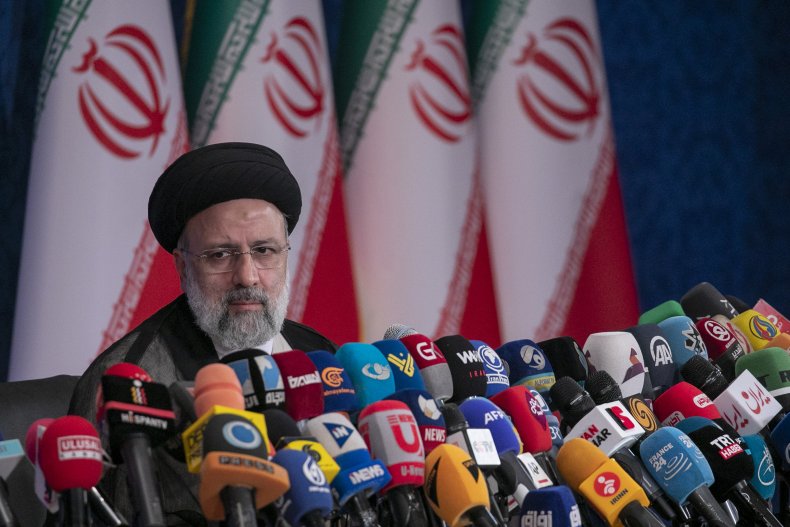 'Death to Khamenei'
U.S. President Joe Biden's election has not brought the quick detente with Iran that some had hoped for. Iran remains under crippling sanctions while grappling with the ongoing coronavirus pandemic.
Iran and its regional proxy militias are engaged in simmering conflict across the Middle East with the U.S., Israel, and their allies. Iranian nuclear sites have been sabotaged, scientists assassinated, and a long list of infrastructure targets damaged in suspicious supposed accidents.
Mass blackouts this week, prompted by a heatwave, brought protesters onto the streets chanting: "Death to Khamenei." Rouhani issued a rare apology; evidence, perhaps, of a nervous regime.
"The situation in Iran is explosive," said Sara, a teacher from Tehran and member of the MEK's clandestine Resistance Units network. People are "no longer afraid," she said, adding she has "no doubt that the overthrow of the mullahs is possible."
Sara is one of what the MEK says are tens of thousands of Iranians working secretly to undermine the regime, risking arrest and execution if caught.
Another—Amir, a university teacher in Tehran—explained how he and his fellow activists distributed fliers, spray-painted graffiti, and made banners in the run-up to the election, encouraging compatriots to boycott the poll.
"The mullah's regime in Iran has no function and no duty except in killing people," Amir said. "This election was very shameful for the regime. They saw that they don't have any support in Iran, and they are very frightened."
The activists who spoke to Newsweek were clear about the risks. "Every night I take on a new activity, I feel more brave," Amir said. "Me, the Iranian people, my friends; we are full of life. We love life. But I am ready to lose my life...all of us; my friends are ready too."
Any revolution will be bloody. The regime has repeatedly been willing to kill protesters and execute opponents. "We are not interested in bloodshed," Amir said, but added it is the opposition's "only choice."
A Nomadic Revolution
The MEK was formed in 1965 and fought against the authoritarian regime of the country's last shah. They consider themselves apostles of Mohammad Mosaddegh, the social democratic prime minister overthrown in a U.S. and U.K.-backed coup in 1953 after he nationalized the country's oil industry.
But when the shah fell in 1979, the MEK quickly found itself on the wrong side of the revolution. Many of its leading figures were still in regime jails while Ayatollah Ruhollah Khomeini and his allies were seizing power. By 1980, the new regime was arresting and killing MEK members.
The group's leadership fled to France. But in 1986 they were expelled by the French government, as part of a deal to release French hostages held prisoners by Lebanese Hezbollah. The MEK then went to Iraq, where Saddam Hussein—engaged in a brutal war with Iran—gave them shelter.
A common criticism of the MEK is that the group actually has very limited support inside Iran, not least because its members launched attacks into Iran during the war with Iraqi backing. MEK leaders also publicly condemned Hussein's invasion and fought Iraqi troops early in the war.
Safavi told Newsweek that MEK operations only targeted Islamic Revolutionary Guard Corps troops, and were aimed to topple Khomenei rather than help Iraq win the war. But for some Iranians, the MEK's troops were traitors rather than would-be liberators.
Sina Toossi, a senior research analyst at the National Iranian American Council told Newsweek the group has "very negligible grassroots support among Iranians, whether in Iran or among the Iranian diaspora. However, the supporters it does have are very organized, well-funded, and highly ideological."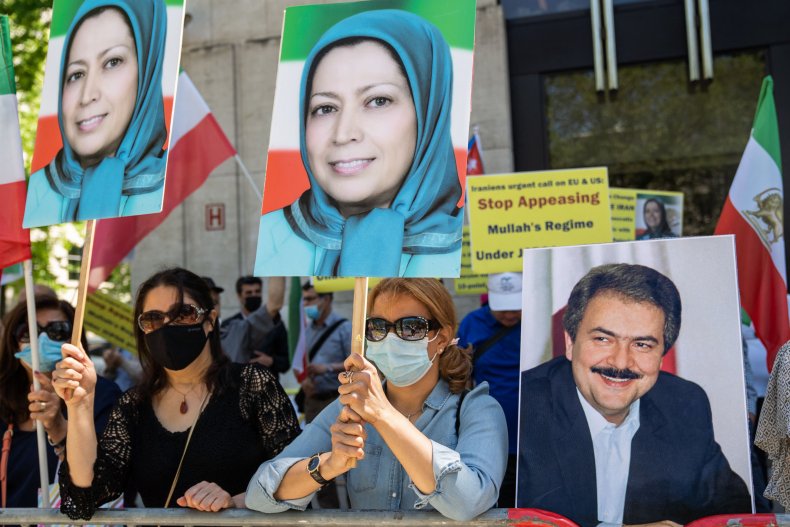 The MEK's "reliance on armed violence and alliance with Saddam Hussein during the Iran-Iraq War of the 1980s alienated it from the vast majority of Iranian society," Toossi said, describing the group now as "an irrelevant political force in modern day Iran."
Just before the Iraq War in 2003, MEK leader Massoud Rajavi disappeared. He has not been seen since, with his wife Maryam taking over his public duties. Safavi told Newsweek Massoud is "absolutely alive," though said he did not know when he might re-emerge.
The U.S. bombed MEK bases in Iraq in the early stages of the war as part of an agreement between Washington, D.C. and Tehran. Still, the U.S. soon decided that the MEK could be a useful counterweight to the Iranian regime, and sought to cultivate the MEK's intelligence apparatus inside the country.
The MEK was bounced around several locations in Iraq as the U.S. struggled with escalating insurgent violence and sectarian conflict in the devastated country. The chaos was a window for Iran, which vastly expanded its influence across the border and came to control much of the Iraqi government.
The group was eventually relocated to a new base in Albania in 2016, where locals have protested their presence and groups including Human Rights Watch have claimed human rights abuses. MEK members dismiss these reports as part of a Tehran-backed smear campaign against them.
Once listed as a terrorist organization by the U.S., the MEK was removed from the list in 2012. This, Safavi said, has helped "unshackle the movement from an assortment of restrictions, both politically and financially."
Since then, Safavi said support for the NCRI and MEK has "grown tremendously on both sides of the Atlantic."
The NCRI and MEK have powerful friends in the international diplomatic scene. Figures including former national security adviser John Bolton and former President Donald Trump attorney Rudy Giuliani have appeared at past conferences. So too has Turki bin Faisal, the former head of Saudi intelligence.
This year, U.S. politicians including Sens. Bob Menendez (D-NJ), Ted Cruz (R-TX), Cory Booker (D-NJ), and Reps. Kevin McCarthy (R-CA), Hakeem Jeffries (D-NY), and Brad Sherman (D-CA) are among the highest-profile American lawmakers taking part.
Also slated to attend are Gen. James L. Jones, former national security advisor to President Barack Obama, former Canadian Prime Minister Stephen Harper, former Italian Prime Minister Matteo Renzi, plus former Belgian Prime Minister and European Union M.P. Guy Verhofstadt.
Some reports have claimed that the MEK has received funds from Israel and Saudi Arabia, both of which the group vehemently denies. "Tell a lie that's big enough and repeated often enough and the whole world would believe it," Safavi said.
The Trump administration was warmer to the MEK than its recent predecessors, part of its broader effort to undermine Tehran at every turn.
"The MEK has been a pressure tool for other countries hostile to Iran, such as Saudi Arabia, Israel, and at times the U.S.," Toossi explained. "The MEK's militant operatives are likely a valuable resource for these countries seeking to engage in covert actions inside Iran."
Biden's goal to revive the Joint Comprehensive Plan of Action nuclear deal with Iran and re-engage with Tehran does not align with the MEK's vision of regime collapse.
The MEK has little hope for Biden's strategy. "It seems that even the negotiations are not going anywhere," Safavi said. Continued militia attacks in Iraq, targeting of shipping in the Persian Gulf, and other confrontations are for the MEK proof that Tehran "is not willing to reciprocate" the good intentions of the Biden Administration.
"The Biden Administration is not engaging with that organization and we have no comment on the activities of our Congressional colleagues with respect to this event," a State Department spokesperson told Newsweek.
"We welcome continued engagement with Congressional colleagues on our Iran policy objectives. The Biden Administration remains committed to seeking a mutual return to compliance with the JCPOA by the United States and Iran."
In recent years the MEK has refocused much of its efforts on uncovering Iranian nuclear activities. Some reports suggest the MEK has been involved in assassination and sabotage programs targeting Iranian scientists and facilities, allegations the group denies. The MEK says it no longer engages in any violent militant activity.
"We feel it is our patriotic duty to prevent the regime from acquiring a bomb," Safavi said. "Right now the regime without the bomb is a menace to everybody in the region and the world. Imagine if it got its hands on a bomb."
A Useful Scapegoat
The Iranian regime simultaneously dismisses the MEK as a political force and frames the group as a "terrorist cult" posing great danger to Iranians.
"The MEK has for years served as a useful scapegoat for the Iranian government," Toossi said. "The Islamic Republic's authorities constantly seek to tarnish and discredit mainstream opposition forces by trying to associate them with the MEK."
Bahram Heidari, a counsellor at the permanent mission of Iran in Geneva, Switzerland, told Newsweek this weekend's gathering will "showcase a new low in U.S. political decadence" and noted reports of "systematic abuse of human rights" at MEK camps.
"It reveals the political and moral bankruptcy of Iran's opponents who are so negatively obsessed with the Islamic Republic that they are easily duped by such a pathetic terrorist cult that is responsible for committing atrocious acts of terrorism, assassination, bombing and sabotage that have claimed the lives of thousands of innocent Iranians," Heidari said.
"The terrorist cult has maintained its terrorist nature all along and continued to conduct assassinations inside Iran including assassinations of Iranian scientists in collusion with the Israeli regime."
Heidari accused the U.S. and European Union of "terrorism laundering" for trying to "leverage this terrorist cult as a weapon of pressure against Iran."
The regime takes the MEK threat seriously. Earlier this year, Iranian diplomat Assadollah Assadi was convicted of trying to bomb an MEK meeting outside Paris. MEK leader Maryam Rajavi claimed the plan was personally approved by Khamenei and Rouhani.
Heidari dismissed the conviction as "far from true," claiming it was "a conspiracy set up by MEK and the same agency that concocted it and disclosed the alleged news." Assadi and his legal team did not appeal the conviction or 20-year sentence.
MEK leaders say the regime could prove the alleged lack of MEK support inside Iran by allowing them to compete in elections.
"If the Mujahideen doesn't have any support in Iran, why are the mullahs afraid of the Mujahideen?" asked Amir, the MEK activist from Tehran.
"Why not have an election in Iran tomorrow and see who gets the most number of votes?" Safavi said. "The mullahs will certainly be booted out."
Safavi added: "We feel quite frankly that the onus to overthrow this regime is on us and the Iranian people and we have to organize it. We are not idealists. It is a tough road ahead. It entails a great deal of sacrifice, risk, time, effort.
"But we like our chances."