Iran Reacts to U.S. Refusal to Reenter Deal First: 'Remove Cause If You Fear Effect'
Iran has responded to a joint statement by the United States and its European allies that reiterated Washington's position of not reentering the nuclear deal until Tehran first lifted sanctions.
Former President Barack Obama entered the agreement with Iran in 2015, officially known as the Joint Comprehensive Plan of Action (JCPOA), together with China, the European Union, France, Germany, Russia and the United Kingdom, when now-President Joe Biden served as vice president. The accord was unilaterally abandoned in 2018 by former President Donald Trump, who imposed sanctions that have led Iran to walk back from its nuclear-related commitments to the deal.
President Biden has expressed a desire to return to the agreement, but has refused to do so or lift sanctions until Iran first returns to strict JCPOA compliance—a position Iran has thus far refused.
"Instead of sophistry & putting onus on Iran, E3/EU must abide by own commitments & demand an end to Trump's legacy of #EconomicTerrorism against Iran," Iranian Foreign Minister Mohammad Javad Zarif said in a tweet.
Responding to the latest joint statement released Thursday in which the EU, the trio of European countries signed to the agreement and the U.S. reiterated their previous positions and expressed concern about Iran's higher uranium enrichment, Zarif said the Islamic Republic was awaiting the West to live up to its obligations.
"Our remedial measures are a response to US/E3 violations," Zarif tweeted. "Remove the cause if you fear the effect. We'll follow ACTION w/ action."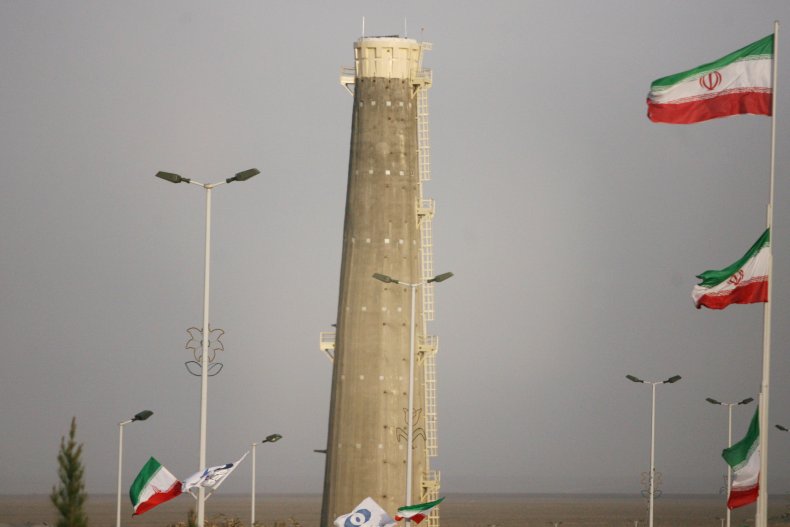 The U.S. and its transatlantic allies were divided by the Trump administration's decision to leave the JCPOA, a move also condemned by Beijing and Moscow. Since coming to office last month, Biden has emphasized a need to consult with allies and partners on such drastic foreign policy decisions, and, though all remaining parties support a U.S. return, the latest joint statement indicated a greater degree of unity between Washington and Europe.
As represented by Secretary of State Antony Blinken, the Biden administration reiterated its stance that Iran must act first in returning to initial levels of JCPOA compliance, and indicated U.S. officials were willing to enter into talks with the Iranian side to advance this process.
"The E3 and the United States affirmed their shared objective of Iran's return to full compliance with its commitments under the JCPOA," the joint statement read. "Secretary Blinken reiterated that, as President Biden has said, if Iran comes back into strict compliance with its commitments under the JCPOA, the United States will do the same and is prepared to engage in discussions with Iran toward that end."
The group also appealed to Tehran not to walk away further away from its commitments amid Iranian threats of limiting access to nuclear sites for International Atomic Energy Agency inspection by February 21, and further emphasized the possibility of a diplomatic path forward.
"The E3 and the United States are united in underlining the dangerous nature of a decision to limit IAEA access," the statement said, "and urge Iran to consider the consequences of such grave action, particularly at this time of renewed diplomatic opportunity."
Meanwhile, the mistrust toward the West among many Iranian officials including Supreme Leader Ayatollah Ali Khamenei appears to have only deepened. Still, he too said Tehran would rejoin the deal upon a U.S. reentry.
"We have already spoken about the Islamic Republic's policy on the JCPOA. Today, I only wish to say that we have heard many good words and promises, but in practice, they have not been honored," Khamenei said Wednesday during a video address. "On the contrary, they have acted against those promises. There is no use in talking. There is no use in giving promises. This time, only actions matter. If we see action on the part of the other side, we will take action too."
Iranian conservatives have expressed skepticism from the onset of nuclear negotiations spearheaded by President Hassan Rouhani. Iran's seventh post-revolution president now faces the end of his second term in a matter of months as June elections approach.
During a call Thursday with European Council President Charles Michel, Rouhani hailed the JCPOA as a landmark diplomatic achievement that should not so easily be left to collapse and urged the EU to play a more proactive role in overseeing its preservation, a possible reference to Zarif's recent offer to allow the EU to "choreograph" a U.S.-Iran joint return to adherence.
Michel, for his part, emphasized the EU's support for the agreement. "Preserving a space for diplomacy, underpinned by positive steps, is crucial at this stage," he tweeted.
Later on Thursday, State Department spokesperson Ned Price announced the U.S. would join EU-overseen talks with Iran and other JCPOA parties if proposed.
"The United States would accept an invitation from the European Union High Representative to attend a meeting of the P5+1 and Iran to discuss a diplomatic way forward on Iran's nuclear program," State Department spokesman Ned Price said in a statement.