Donald Trump 'Not Looking for Regime Change in Iran,' Mike Pompeo Says They Are Prepared to Talk Missiles
President Donald Trump said he does not want to overthrow the Iranian government after his top diplomat claimed the Islamic Republic was prepared to negotiate on its ballistic missile program.
Trump told a Cabinet meeting Tuesday that his administration has made progress with Iran and was "not looking for regime change" there, but did "want them out of Yemen." The U.S. has accused Iran of supporting a Zaidi Shiite Muslim rebel group known as Ansar Allah, or the Houthis, currently engaged in a four-year war against a Saudi-led coalition backing the country's displaced government.
The comments came as Washington and Tehran underwent one of the tensest periods in a hostile decades-long history between the nations. The situation has been grave since Trump's decision last year to abandon a 2015 nuclear deal and impose sanctions on Iran, which he accused of using sanctions relief to back militant groups and further develop its missile program.
Following Trump's comments Tuesday, Secretary of State Mike Pompeo claimed that "for the first time" Iranian officials "are ready to negotiate on their missile program."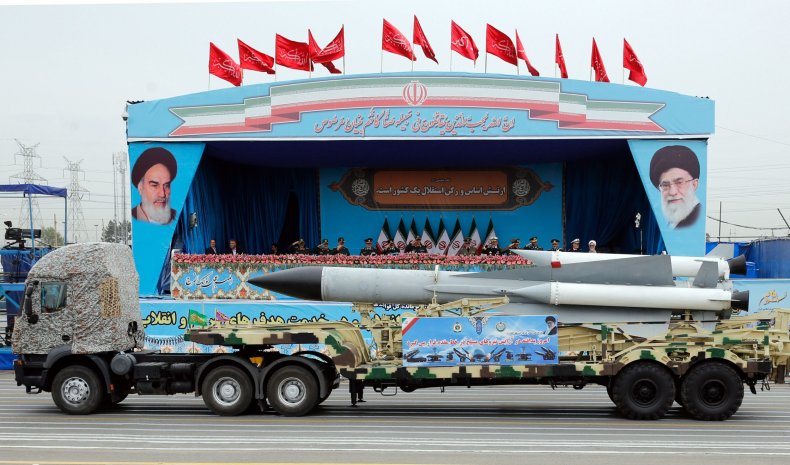 The news came one day after Iranian Foreign Minister Mohammad Javad Zarif criticized billions of dollars worth of U.S. arms sales to Middle Eastern nations such as Saudi Arabia and the United Arab Emirates, warning that "American weaponry is going into our region, making our region ready to explode" in an interview with NBC News. He added: "if they want to talk about our missiles, they need first to stop selling all these weapons, including missiles."
The Associated Press' coverage of these remarks originally carried the headline "Top Iran diplomat says talks on ballistic missiles possible," drawing a negative reaction from Iranian diplomats.
In a statement shared Tuesday, Alireza Miryousefi, head of the media office for Iran's mission to the United Nations, said he and his colleagues "categorically reject the AP's characterization of Foreign Minister Zarif's comments to NBC News...as meaning that Iran is willing to negotiate on its defensive missile program at some point."
"Iran's missiles are absolutely and under no condition negotiable with anyone or any country, period," It added. "Surely AP reporters are familiar enough with conversational English to know and understand and are able to contextualize comments on the hypothetical, as well as parrying with words to make a point. Drawing a false conclusion in pursuit of headlines, when what was said in the context was obvious, only leads to a diminution of the standing of the press with the public."
Zarif also told NBC News on Monday that, when it came to Tehran and Washington's current standoff, "the room for negotiation is wide open"⁠—but only once unilateral U.S. sanctions imposed after Trump's deal withdrawal "are lifted." These economic restrictions were designed to pressure other countries into cutting trade ties with Tehran, including the nuclear deal's other signatories—China, the European Union, France, Germany, Russia and the United Kingdom—all of whom still support the agreement.
With the U.S. doubling down on its "maximum pressure" campaign against Iran, however, Europe has been slow to implement a special trade vehicle designed to bypass these sanctions, leading Iran to begin reconsidering its own commitments to the deal. The country has since begun enriching uranium beyond restricted levels, frustrating the remaining nuclear deal parties, who still refused to trigger a dispute resolution mechanism that would formally charge Iran with non-compliance.
The nuclear deal parties have also called on Washington and Tehran to de-escalate mounting discord in the Persian Gulf. The U.S. has accused Iran of being behind attacks on oil tankers in the Gulf of Oman, something Tehran has denied, and the Revolutionary Guards' recent downing of a U.S. Navy drone led Trump to order retaliatory strikes he then canceled within minutes of their execution.
In the most recent potential flare-up, reports in the U.S. and U.K. claimed that Iranian vessels attempted to approach a U.K. oil tanker in the Persian Gulf, only to be turned back by a U.K. warship. Iranian political and military officials denied the incident, but have vowed to retaliate for the U.K.'s seizure of an Iranian supertanker in Gibraltar, where authorities accused the vessel of attempting to ship oil to Syria—a violation of EU sanctions to which Iran, however, was not subject.
The current, Shiite Muslim cleric-led Iranian government's contempt for both the U.S. and the U.K. has its roots in their backing for the former monarchy that they helped reinstall in a 1953 coup orchestrated by the CIA. The West-backed monarchy, led by the shah, was eventually overthrown in the 1979 Islamic Revolution and, while Trump has repeatedly disavowed regime change, hawkish administration officials such as Pompeo and White House national security adviser John Bolton have previously discussed the prospects of ousting the Islamic Republic's government.
Tehran has often cited such rhetoric, along with threats by regional U.S. partners like Israel, Saudi Arabia and the UAE as justifying its missile program, already the largest and most diverse in the Middle East. The country has always denied seeking nuclear weapons in spite of the accusations of these foes.
Update (2:43 p.m. 7/16/2019) This article has been updated to include the full statement shared by Iran's mission to the United Nations in reaction to the Associated Press' coverage of remarks made by Foreign Minister Mohammad Javad Zarif during an interview with NBC News.