Iran Cites 'Bullying and Excessive Demands,' Rejecting French Call for New Nuclear Negotiations
Iran has dismissed French calls for further negotiation over Iran's nuclear ambitions, saying that some of France's partners present "bullying and excessive demands."
"In the conditions when all of Iran's efforts with other world powers is nullified through the bullying and excessive demands of some of the partners of the French foreign minister and their own inability...there is no reason, need, reliability or trust for negotiations on issues that are non-negotiable," Iran's Foreign Ministry spokesman Bahram Qassemi said Friday, according to Reuters.
On Thursday, French Foreign Minister Jean-Yves Le Drian said that the 2015 Joint Comprehensive Plan of Action (JCPOA)—known commonly as the Iran nuclear deal—continues to hold, despite President Donald Trump's decision in May to withdraw and his move earlier this month to reimpose sanctions. But Le Drian also said that Tehran "cannot avoid" future negotiations regarding its nuclear program.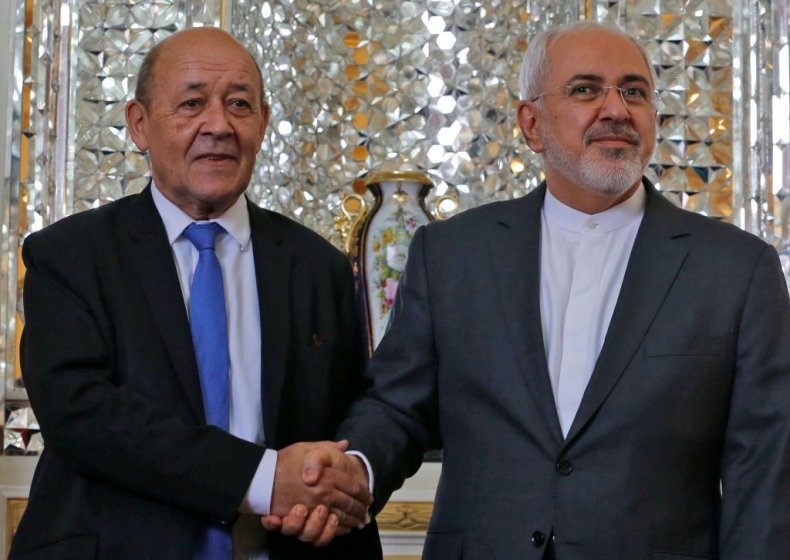 "Iran cannot avoid discussions, negotiations on three other major subjects that worry us—the future of Iran's nuclear commitments after 2025, the ballistic question and the fact there is a sort of ballistic proliferation on the part of Iran…and the role Iran plays to stabilize the whole region," the minister said, according to The Times of Israel.
"We must talk about these three subjects, Iran must be aware of this and that's the message I send to them," he added.
The minister's comments came the same day that the International Atomic Energy Agency (IAEA) released its latest report confirming that Iran remains in compliance with the terms of the 2015 treaty. However, the Islamic Republic's supreme leader Ayatollah Ali Khamenei also expressed skepticism this week about the agreement's future, saying that his country should "give up hope" in European partners saving the deal.
"If we come to this conclusion that it does not serve our national interests, we can abandon [the JCPOA]," he said.
European leaders have consistently expressed their full support of Iran and the JCPOA, but Trump has threatened to target any businesses that choose to maintain ties with Iran. Major European companies, such as French oil giant Total and German car manufacturer Daimler have severed their ties with the country as a result.
The EU also offered $20 million in aid to Iran in an effort to offset some of the impact of Washington's sanctions. In response, the State Department criticized the move, calling it "the wrong message at the wrong time."
Despite the tensions and uncertainty, the EU's representative for foreign affairs and security policy Federica Mogherini reiterated her support for the pact on Friday.
"Currently, Iran and its nuclear program have turned into [one of] the most significant concerns of the EU," she said, according to IRNA, an Iranian news agency.