Iran To 'Renew Funding' For Hamas, Despite Trump's Riyadh Speech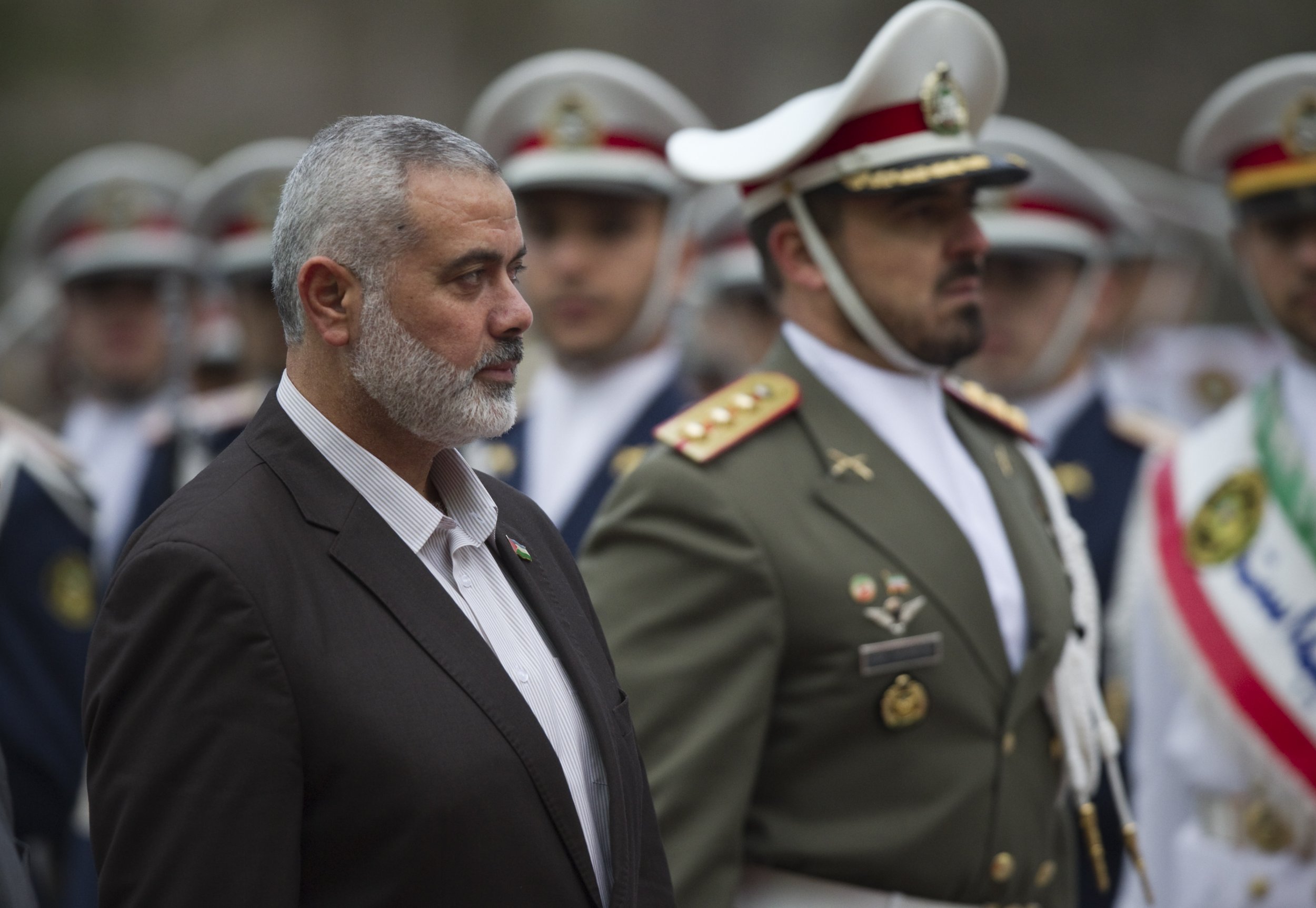 Iran will reportedly resume financial assistance to the Palestinian militant group Hamas following a freeze in relations, caused by Hamas' refusal to support the regime of Syrian President Bashar al-Assad, an ally of Tehran, and the group's unwillingness to take Iran's side in its rivalry with regional enemy, Saudi Arabia.
Iran appears to have backed down on these demands and ties have warmed in recent weeks after the election of Ismail Haniyeh as Hamas's new political leader on May 6 over former deputy head Moussa Abu Marzouk, who Tehran reportedly did not want to work with.
For the past two weeks, senior Hamas figures have been meeting officials from Iran's military arm, the Revolutionary Guards, and Shiite militant group Hezbollah in Lebanon, Palestinian sources told London-based Arabic daily Asharq al-Awsat on Tuesday.
Hamas, Hezbollah and the Iranian regime all view Israel as its primary enemy. Hezbollah waged a war with Israel in 2006, Hamas has fought three conflicts with Israel in the Gaza Strip since 2008, and Iran's conservative religious rulers routinely calls for Israel's destruction.
The Syrian conflict, which began in 2011, caused an apparent split between the two as Hamas refused to pledge its support to the Assad regime, which is largely made up of members of the Alawite minority Shia sect of Islam. Hamas backed the Saudi-backed Sunni rebels fighting Assad instead. Both Iran and Hezbollah adhere to the Shia strand of Islam, while Hamas is a Sunni Islamist faction.
Read more: Another war between Israel and Hezbollah is inevitable
Israel maintains that Iran has continued to fund Hamas to allow it to rebuilt its tunnel network and rocket armory, both of which it has used against Israel in three conflicts since 2008.
As part of the deal to renew ties, Haniyeh will soon travel to Tehran to meet with regime officials in an attempt rebuild damaged relations, the report says.
The rapprochement comes after U.S. President Donald Trump delivered a speech to Sunni leaders in the Saudi capital Riyadh earlier this month, in which he called Iran the most prominent exporter of terrorism in the Middle East. Iran funds Hezbollah as well as Shiite Houthi rebels in Yemen fighting pro-government forces backed by a Saudi-led coalition.
"For decades, Iran has fueled the fires of sectarian conflict and terror," Trump said. "It is a government that speaks openly of mass murder, vowing the destruction of Israel, death to America, and ruin for many leaders and nations in this very room."
Iranian Foreign Minister Mohammad Javad Zarif responded to Trump, tweeting that he had attacked the Islamic Republic in "that bastion of democracy & moderation" of Saudi Arabia. He said Trump had "milked" the Saudi government for billions of dollars in deals, overlooking human rights abuses and a lack of democracy. Iran held elections this month which moderate President Hassan Rouhani won, securing a second term.