Iran Reporters Quit State TV Amid Protests Over Ukraine Flight Shootdown
At least two reporters haven said they resigned from the official Islamic Republic of Iran Broadcasting (IRIB) network, and a third former presenter offered an apology as the country was gripped by a nationwide furor over the shootdown of a passenger jet.
The Iranian government has said its elite Revolutionary Guard mistakenly shot down Ukraine International Airlines Flight 752 as it departed Tehran's international airport Tuesday, hours after an Iranian missile strike on military facilities housing U.S. troops in neighboring Iraq. Iranian official and semi-official media citing rescue workers initially suggested that the aircraft crashed due to technical failure. However, angry citizens have taken to the streets accusing the government of having attempted to mislead the population.
Some of those involved in the country's media apparently also felt betrayed. IRIB presenter Zahra Khatami announced her departure Saturday in an Instagram post in which she thanked fans "for accepting me as an anchor until today." She said she would "never again go back to television" and asked for forgiveness.
In a since-deleted Instagram post that same day, fellow presenter Saba Rad also said she was leaving. Rad, too, thanked Iranians for their support, but said that "after 21 years of working in radio and television. I am unable to continue working in the media, I cannot go on."
Gelare Jabbari, who also worked for IRIB, said in her own Instagram post Sunday, "it was very hard for me to believe that my compatriots have been killed." She added: "I'm sorry that I lied to you on Iranian television for 13 years. I left this job a few years ago and will never go back to television."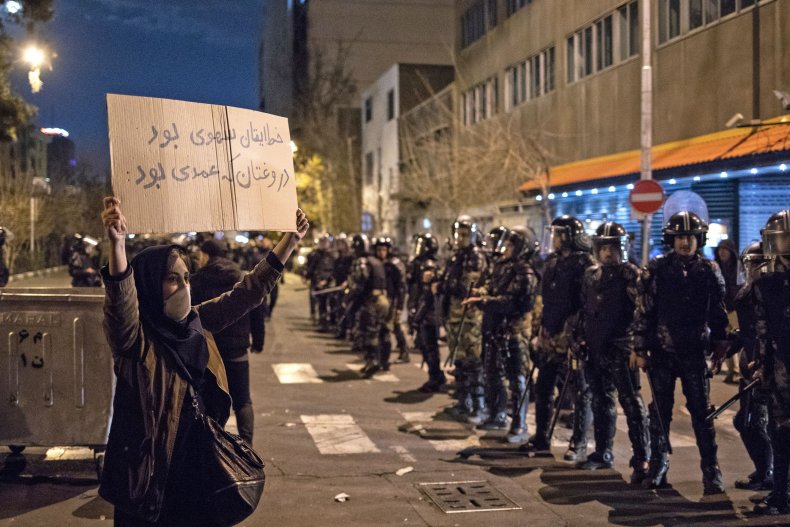 Some 176 people died—most of whom were Iranians and Canadians, with a number of Ukrainian, Swedish, Afghan and United Kingdom nationals as well—when the Kyiv-bound Boeing 737-800 suddenly crashed Tuesday into a suburb southwest of the capital Tehran. Citing a Pentagon official, a senior U.S. intelligence official and an Iraqi intelligence official, Newsweek reported Wednesday that the aircraft was brought down by a Russia-built Tor-M1 surface-to-air missile system, also known as the SA-15 Gauntlet.
Although Iranian authorities quickly called for an investigation and invited representatives from Ukraine, Canada, Boeing and other relevant players, Civil Aviation Organization of Iran Chief Ali Abedzadeh dismissed growing speculation that anti-aircraft fire may have been involved. On Friday, the Iranian military released a statement confirming that "because of human error and in an unintentional way, the flight was hit."
Iran's air defenses were on high alert after the military launched missiles across the border into Iraq, where two sites housing U.S. and allied troops were struck in retaliation for President Donald Trump's decision to assassinate Iranian Revolutionary Guard Quds Force commander Major General Qassem Soleimani. The elite military leader was killed last week alongside a top Iraqi militia figure and others in a convoy hit by a U.S. drone strike near Baghdad International Airport.
The Trump administration has argued that Soleimani was planning attacks against U.S. interests and personnel, although conflicting claims have emerged from the president and his officials as to the intelligence surrounding these alleged operations. Both Iraq and Iran deeply condemned the unilateral attack, which saw scores of people come out to mourn the slain figures in massive funerals.
The downing of Ukraine International Airlines Flight 752 and the events surrounding it, however, has seen pressure building back on the Iranian government, where outbreaks of unrest were already becoming more frequent as the country's economic situation worsened. Since walking away from a 2015 nuclear deal in 2018, Trump has constricted the Islamic Republic with tough sanctions designed to sever its international trade ties.
Trump has tweeted multiple times in support of protesters, who he warned Iranian authorities against killing. Iranian Foreign Ministry spokesperson Abbas Mousavi accused Trump on Sunday of "threatening, sanctioning and terrorizing" Iran rather than actually supporting its people.
The two countries' feud dates back decades to the 1979 Islamic Revolution that ousted a West-backed monarchy and led to a 14-month hostage crisis at Washington's embassy in Tehran. Ties only worsened as the U.S. backed Iraq's invasion of Iran, leading to an eight-year war with the U.S. Navy inadvertently shooting down an Iranian airliner, Iran Air Flight 655, over the Persian Gulf in an incident that only further fueled mutual hostility.
Renewed U.S.-Iran tensions have again led to heightened instability across the region and both sides have so far failed to reach conditions to restart negotiations. China, the European Union, France, Germany, Russia and the United Kingdom continued to back the nuclear agreement, but Europe has not yet lived up to its commitments under the threat of U.S. sanctions and Iran has increasingly reduced its own compliance as a result.