A senior Iranian official pushed back against a new round of U.S. sanctions, questioning the country's own record on holding free and fair elections and fighting terrorism.
Abbas Ali Kadkhodaei, a Guardian Council spokesperson, was among five individuals blacklisted Thursday by the Treasury Department's Office of Foreign Assets Control due to his role in "vetting" candidates for Iran's upcoming parliamentary elections. State Department special representative on Iran argued that "the regime denies the Iranian people a representative parliament by pre-deciding who is qualified to run for office" but Kadkhodaei hit back against that on Twitter.
He argued that Hook's accusation was instead "worthy of the American regime, a regime still plagued by election uncertainties and the crime of assassinating pioneers in the fight against terrorism."
"The United States has no right to talk about Iran's senior figures," Kadkhodaei added.
Iran's 12-member Guardian Council is appointed by supreme leader Ayatollah Ali Khamenei. Other members sanctioned Thursday include Secretary Ahmad Jannati, former Iranian Justice Chief Mohammad Yazdi and electoral supervisors Siamak Rahpeyk and Mohammad Hasan Sadeghi Moghadam.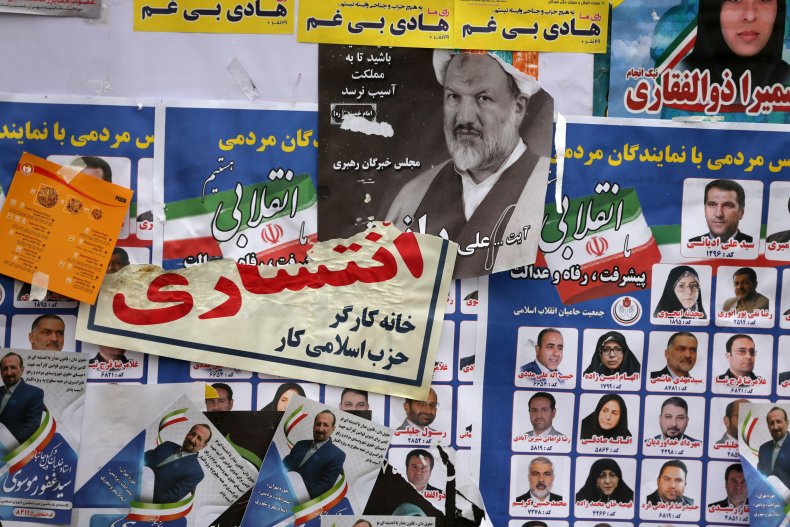 The Electoral Integrity Project, an independent academic project based at Harvard University and the University of Sydney, assigned the United States a score of 61 out of 100 in its perceptions of electoral integrity index and ranked Iran at 49 in its latest report released last May. Washington and Tehran both hold regular elections but their political systems are very different.
The U.S. allows all eligible citizens to run for office but the country's two-party approach largely narrows choices down to those endorsed by either the Republican or Democratic Parties. The latter's primary process to choose a candidate to face President Donald Trump this November drew controversy earlier this month when the final results of an extremely close Iowa caucus took several days to be released.
Iran has a far more stringent system of selecting candidates. While Iran's parliament is occupied by two major coalitions of numerous political groups as well as independents, other political forces and minority communities, both lawmakers and the president must first be approved by the supreme leader and his 12-member Guardian Council.
This year, the Guardian Council has reportedly barred more than 9,000 people from out of more than 14,500 who applied in December to run this month for the 290-member parliament. The record number of rejections sparked anger over moderates and reformists, including President Hassan Rouhani, who warned last month that such a move could present a threat to the country's "democracy and national sovereignty."
The election, set to take place Friday, comes amid a tumultuous time for the Islamic Republic, which faces tensions both at home and abroad. As part of a "maximum pressure" campaign, the Trump administration has imposed increasingly strict sanctions against Tehran that have both set off regional unrest and severely disrupted the Iranian economy.
U.S.-imposed restrictions, coupled with internal mismanagement, have troubled Rouhani's vision to open up his country's economy in the wake of a 2015 nuclear deal abandoned by Washington in 2018. While China and Russia continue to support the agreement, European Union signatories Germany, France and the United Kingdom have struggled to normalize trade ties in the face of U.S. threats.
As the fate of the nuclear accord hangs in the balance, winners of Iran's upcoming vote would also be tasked with helping the country navigate its way through its most intense regional confrontation in decades.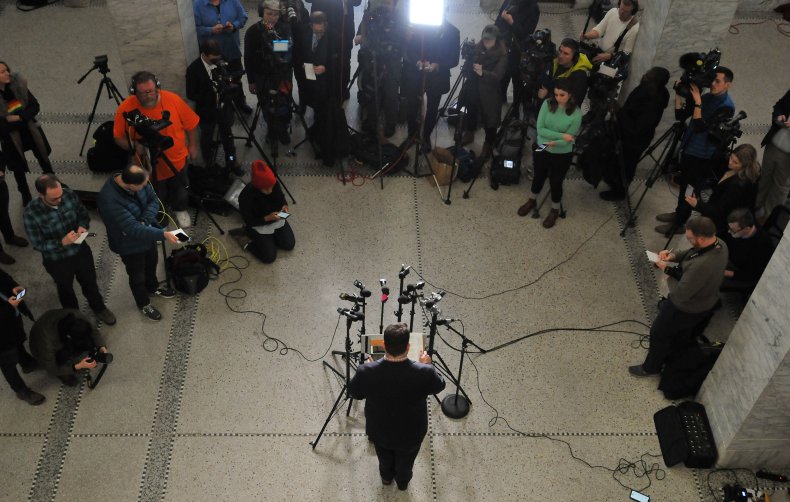 Washington and Tehran's feud has turned violent, with oil assets targeted in unclaimed attacks in the Persian Gulf and clashes between U.S. forces and militias supportive of Iran in Iraq. Last month, the U.S. opted for a dramatic escalation by assassination Quds Force commander Major General Qassem Soleimani, leading his Revolutionary Guard to retaliate with missile strikes that injured more than 100 U.S. troops at Iraqi bases housing international forces.
Tensions continue to simmer and the Revolutionary Guard has called on the Iranian people to come out and vote in large numbers.
In a statement issued Thursday by its public relations office, the elite force said such a showing would "inflict yet another strong slap on the terrorist and criminal America, invalidate the evil ambitions of the enemy front and, with the promotion of national power, promise the production of a grand and powerful assembly worthy of the Iranian people."
The message echoed by senior military officials including Revolutionary Guard Major General Hossein Salami and Iranian armed forces chief of staff Major General Mohammad Bagheri. Another top Iranian figure, Supreme National Security Council Secretary Ali Shamkhani tweeted that "a #StrongIran without a strong parliament is an unattainable dream. In a religious democratic system #Political participation is the only way to build a strong parliament."