Iran's President to Donald Trump: A New Deal Is Possible, but First, Respect the Last One
Iranian President Hassan Rouhani has laid out the possibility of striking a new deal with the United States, but said President Donald Trump would have to first respect the last one.
Speaking Thursday at a press conference in New York, Rouhani expanded upon his remarks the previous day at the United Nations General Assembly. The Iranian leader appeared to open the door for future talks surrounding changes to the 2015 nuclear deal⁠—officially known as the Joint Comprehensive Plan of Action (JPCOA)⁠—that the U.S. unilaterally walked away from last year, but qualified the overture, saying "if you require more, you should also give and pay more."
Asked what he meant when he called the deal a "minimum" during his U.N. remarks, Rouhani said Iran believes "that the JCPOA is not a maximum form of agreement, it is what was possible in its time, what was obtainable in its time and what was agreed upon by all parties and it must be implemented."
"Now, if we wish to step above and beyond the JCPOA, that is possible but the proper foundation lies upon the full and exact implementation of the JCPOA," he added. "First, we must all be united under full and exact implementation and conduct talks about actions above and beyond."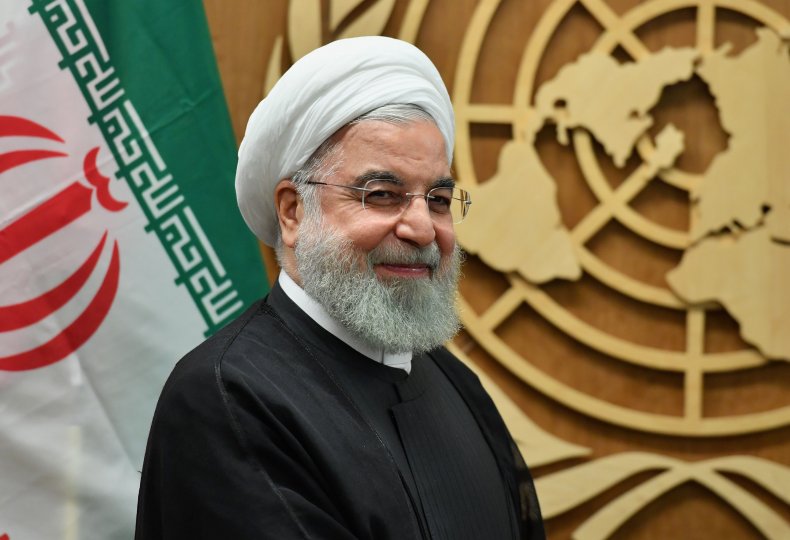 Rouhani's statements come in response to a U.S.-led campaign to isolate Iran via a "maximum pressure" strategy designed to undermine the Islamic republic's economic and diplomatic ties abroad. Trump left the 2015 nuclear deal after accusing Tehran of using sanctions relief to expand its alleged backing of militant groups and for missile development.
China, the European Union, France, Germany Russia and the United Kingdom still back the agreement. Though European powers have struggled to uphold their commitments due to fear of U.S. sanctions, they have called for restraint as tensions worsened in the Persian Gulf, where oil tankers have been targeted by unclaimed attacks and the U.S. has established a maritime security coalition in response to further unrest.
The U.S. and its allies have also vocally held Iran responsible for a recent attack on Saudi oil facilities, though it was claimed by Yemen's Zaidi Shiite Muslim Ansar Allah movement, also called the Houthis. The Yemeni group, accused of being backed directly by Iran, has been battling a Saudi-led coalition in a four-year civil war that has precipitated what the U.N. has called "the world's worst humanitarian crisis."
Rouhani again denied responsibility for the attacks in Saudi Arabia, claiming the European states that joined the U.S. in blaming Iran had admitted they had no proof beyond arguing that the Houthis did not possess such capabilities. "Instead of hurling allegations and accusations let's join hands and put an end to the fire of war ravaging the region," the Iranian leader said Thursday.
He also reiterated his call to form a "Coalition for HOPE," officially titled the Hormuz Peace Endeavor, an initiative Rouhani has said is intended to enhance cooperation among nations in the Persian Gulf region, inviting even longtime rival Saudi Arabia to work together for "non-aggression" and "non-interference in the domestic affairs of each other," among other goals.
While France, alongside Germany and the U.K., also blamed Iran for the attack on Saudi Arabia, the three powers have sought to save the nuclear deal, with French President Emmanuel Macron trying to bring Trump and Rouhani to the table to talk on the sidelines of the general assembly. The two leaders have remained at an impasse, however, as Iran sought the lifting of sanctions that Trump has refused to repeal without proof of change in Tehran's foreign policies.
"Of course the president of France has been seeking for months to find a solution for this problem, we were carrying forward two solutions, a European solution and an American solution," Rouhani explained. "Through the European solution we reached certain agreements and it was in the implementation stage when they said, 'Well, in some form, to implement and make actionable this solution we need American approval.' So this is their problem it has little or nothing to do with us."
"America must do away and take away their preconditions, and if they did so, of course, the ground would be laid for certain new conditions would be considered," he added. Rouhani also ruled out restrictions on Iran's missile capabilities unless Western powers agreed to limit their own massive military support for Saudi Arabia, the United Arab Emirates and other regional powers—or made those same weapons available to Iran.
The Trump administration has, however, only increased its sanctions, including a new ban "restricting entry into the United States for senior Iranian government officials and members of their families." In the press release announcing the ban Thursday, the State Department wrote: "No longer will elites reap the benefits of a free society while the Iranian people suffer under the regime's corruption and mismanagement."
During his own U.N. address Tuesday, Trump continued his hard-line stance against easing restrictions against the Islamic Republic.
"As long as Iran's menacing behavior continues, sanctions will not be lifted; they will be tightened," Trump said. "Iran's leaders will have turned a proud nation into just another cautionary tale of what happens when a ruling class abandons its people and embarks on a crusade for personal power and riches."
He also accused Iran's government of "squandering the nation's wealth and future in a fanatical quest for nuclear weapons and the means to deliver them"⁠—something Iran has repeatedly denied, even as it scaled back its own commitments to the JCPOA in response to others' decreased commitments.
"At this very hour, if the 4+1 announced, 'We will fulfill all of our commitments,' then immediately we will return to all our commitments within the JCPOA, and the temporary actions we are taking will be reversed to their previous status, we are not seeking nuclear weapons, our nuclear actions completely under the supervision of the IAEA," Rouhani said, referring to the International Atomic Energy Agency, a partner organization of the U.N.
"We're not for maximum pressure, medium pressure or pressure," he added. "We seek the proper implementation of the JPCOA."