Iran Prepares for Joint Drills with Russia and China, Is Ready to Sail 'Across the Atlantic'
A leading Iranian military official revealed new details about his country's first-ever trilateral exercise with major powers Russia and China, claiming Iran's ships would also soon traverse the Atlantic Ocean toward the Americas.
Speaking to the semi-official Tasnim News Agency, Rear Admiral Habibollah Sayyari, Iran's deputy army chief for coordination, said Wednesday that the Islamic Republic's warships would defy a "12,000-mile line" drawn by "hegemonic powers" by entering the Atlantic Ocean. He said Iranian vessels have previously done so by circling around Africa and the navy intended to "once again have a presence across the Atlantic Ocean, free to sail as far forward as international maritime law permits."
Sayyari said he could not provide a specific date for such a move, but revealed when another major naval action would take place—the Naval Security Belt drills alongside Russia and China. The maneuvers were set for December 27 and Sayyari offered further information last week.
"The starting point of the exercise, which is being held with the presence of the Islamic Republic of Iran's Naval Forces and the Russian and Chinese Navy, is the Third Naval Area in Konarak," he told Tasnim, referring to the southeastern port city where Western eyes would surely soon be watching Tehran's attempt to court two top Eastern powers amid overlapping geopolitical rivalries.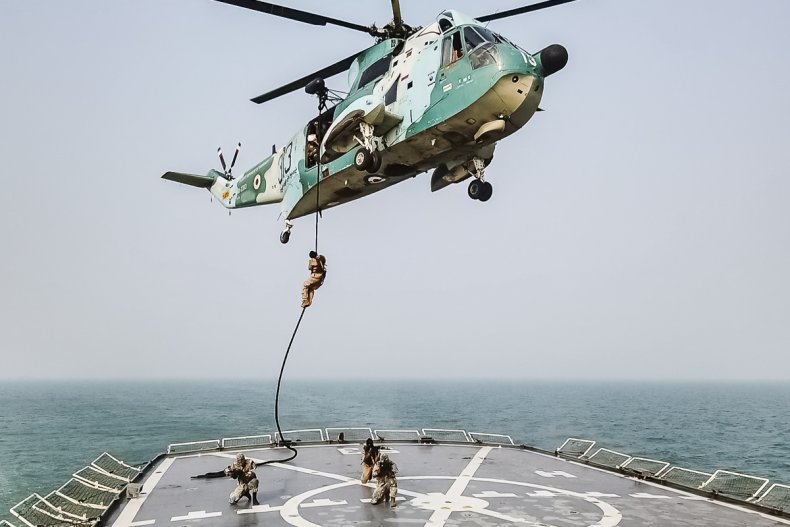 Iran has sought to accelerate its naval activities as the United States has attempted to isolate it economically and politically through sanctions imposed since President Donald Trump's exit last year from a 2015 multilateral nuclear deal. The deal's other signatories—China, the European Union, France, Germany and Russia—continued to back the agreement, but Europe has struggled to live up to its end of the agreement in the face of U.S. pressure, leading Iran to reduce its own commitments.
Meanwhile, unrest was brewing across vital trade routes as Washington accused Tehran of disrupting the flow of international oil by attacking tankers and Saudi oil facilities. Iranian officials denied the move but did seize a U.K.-flagged tanker in July, just weeks after an Iranian supertanker was detained in U.K.-controlled Gibraltar on suspicion of attempting to deliver oil to Syria, a destination outlawed by EU sanctions.
That Iranian ship, which—along with the U.K.'s vessel, has since been released—had made the same 12,000-nautical mile journey around Africa that Sayyari referenced Wednesday. Iranian officials accused the U.K. of "piracy" at the time by preventing an Iranian vessel transiting from what they said were international trade channels.
Sayyari has discussed dispatching Iranian warships westward since at least 2014, when in his previous role of naval commander, he announced the deployment of a flotilla to the Atlantic Ocean.
Such efforts were echoed by his successor, current Navy Commander Rear Admiral Hossein Khanzadi, and other leading Iranian officials who have more recently spoken of sending ships to shore up relations with Venezuela. The Latin American country's socialist government has received support from Iran, Russia and China, among others, while the U.S. and its allies have recognized opposition leader Juan Guaidó as "interim president" there.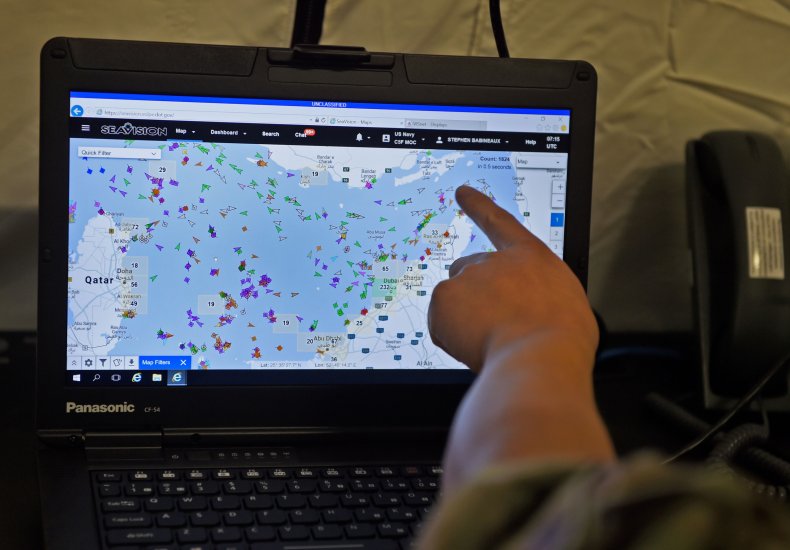 Tehran has also sought to build diplomatic bridges closer to home as regional tensions flared. In response to the U.S.' establishment of the International Maritime Security Construct that has so far recruited Australia, Bahrain, Saudi Arabia, the United Arab Emirates and the U.K., Iran invited nearby Arab states to the Coalition for HOPE, or Hormuz Peace Endeavor.
The effort received backing from Russia and China, but has yet to be officially endorsed by any other power, nor has Moscow's own proposed Security Concept for the Persian Gulf, which would include regional states along with the likes of the U.S., China, the EU and India.
With Moscow and Beijing frustrating Washington's attempts to blockade Tehran, the Trump administration has only doubled down on efforts to cut off Iran's ability to move goods. On Wednesday, Secretary of State Mike Pompeo announced sanctions against Islamic Republic of Iran Shipping Lines, Iran's largest shipping company, which he alleged engaged in the proliferation of weapons of mass destruction.
In a separate press conference that same day, Defense Secretary Mark Esper said the U.S.' development of a naval coalition and deployment of additional troops to Saudi Arabia sent "a clear message to Iran that the international community will not tolerate its malign activities." He said the Pentagon's goal was to rally allies to maintain regional stability and that "Iran should not mistake the United States' restraint for an unwillingness to respond with decisive military force should our forces or interests be attacked."