Somewhere in the mountains of northern Yemen, the missile lifted off in a dense cloud of fire and smoke and began its arc over Saudi Arabia. After roaring north for some 600 miles, the Iranian-made Qiam-1 reached its target, the international airport just outside of Riyadh. The Saudis claim they blew the missile out of the sky with a U.S.-supplied Patriot interceptor, but experts now say the incoming missile exploded upon impact, narrowly missing the domestic airport terminal.
This November 4 attack, Middle East intelligence sources tell Newsweek on condition of anonymity to discuss sensitive security matters, was one of 87 such long-range missile strikes Yemen's Iran-backed Houthi rebels have launched against the Saudis in their nearly three-year war. The strikes—some 50 of which the Saudis have tried to keep secret—not only threaten to derail Riyadh's ambitious plan to transform its oil-based economy into one more attractive to foreign investors; they're also the latest sign that Iran and its proxies are thumping the kingdom in their fierce battle for dominance in the Middle East.
President Donald Trump says challenging Iran's growing power in the region is one of his top priorities, but the U.S. and its allies have yet to come up with a concrete plan, and analysts say victory in this contest hinges less on guns and warplanes than on which side can best exploit religious and ethnic schisms in the Middle East.
As Aaron David Miller, a former Middle East adviser to Republican and Democratic secretaries of state, puts it: "I don't believe the Saudis are going to come out winners."
'A Huge Victory for Iran'
Tehran exerts enormous influence across an expanse that stretches from Lebanon on the Mediterranean Sea, over the Levantine steppe of Syria and Iraq and down to Yemen. That influence stems from Iran's creation of powerful Shiite proxies in key countries in the region, which Tehran has been able to mobilize to its advantage—and to Saudi Arabia's chagrin—especially since the Arab Spring revolutions in 2011.
In Lebanon, Tehran has backed the Shiite Hezbollah militia and party, giving Hezbollah decisive political power and helping it crush the Saudi-backed Sunni opposition. In Syria, Iran has steadfastly supported President Bashar al-Assad, a member of the Alawite sect, a Shiite offshoot, and sent both Hezbollah fighters and Iranian forces to fend off Saudi-backed Sunni rebels when civil war erupted in 2011. In Iraq, Iran also created a 120,000-strong, officially sanctioned Shiite military force that was largely responsible for defeating the Islamic State militant group, also known as ISIS.
Related: Iran Says Arabs and Muslims Must Defend Jerusalem
Iran's strategic advantage may soon grow. In a month or so, it is expected to complete construction on a series of roads connecting Iran to the Mediterranean, an overland route that hasn't existed since the ancient Persians ruled the area more than 2,300 years ago. "This is going to be a huge victory for Iran," says Hanin Ghaddar, a Lebanese journalist and expert on Shiite politics. "Not only will it make it cheaper to ship arms to Hezbollah in Lebanon and other Iran-directed proxies, but it also symbolically unifies the Shiites and re-creates the Persian Empire."
In a sign of Iran's burgeoning confidence, General Qassem Soleimani, commander of the Revolutionary Guards' elite Quds force, recently refused to receive a letter from CIA Director Mike Pompeo. "I will not accept your letter, nor will I read it. I have nothing to do with these people," Soleimani reportedly replied. (Pompeo later confirmed Soleimani's response to his letter, which warned that the United States would hold Iran responsible for any Iranian attacks on U.S. troops now advising Iraqi forces.)
Some experienced policy hands, including former Defense Secretary and CIA Director Leon Panetta, would like Saudi Arabia to form a military coalition with Israel and Turkey against Iran. But Ankara has grown closer to Tehran lately because of their common struggle against Kurdish separatists. Turkey also has sided with Qatar in Saudi Arabia's bitter dispute with its tiny Persian Gulf neighbor over its cordial ties with Iran.
The Iranian surge has, however, produced a once-unthinkable alliance between Saudi Arabia and Israel. The two now share intelligence on Iran, Israel's military chief disclosed for the first time in November. Israel appears focused on Iranian moves to build a military base on the Syrian side of the Golan Heights. But some analysts suspect Riyadh has been maneuvering to turn Israel's attention toward Hezbollah. On the orders of his Saudi patrons, Lebanese President Saad Hariri flew to Riyadh in November to resign before returning to Beirut to resume his post. Then he threatened to step down again unless Hezbollah withdraws its forces from Yemen. Regional experts say Hariri was clearly channeling the concerns of Saudi Arabia, which indicated it would squeeze Lebanon economically and, by extension, Iran, if Tehran's proxy refused to disengage from Yemen. Saudi pressure likely would take the form of expelling some of the 350,000 Lebanese working in the kingdom, which would halt the flow of an estimated $3 billion in remittances back home every year. Such a move would be a painful blow to the Lebanese economy. Under this scenario, several regional analysts say, Hezbollah would need to provoke another confrontation with Israel to shift blame away from itself for the country's economic woes. And in the ensuing war, Israel would deliver a crushing blow to the Shiite group, crippling Iran's primary proxy.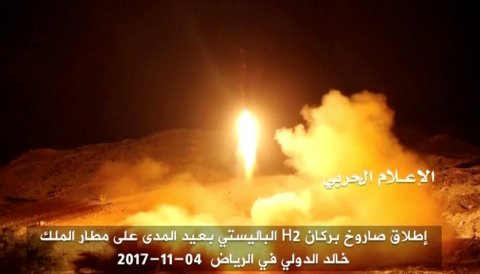 Ghaddar doubts Hezbollah or Iran would buckle under Saudi pressure because support for the Houthis has grown into a major cause for the Shiite group and its Lebanese leader, Secretary-General Hassan Nasrallah. "This is more than a practical issue," she says. "This is whether Iran is going to give up Yemen for Saudi Arabia. This is not going to happen."
'The World's Worst Humanitarian Crisis'
In Yemen, the Houthis, another Shiite sect, have offered the Iranians yet another opportunity to bleed the Saudis, this time in their own backyard.
The Houthis ousted the internationally recognized government in Sanaa in January 2015. Three months later, Saudi Arabia, together with the United Arab Emirates and Egypt, launched a bombing campaign and naval blockade to crush the rebels, and blamed Iran for fomenting their insurrection. Since then, the U.S. has been providing intelligence and logistical assistance to Riyadh's war effort, including midair refueling for Saudi warplanes and ships to interdict weapons smugglers.
Saudi Arabia and the U.S. have accused Iran of violating a U.N. arms embargo on the Houthis, a charge that Iran denies. But a confidential November 24 report by U.N. inspectors appears to support the allegations that Tehran supplied the Qiam-1 missiles used in the Riyadh attack in early November, as well as several earlier strikes. Another U.N. report that month indicated that the Houthis have been using Iranian technology to extend the range of their stockpiles of Scud and SA-2 missiles.
The reports echo earlier accounts that Iran has been assisting the rebels by supplying them with weapons. In August, Reuters quoted three unnamed senior Iranian officials boasting that the Revolutionary Guards had found a new arms smuggling route to the Houthis across the Persian Gulf. Previously, the officials said, Iran had shipped weapons to the Houthis directly to Yemen or from Somalia. But to evade U.S. and Saudi–led coalition naval patrols, the officials said, Iranian ships now transfer the weapons to small wooden dhows at the top of the Persian Gulf, where they face less scrutiny. From there, the dhows move down the gulf to Oman, where the weapons are unloaded and moved overland to the Houthis.
Related: Saudi Arabia Is Bombing Yemen But Blames Humanitarian Disaster on Iran-backed Houthis
The U.N. investigators are now trying to nail down whether Iran supplied the Houthis with the Qiam-1 missile used in the November attack. One clue comes from a missile component found among the debris that was stamped with the logo of the Sahid Begheri Industrial Group, a subsidiary of the Iranian Aerospace Industries Organization. In a letter to Iran obtained by Agence France-Presse, the panel asked officials in late November to list the companies and individuals to which the Sahid Begheri Industrial Group exported the missile component. Iran has not yet responded.
The Houthis suffered a setback recently when their ally, former President Ali Abdullah Saleh, denounced them, shattering the alliance between the rebels and his loyalists. The rebels killed Saleh, prompting his son to vow revenge. The fighting is raging amid a Saudi blockade that has cut off food and medical supplies to rebel-held areas of Yemen, causing widespread starvation, a cholera epidemic and what the United Nations calls the world's worst humanitarian crisis.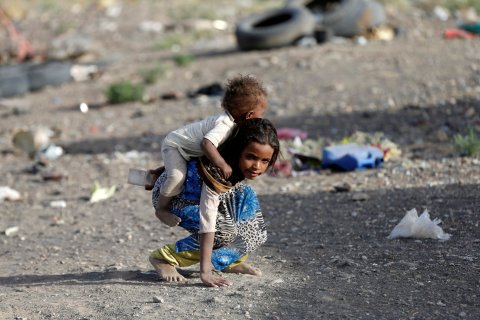 Against this grim backdrop, the Houthis have now threatened to escalate their missile attacks by targeting all airports, seaports and border crossings in both Saudi Arabia and the United Arab Emirates. On December 3, they announced they had fired what appeared to be an Iranian Soumar cruise missile at the construction site of a nuclear power plant in Abu Dhabi.
The Houthis also say they now possesses what they claim to be locally manufactured, high-precision shore-to-sea missiles and are prepared to use them on warships enforcing the naval blockade. Yemen is "a cheap additional front for the Iranians to open up," says Miller of Houthis' missile war against the Saudis. "It costs $2 million to $3 million to launch a Patriot," he said, referring the U.S.-supplied missile defense system the Saudis use against incoming rockets. "It cost half that to launch one of [the Houthis'] missiles."
The Houthis' missile attacks are becoming an increasing challenge for Saudi Crown Prince Mohammed bin Salman, the architect of both the Yemen war and the kingdom's economic reform plan. Salman has acknowledged only 34 of the long-range attacks—and claimed an improbable near-perfect record of interceptions by U.S.-supplied Patriots—because he's trying to portray his country's defenses as impregnable, and he doesn't want foreign investors to know how widespread the attacks have become. In fact, the long-range missile strikes come on top of hundreds of short-range tactical rockets and missiles the Houthis have fired into Saudi border towns and military bases, wounding and displacing thousands, according to a recent study by the Washington Institute for Near East Policy. "The Iranians," says Miller, "have managed to give the Saudis the middle finger."
At the same time, he adds, by establishing the Houthi-held area of Yemen as a missile platform from which it can bombard Saudi Arabia, Tehran is creating a situation similar to that in southern Lebanon, where Hezbollah's missiles rained down on northern Israel, culminating in the inconclusive 2006 war between the two. Today, southern Lebanon once again bristles with thousands of Iranian-supplied Hezbollah missiles pointed at Israel.
"A sophisticated missile capacity in Yemen is not only going to create a serious security problem for Saudi Arabia," he adds. "It's also going to make it extremely difficult for much, if any, of [the crown prince's] new vision for Saudi Arabia to take place."