Iran Says It 'Cut Off U.S. Hand' in Persian Gulf As New Navy Encounter Emerges
After the U.S. Navy released footage of yet another recent encounter with Iranian naval forces, the speaker of Iran's parliament said that his country had successfully blocked the U.S. from accessing the waters near the country's Persian Gulf coast.
Addressing the state of the Persian Gulf during a virtual conference Wednesday, Islamic Consultative Assembly Speaker Mohammad Bagher Qalibaf railed against the presence of foreign forces, which, he said, "led by the United States, has eroded economic opportunities in the region and beyond."
He accused these forces, which include the eight-nation International Maritime Security Construct patrolling Persian Gulf waters as well as a 34-nation Combined Maritime Forces partnership, of pursuing ulterior motives not conducive to maintaining security and stability in one of the world's most critical maritime traffic passageways.
He warned that Tehran has taken proactive measures to guard its maritime backyard.
"It is certain that a strong Iran has shown in practice that America will never have access to the north of the Persian Gulf, and that America's movements will have no effect on the north of the Persian Gulf," Qalibaf said. "The Islamic Republic of Iran has shown that it has cut off the U.S. hand from the north of the Persian Gulf."
He reached out to other countries in the region to join Iran in its opposition.
"We hope that all countries, hand in hand, will cut off the United States from the region," Qalibaf said, "and expel foreign troops who have caused threats and insecurity in the region."
The remarks came as the U.S. Navy's 5th Fleet released pictures of an encounter Tuesday between two U.S. warships and the forces of Iran's Islamic Revolution Guard Corps Navy, or IRGCN, in the northern stretch of the Persian Gulf.
An accompanying statement said that three armed Revolutionary Guard inshore attack craft "rapidly approached" U.S. Navy patrol coastal ship USS Firebolt and U.S. Coast Guard patrol boat USCGC Baranof "to an unnecessarily close range with unknown intent," at one point coming as close as 68 yards to the two U.S. vessels.
After attempting to ward off the Iranian boats via radio and hailer devices, the USS Firebolt's crew "then fired warning shots, and the IRGCN vessels moved away to a safe distance from the U.S. vessels," according to the report.
The U.S. Navy said the Iranian boats "failed to exercise due regard for the safety of other vessels as required under international law as they came into close proximity" to the U.S. ships. Such actions "increased the risk of miscalculation and/or collision, were not in accordance with the internationally recognized Convention on the International Regulations for Preventing Collisions at Sea (COLREGS) "rules of the road" or internationally recognized maritime customs," according to the U.S. side.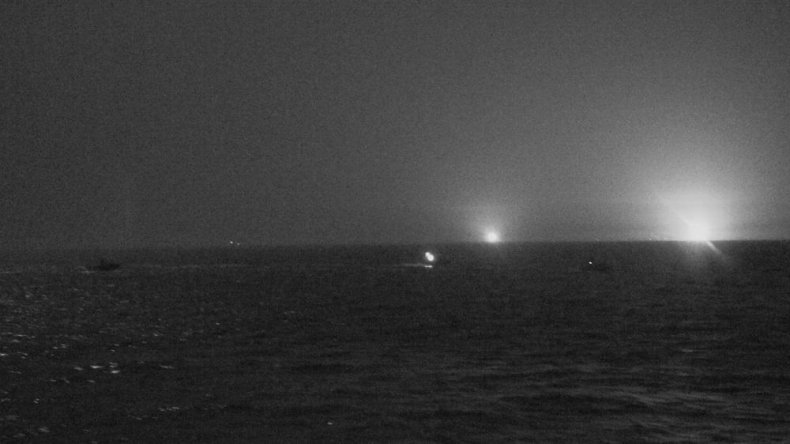 It was the second encounter released by the U.S. Navy in as many days.
On Tuesday, the 5th Fleet released photos and video of what it described as "an unsafe and unprofessional action" by the Revolutionary Guard Navy Harth 55-class boat Shahid Nazeri as it appeared to cross in front of the bows of U.S. Coast Guard patrol boat USCGC Monomoy on April 2.
Washington and Tehran have criticized one another's behaviors in the Persian Gulf and broader Middle East for decades. As tensions picked up in recent years following former President Donald Trump's withdrawal from a nuclear agreement with Iran and major world powers, the U.S. administration labeled the Revolutionary Guard a terrorist organization in April 2019, prompting Iran to designate the same label to U.S. Central Command.
The U.S. would go on to accuse the Revolutionary Guard of orchestrating a series of sabotage acts that began to strike international oil tankers later that same month in the nearby Gulf of Oman, something Iran has always denied. The Revolutionary Guard has, however, boarded other foreign ships accused of violating maritime safety code in the Strait of Hormuz chokepoint.
As unclaimed attacks continue to plague the region, including against Iranian and Israeli ships, CENTCOM commander General Kenneth F. McKenzie Jr. hailed U.S. efforts to team with other powers in the Persian Gulf, and warned against rogue Revolutionary Guard actions.
"The greatest threats probably to commerce in the region would be the IRGC Navy doing something that was not sanctioned by higher authority," McKenzie said, "and I'll just say that the activities we typically see in the IRGC Navy are not necessarily activities that are directed by the Supreme Leader, from the Iranian state, rather irresponsible actions by local commanders on-scene."
McKenzie said U.S. personnel involved were "very careful to ensure that we don't get into a provocative cycle as a result of that"
"Luckily, our guys are pretty good," he added. "Our sailors are very well-trained, they're very capable, they're very mature and they're able to de-escalate these situations, which is what you always seek to do when you do that."
McKenzie's comments came amid rare public spats that have emerged between the Revolutionary Guards and Iranian President Hassan Rouhani's civilian government ahead of elections that will signal the end of the Iranian president's second and final term. Over the past week, Iranian Foreign Minister Mohammad Javad Zarif was heard claiming the country's military apparatus eclipsed diplomatic strategy in the Islamic Republic in leaked remarks, and his ministry issued a denial of remarks by Revolution Guard official and former Petroleum Minister Rostam Qassemi, who alleged Tehran offered military training and advisers to Yemen's Ansar Allah, or Houthi, rebel movement.
Qassemi has since announced his candidacy for president, while Qalibaf, another popular conservative who previously ran against Rouhani's reelection bid in 2017, has yet to respond publicly to speculation he too may run again.
Also playing out on the backdrop of recent tensions in the region were talks geared toward bringing the U.S. back into the nuclear agreement still backed by China, France, Germany, Iran, Russia and the United Kingdom.
President Joe Biden has sought a U.S. reentry to the accord but has set out to ensure Iran first reinstituted uranium enrichment caps suspended in response to the non-compliance of Western signatories before his administration lifted sanctions. Tehran, for its parts, considers the repeal of Washington's unilateral economic restrictions to be a prerequisite for its return to the agreement.
This article has been updated to reflect that the International Maritime Security Construct consists of eight nations and the Combined Maritime Forces partnership consists of 34.