Iran Says It Will Expand Military Ties with Russia, Hold Joint Drills as U.S. Tries to Build Rival Coalition
The head of Iran's navy has said he signed a document to expand ties with Russia, with whom his forces planned on conducting joint drills in the same tense waters that the United States sought to counter the Islamic Republic with international support.
Iranian naval commander Rear Admiral Hossein Khanzadi said Monday that he signed an unprecedented memorandum of understanding with Russia, largely involving the two countries' naval forces, and that it "may be considered as a turning point in relations of Tehran in Moscow," according to Iran's semi-official Fars News Agency. The news came as Khanzadi was visiting St. Petersburg to celebrate Russia's Navy Day and he further announced that "joint Russian-Iranian exercises in the Indian Ocean are expected to take place soon."
"When we talk about the Indian Ocean, perhaps the most significant part of the area is the northern Indian Ocean, which flows into the Gulf of Oman, the Strait of Hormuz and also the Persian Gulf," Khanzadi said.
Such an exercise would take place in the same waters in which the U.S. has accused Iran of attacking and seizing international vessels in recent months, charges Tehran has denied as it faced mounting sanctions in the wake of Washington's withdrawal last year from a 2015 nuclear deal with its longtime foe.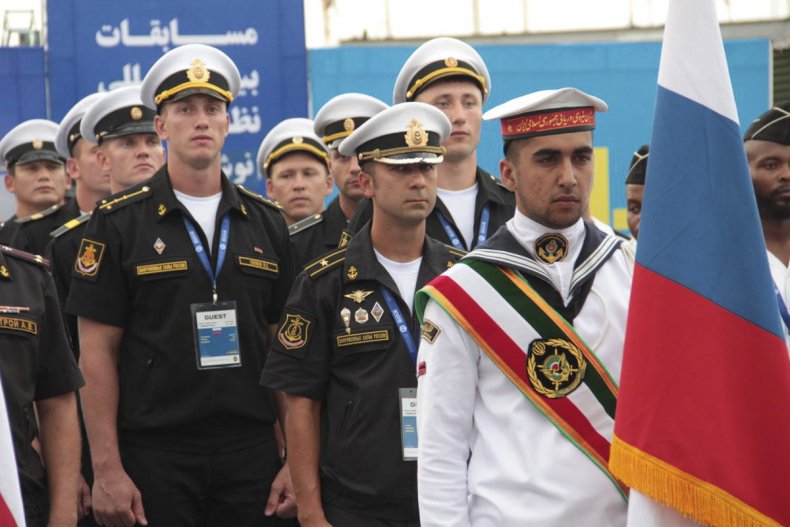 The agreement, officially known as the Joint Comprehensive Plan of Action, was also signed by Russia as well as China, the European Union, France, Germany and the United Kingdom⁠ — all of whom still support it in spite of President Donald Trump's exit. Washington has threatened to hit the countries with sanctions should they engage in trade with blacklisted Iranian business sectors, such as its otherwise lucrative oil industry.
The Pentagon has also deployed additional military assets such as 2,500 troops, a carrier strike group and a bomber task force to the Middle East in response to what the White House has claimed was a heightened threat posed by Iran. The U.S. has also held Iran responsible for two series of explosions that targeted foreign oil tankers traversing the Gulf of Oman since mid-May, accusations the country has denied.
Unmanned aerial systems too have been at the center of worsening frictions as the Trump administration claimed to have downed an Iranian drone last week, about a month after Iran's elite Revolutionary Guards shot down a U.S. Navy drone in the Persian Gulf region. Tehran denied losing a drone and the Revolutionary Guards seized a U.K.-flagged vessel the following day, accusing it of endangering vessels in the Strait of Hormuz weeks after the U.K. detained an Iranian supertanker accused of attempting to transport oil to Syria via the Strait of Gibraltar in what London called a violation of EU sanctions.
With tensions rising, the U.S. and the U.K. have made separate calls for an international maritime coalition to patrol the Persian Gulf. Secretary of State Mike Pompeo told the Economic Club of Washington that the U.S. would be successful in building "a maritime security plan" and that "we need countries from all across the world to assist us in protecting commercial transit."
Pompeo told Fox News Channel last week that when it came to retreiving the U.K,-flagged vessel in Iranian custody, "the responsibility...falls to the United Kingdom to take care of their ships" and newly-appointed U.K. Foreign Minister Dominic Raab told London-based newspaper The Times on Friday that any European-led mission would "doesn't seem to me to be viable without American support as well." France and Germany signaled early interest in the U.K.'s proposal but have sought to distance themselves from the U.S. position toward Iran.
South Korean Defense Ministry spokesperson Colonel Roh Jae-cheon told reporters Monday that his military was "looking into various options to ensure the safety of our vessels" in the Strait of Hormuz when asked if Seoul would sign on to the Pentagon's initiative, according to Yonhap News Agency.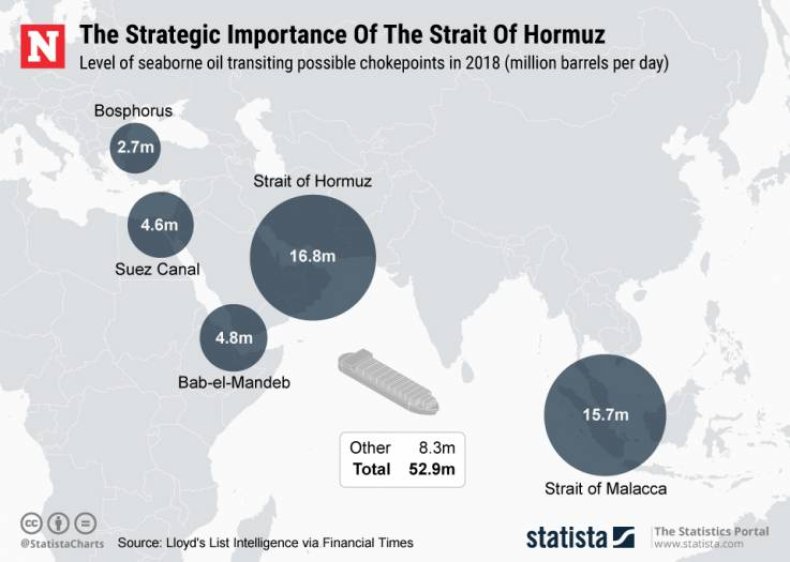 Russia has expressed skepticism at the two Western projects, urging instead for security talks that involve Iran and other regional powers, including countries on the Arabian Peninsula that have backed Washington's hard-line position against Tehran. Chinese Foreign Ministry spokesperson Hua Chunying told journalists Thursday Beijing "welcomes the relevant proposal of Russia and stands ready to step up communication and coordination with relevant parties."
Iran has warned against the move, with President Hassan Rouhani saying Sunday that "the presence of foreign forces will not contribute to the security of the region, but will be a major cause of tension" at a meeting alongside Omani Foreign Minister Yusuf bin Alawi bin Abdullah in Tehran. Muscat's top diplomat "discussed several issues, including bilateral relations, peace in the region and the need to maintain the security and safety of international navigation in the Gulf" with the Iranian leader, according to a readout from his ministry.
Moscow and Tehran have coordinated militarily in their joint campaign to support Syrian President Bashar al-Assad in Syria and their strategic partnership has so far endured repeated U.S. and Israeli appeals to Russia to end it. At the same time, Russia has called on Iran not to enrich uranium beyond limits outlined in the 2015 deal, though it has joined China in consistently blaming the U.S.' withdrawal for the Islamic Republic's decision to do so.