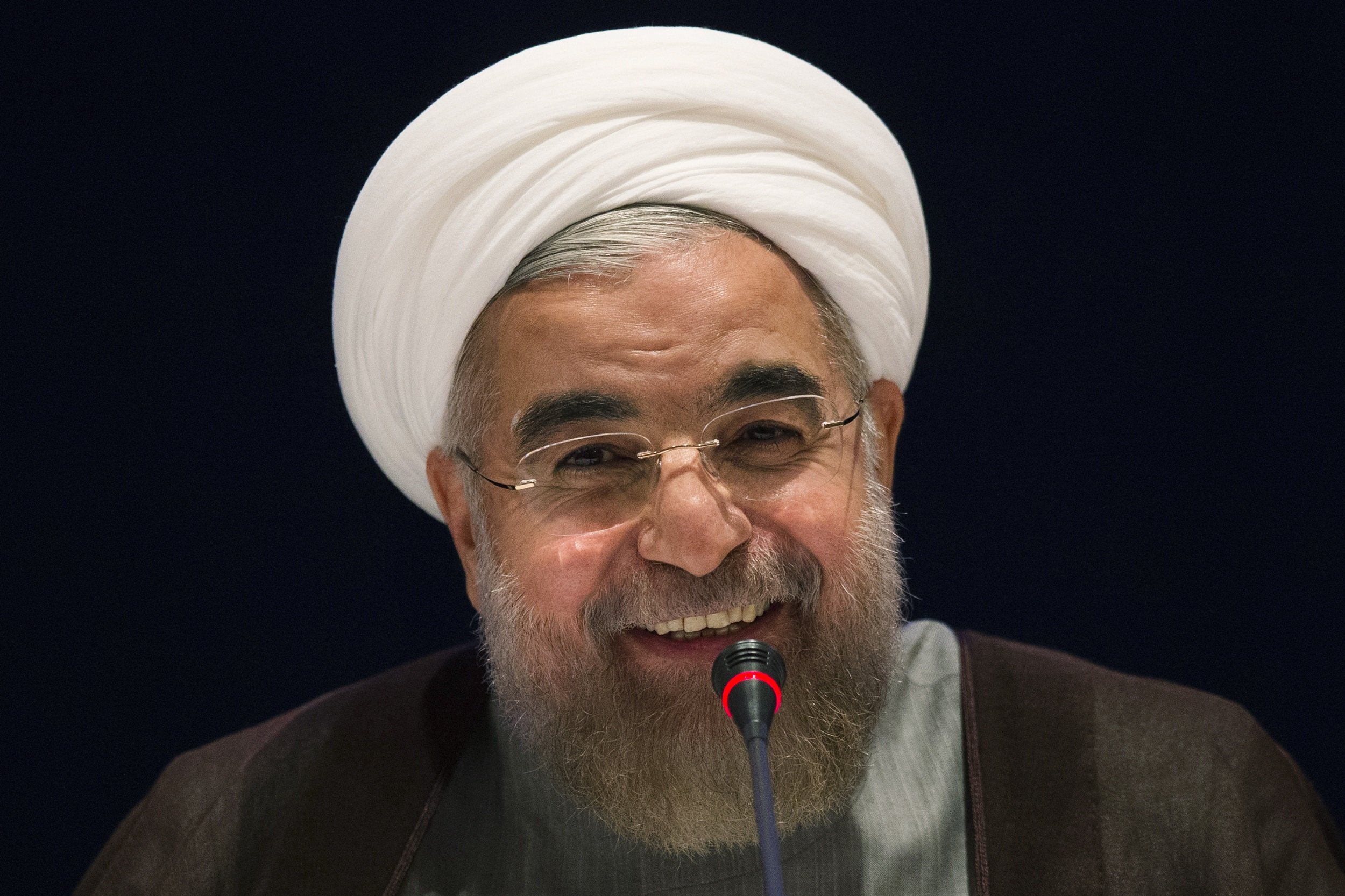 Thirty-five years after the Islamic revolution in Iran led to a bitter and lasting confrontation with the West, Iran is emerging as a potential Western ally. The American-led war on the Islamic State, more commonly known as ISIS, has brought together the West and Middle East nations in a common cause. And Iran is on the verge of joining the coalition.
This strange turn of events is raising serious concern among some Middle East leaders who consider Iran a threat to the independence, even existence, of their nations. As the West and Iran rush to solve their differences over Iran's nuclear weapons program, the hasty embrace of Iran is being watched warily, particularly by the Sunni Gulf states and Israel.
At various locations around the United Nations headquarters a week ago, in the shadow of the General Assembly speeches, frantic, around-the-clock negotiations were going on between Iran's nuclear experts and their counterparts from six world powers. The aim: a deal that would end sanctions and Iran's isolation in return for assurances it does not develop nuclear weapons.
Meanwhile, in the Middle East, Iran was quietly expanding its reach. The Houthis, an Iranian-backed, Yemeni Shiite militia, captured much of Yemen's capital, Sanaa, as well as large swaths of territory beyond its traditional strongholds in the country's north. The coup, which shattered President Barack Obama's hope that Yemen might become a model for other Middle East nations, was especially worrisome for Yemen's neighbor, Saudi Arabia, the most formidable Sunni rival to Shiite Iran.
Elsewhere, Iran's beleaguered ally, President Bashar Assad of Syria, stood to gain from the Western-backed intervention against ISIS, his most formidable enemy in Syria's civil war. And while Iraq's new Shiite prime minister, Haider al-Abadi, is more inclusive of Sunni and other minorities than his predecessor, Nouri al-Malaki, he maintains close ties with Tehran, giving Iran an opportunity to play spoiler in a delicate process of Iraqi national reconciliation.
Well aware of its new position, Iran's President Hassan Rouhani told the General Assembly on September 25 that Iran's promises of help in the war against ISIS depended on Western concessions in the nuclear talks. "We are determined to continue our confidence-building approach and our transparency" in the nuclear negotiations, Rouhani said. "If our interlocutors are equally motivated and flexible," then Iran and the West can start cooperating on "very important regional issues, such as combating violence and extremism."
This rush to kiss and make up between the U.S. and Iran, whose differences have festered since 52 U.S. diplomats were taken hostage in Tehran in the wake of the 1979 Islamic revolution, is disturbing Iran's detractors, who say that it is incredible that a country that executed 1,000 people last year, many of them in public hangings from construction cranes, could become a bastion against extremism.
Rouhani's U.N. speech "ignored serious abuses perpetrated by Iran's security forces—which continue to arrest peaceful protesters and activists—and a judiciary that sentences journalists and Internet users to heavy punishments, including death, and hangs child offenders," said Faraz Sanei, an Iran watcher at Human Rights Watch. As Rouhani addressed the General Assembly, 2,000 dissidents from the Mujahedin-e Khalq group protested against the Iranian regime.
And while Rouhani blamed "strategic blunders of the West in the Middle East, central Asia and the Caucasus" for the rise of Al-Qaeda, ISIS and other Sunni terrorist groups, the Iranian-backed, Lebanese-based militia Hezbollah remains high on the U.S. State Department and European Union's list of terrorist organizations. Nevertheless, Western leaders signaled that the Islamic Republic of Iran and its allies were essential players in the fight against ISIS.
Typical was the response from the French president, François Hollande. "I met with the president of Iran, because Iran must be an actor" in the anti-ISIS coalition, he told reporters. A week ago, British Prime Minister David Cameron also met with Rouhani, saying that he and the Iranian leader "noted the threat posed to the whole region by [ISIS] and agreed that all states in the region must do more to cut off support for all terrorist groups, including financial support."
All now rests on whether the West and Iran can complete a deal on Iran's nuclear weapon program before the November 24 deadline. At the center of the frantic talks were the EU's foreign policy commissioner, Catherine Ashton, and the Iranian foreign minister, Javad Zarif. The two have forged a special bond in long negotiation sessions, and sources close to the negotiations say Ashton would love to strike a deal to cap her time at the EU, which officially ends in October.
Yet thorny disagreements remain. On September 25, U.S. Secretary of State John Kerry took charge of the negotiations, inviting Zarif and Ashton to his suite at the Waldorf Astoria. The talks spilled into the next day. But a meeting between the foreign ministers of all five permanent members of the U.N. Security Council and Germany, known as the P5+1, and Zarif, which was considered an indication that the talks were well advanced, never materialized. When I asked the French foreign minister, Laurent Fabius, whether the meeting was still on, he said, "The answer is no."
Several ideas have been floated to resolve the standoff. In the past, the West has demanded that Iran dismantle most of the 19,000 centrifuges it has, including the nearly 10,000 centrifuges it currently uses to enrich uranium. Iran, meanwhile, insists it needs—for what Rouhani stressed was peaceful purposes—to add up to 190,000 more centrifuges.
But Western negotiators became increasingly concerned about the possibility that, beyond Iran's declared nuclear facilities (like Bushehr, the uranium enrichment plant),Iran is conducting secret testing at unknown sites. That concern complicated the talks even further. Iran's progress toward producing near-weapons-grade nuclear fuel also worries the negotiators.
Just before Rouhani arrived in New York, the International Atomic Energy Agency (IAEA), the world's nuclear watchdog, denounced Iran's lack of cooperation with the agency. Israel's minister for intelligence and strategic affairs, Yuval Steinitz, issued a statement saying his office "can confirm with confidence" that from 2000 to 2001, Iran has conducted tests whose only possible purpose is "to ignite the nuclear chain reaction in nuclear weapons."
The tests, according to Steinitz, were conducted in Parchin, a highly secretive military installation that Iran has refused to open up to visits by IAEA inspectors who have long demanded access to the site.
Despite all these setbacks, German Foreign Minister Frank-Walter Steinmeier, a veteran of negotiations with Iran, told a group of reporters last week, "We made more progress in the last week than in 10 years." The question, he added, is "Do the Iranians have courage" to close a deal.
Some of Iran's neighbors, however, fear that the price of building such courage will be more and more concessions.