Iran Says No 'Recent' Deal to Send Russia Drones As It Awaits Putin Visit
Iran has responded to U.S. allegations that Tehran was poised to send armed, unmanned aerial vehicles (UAVs) to Russia amid Moscow's war in Ukraine, saying that although no recent arrangements had been worked out, longstanding cooperation between the two countries remains intact.
The Kremlin announced on Tuesday that Russian President Vladimir Putin would travel to Tehran next week. Iranian Foreign Ministry spokesperson Nasser Kanaani responded to Newsweek's question on White House national security adviser Jake Sullivan's claim Monday that "the Iranian government is preparing to provide Russia with up to several hundred UAVs, including weapons-capable UAVs, on an expedited timeline."
Kanaani responded that "cooperation between the Islamic Republic of Iran and the Russian Federation dates back to before the onset of the Ukraine war and no specific development came about recently in this regard," according to his Ministry.
"He added that the Islamic Republic of Iran's stance on the Ukraine war is absolutely clear and has been declared time and again officially," the statement continued.
Kanaani, who was appointed as the Iranian Foreign Ministry spokesperson last month, also accused Washington of hypocrisy in its opposition to such an arrangement, alleging that the U.S. and allied powers have flooded the Middle East with weapons, including those reserved for Iran's top foe, Israel.
"Kanaani said the US official makes such claims at a time when Washington and European governments have turned occupying and invading countries including in West Asia into an arsenal of their diverse lethal arms," the statement said.
"He added undoubtedly without those arms," the statement continued, "the Zionists would not have been able to continue their crimes, aggression and occupation of Palestine for more than seven decades."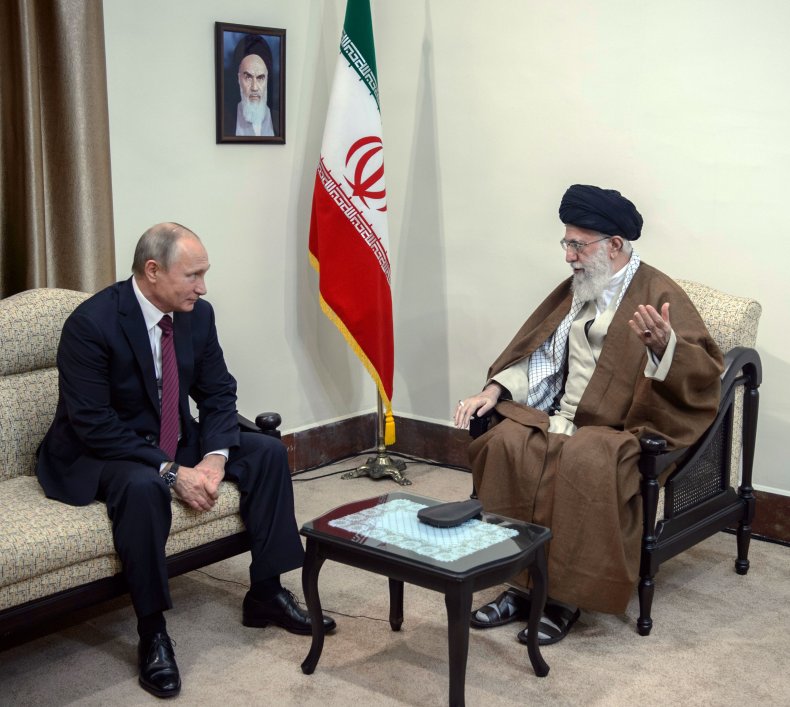 The U.S. and allied powers scrambled to send troves of weapons and military assistance to Ukraine as it attempted to fend off a Russian incursion launched on February 24 after failed talks between Moscow and members of the NATO military alliance, including Washington.
Iran's own arms trade was long restricted by a United Nations Security Council resolution adopted in 2010 in response to Tehran's nuclear activities, but that ban expired in October of 2020 in line with a 2015 nuclear deal signed alongside major powers. Then-U.S. President Donald Trump's administration, which unilaterally abandoned the accord in 2018, attempted to pressure countries to maintain the ban, but the effort ultimately failed.
Under Biden, the U.S. has sought to negotiate a return to the nuclear agreement, but no breakthrough has emerged after a series of talks held since April of last year. The U.S. has also continued to warn about the threat posed by Iran's investment in conventional platforms, including advanced missile and UAV platforms.
During his press conference, Sullivan alleged that Iran was also "preparing to train Russian forces to use these UAVs with initial training sessions slated to begin as soon as early July."
"It's unclear whether Iran has delivered any of these UAVs to Russia already," Sullivan added, "but this is just one example of how Russia is looking to countries like Iran for capabilities that are also being used, I might add, or have been used before we got the ceasefire in place in Yemen, to attack Saudi Arabia."
When it comes to Ukraine, Iran has repeatedly called for peace and diplomacy, but at the same time has echoed Russia in blaming the expansion of U.S. and NATO military activities for inflaming tensions that led to the outbreak of the war in February. Tehran has opted to abstain from United Nations resolutions concerning the conflict.
But Iran's role has come into the spotlight as it was set to become a hub in the growing trade between Russia and India, which has also opted for neutrality in the Ukraine conflict. India has sought to invest in Iran's Chabahar port and integrate it into the nearly 4,500-mile International North-South Transportation Corridor (INSTC) that would significantly streamline shipment between Moscow and New Delhi.
Moscow and Tehran have also forged strategic relations on other fronts, and their partnership has only advanced as they both intervened on behalf of Syrian President Bashar al-Assad's government in Syria. Since 2017, Russia and Iran have also coordinated with Turkey, which backs insurgents forces in Syria, as part of a trilateral peace process first launched in the Kazakh capital of Astana, today called Nur-Sultan.
On Tuesday, Kremlin spokesperson Dmitry Peskov confirmed that Putin was planning to travel to Tehran on July 19 and meet with Iranian President Ebrahim Raisi and Turkish President Recep Tayyip Erdogan.
"Arrangements are underway for the president's visit to Tehran," Peskov told reporters, as cited by the state-run Tass Russian News Agency. "A meeting of the leaders of the states that serve guarantors for the Astana peace process will take place there."
The trip was also confirmed Tuesday by Mohammadreza Pourebrahimi, head of the Iranian parliament's economic committee, who told the state-run Islamic Republic News Agency that "planning for the development of economic cooperation between Iran and Russia will be the priority of the consultations between the presidents of the two countries."
That same day, IRNA reported that Iran and Russia had found substantial success in boosting their economic ties through the establishment of national currency-based trades and channels that subvert sanctions imposed by the U.S. on both countries.
Iran has also applied to join two important security and economy-focused blocs led by Russia and China, the Shanghai Cooperation Organization and BRICS. Tehran has boosted military with these two major powers as well, holding joint naval drills in the Indian Ocean and joining multilateral contests, such as the Sniper Frontier competition set to be held next month in Venezuela.
This is a breaking news story. More information will be added as it becomes available.