Iran Scoffs at U.S. Attempt to Impose Sanctions Ignored by United Nations
Iran's top diplomat has brushed off the United States' attempt to reimpose international sanctions ignored by the United Nations, considering it an illegal, invalid move that would not succeed in affecting the policies of the Islamic Republic.
Iranian Foreign Minister Mohammad Javad Zarif addressed the New York-based Council of Foreign Relations via video link on Monday to reinforce his country's rejection of the Trump administration's "maximum pressure" campaign to isolate Tehran. As Zarif spoke, senior U.S. officials led by Secretary of State Mike Pompeo gathered in Washington to discuss what they said was the restoration of international sanctions against Iran, and to roll out a series of new sanctions against Iranian officials and organizations.
The U.S. argument has been rejected by much of the international community, including fellow nuclear deal signatories such as European members of the U.N. Security Council. Despite this repudiation, Pompeo argued the U.S. had the right to kill a deal the White House had abandoned two years ago.
Asked about this latest development, Zarif said, "it's nothing new."
"I don't think it will have any more significant impact on Iran," he said. "The United States has exerted all the pressure it could on Iran. It has—it had hoped that these sanctions would bring our population to their knees. It didn't."
Zarif also rejected the Trump administration's use of the term "snapback" to refer to the reintroduction of sanctions against Iran, noting that the phrase does not appear in the nuclear deal, officially known as the Joint Comprehensive Plan of Action (JCPOA), endorsed by U.N. Security Council Resolution 2231.
"They failed," Zarif said. "Now, they are taking retribution not against us, but against the entire world by saying that anybody who does not accept—I mean, it's as if somebody said, 'There is a U.N. Security Council resolution and if you don't accept it, I'm going to kick you.'This is the type of global democracy the United States believes in."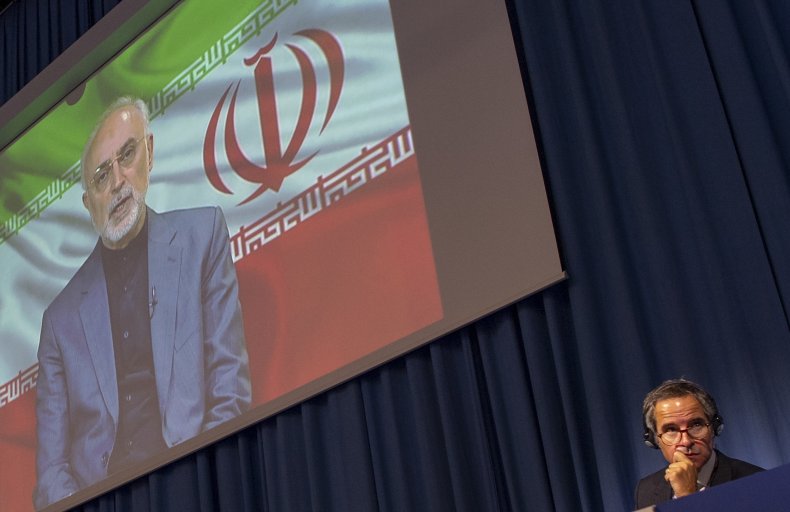 U.S. officials, however, appeared unphased about their lack of international support.
"The country that's isolated today is not the United States, but rather Iran," Pompeo told Monday's briefing. "By these actions, we have made very clear that every member state in the United Nations has a responsibility to enforce the sanctions. That certainly includes the United Kingdom, France and Germany. We will have every expectation that those nations enforce these sanctions."
U.S. ambassador to the U.N. Kelly Craft acknowledged that Washington was acting without allies, but attempted to claim the moral high ground.
"As we have in the past, we will stand alone to protect peace and security at all times," Craft said. "We don't need a cheering section to validate our moral compass. We do not find comfort based solely on numbers, particularly when the majority has found themselves in an uncomfortable position of underwriting terrorism, chaos, and conflict."
She called the U.S. "a force for good in the world."
Pompeo had officially announced Sunday that the U.S. would no longer recognize the validity of the JCPOA and the sanctions relief it provides in exchange for Iran curbing nuclear production. Trump had already left the agreement in 2018, imposing sanctions on Tehran as he accused Washington's longtime foe of secretly seeking a nuclear bomb and of supporting militant groups abroad, but the administration argues it still has the authority to dismantle the deal as an original member.
So far, U.N. leadership disagrees.
In a letter obtained by Newsweek, on Saturday Secretary-General Antonio Guterres told Niger's permanent representative Abdou Abarry, currently the U.N. Security Council president, that "the Security Council has taken no action subsequent to the receipt of the letter of the U.S. Secretary of State, neither have any of its members or its President."
The majority of the 15-member group, Guterres wrote, had indicated that they were of the opinion that Pompeo's letter "did not constitute a notification" that sanctions were to be reinstituted. His office would not take action "pending clarification by the Security Council," the letter said.
Russia and China have been particularly vocal in challenging U.S. attempts to sabotage the nuclear deal.
"We are pleased to state that the American plans to activate the mechanism of automatic restoration of anti-Iranian sanctions have completely failed," Russian Deputy Foreign Minister Sergei Ryabkov told the state-run Tass Russian News Agency in an interview published Monday.
He said business between Moscow and Tehran would go on unabated.
"We are not afraid of U.S. sanctions, we are used to them," Ryabkov said. "It will not affect our policy in any way. Our cooperation with Iran is multifaceted, defense cooperation will progress depending on the two countries' needs and mutual willingness."
Chinese Foreign Ministry spokesperson Wang Wenbin also dismissed the legality of the U.S. move at a press conference Monday in Beijing.
"The U.S. side is cherry-picking on international law—obeying or flouting it according to its own whim," Wang said.
He condemned the U.S. attempt at reinstituting sanctions against Iran as arbitrary.
"It is not only breaking the law, but also threatening to use illegal unilateral sanctions to coerce other countries," Wang said. "This outrageous and unreasonable approach has been widely frowned upon and opposed by the international community. We hereby advise the U.S. side not to go further down the road of unilateralism."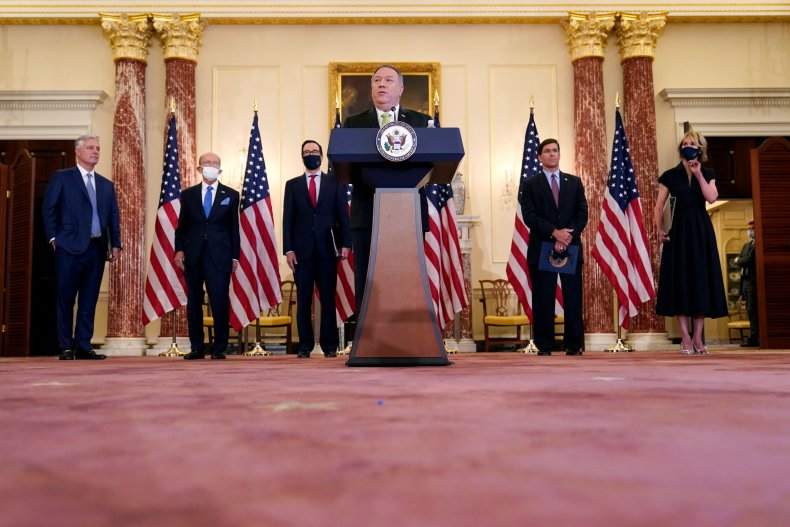 France, Germany and the United Kingdom have also said they would not follow in recognizing sanctions on Iran. U.S. pressure, however, has dissuaded many European companies from doing business with the Islamic Republic or normalizing trade ties, as well as much of the economic benefits promised to Iran by the JCPOA.
This diplomatic spat played out on the backdrop of heightened tensions in the Persian Gulf, where the USS Nimitz aircraft carrier recently sailed just off Iran's shores through the Strait of Hormuz, the world's most important oil traffic choke point. Iranian officials have called for a U.S. withdrawal from this region, especially after the killing of Revolutionary Guard Quds Force commander Qassem Soleimani in January.
Zarif brought up the slain general in his remarks on Monday.
"The United States made a great mistake of assassinating, in a clear terrorist way, somebody who was the number-one enemy of ISIS," he said, referring to Soleimani's frontline role in efforts to defeat the Islamic State militant group. "General Soleimani was revered, not only in Iran but elsewhere."
Asked if Iranian officials still sought the revenge they vowed against the U.S. for Soleimani's fiery death in Baghdad, Zarif warned that the matter had not been resolved.
"I'm not in the business of making threats," he said, "but the book is not closed."