Iran has reported a new record single-day increase in deaths due to the new coronavirus for the second time this week.
Sima Sadat Lari, spokesperson for Iran's Health Ministry, said on Tuesday that 200 more Iranians had died from COVID-19, the disease caused by the new coronavirus, in the past 24 hours, Iran's Islamic Republic News Agency (IRNA) reported. She noted that the country had also seen more than 2,600 new infections and over 1,400 new hospitalizations.
The record increase in deaths comes after the previous high was set on Sunday, when Iran reported 163 deaths due to COVID-19. Although deaths have been rising slowly since the end of May, the country's number of fatalities had initially peaked in early April with 158 deaths, before beginning to decline. Seen as one of the hardest hit countries by the pandemic early on, Iran has now reported a total of more than 245,000 infections and 11,931 deaths.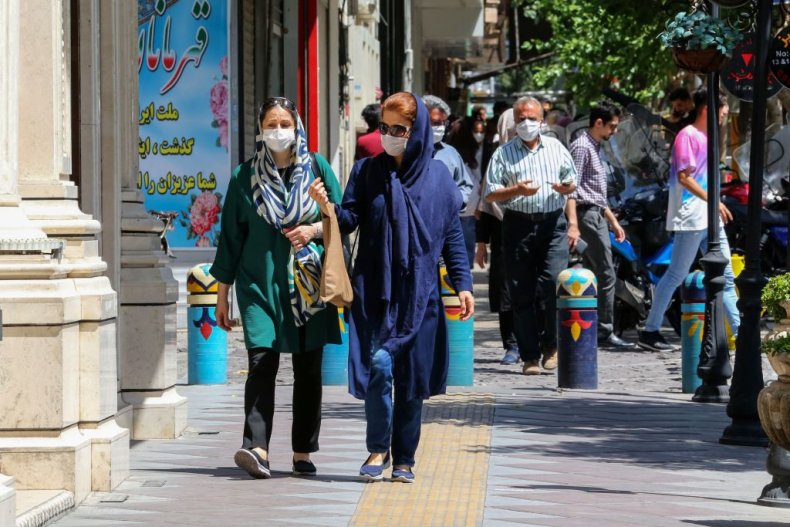 Newsweek reached out to Iran's Ministry of Foreign Affairs and the offices of the World Health Organization in Iran for comment, but they did not respond by the time of publication. Newsweek attempted but was unable to contact Iran's Health Ministry.
Lari also said on Tuesday that about 3,270 people in Iran were currently in critical condition, IRNA reported. She said that the country has conducted a total of more than 1.8 million COVID-19 tests.
Iran's government mandated that people wear masks in public starting Sunday, in an effort to curb the spread of the virus. The nation's Supreme Leader Ayatollah Ali Khamenei released a photo of himself donning a mask in a bid to encourage the country's nearly 82 million residents to follow his example, the Associated Press reported.
"We see that some consider being infected with the virus bad and hide it," Iran's President Hassan Rouhani said on Saturday, according to a transcript published to a government website. "If someone knows that they have been infected with coronavirus, they have a religious and human duty to inform others about it."
"At least, I must wear a mask if I'm infected," Rouhani said. "In the first place, I mustn't leave home, and if I have to go out, I must wear a mask, observe social distancing and tell the other person not to get close to me. There's nothing wrong with it. We should institutionalize this culture."
Globally, the new coronavirus has infected more than 11.6 million people since late last year. More than 537,000 people have died. The U.S. continues to be the country with the highest number of infections and deaths from the pandemic. As of Tuesday morning, the U.S. had reported more than 2.9 million cases and over 130,000 deaths, about a quarter of the global totals.