Iran Shows Off Ballistic Missiles as Tensions Rise With U.S., Pledges to Defend Against 'Psychological Warfare'
As tensions between the U.S. and Iran ratchet up, Tehran displayed a new generation of short-range ballistic missiles.
"As promised to our dear people, we will not spare any effort to increase the missile capabilities of the country, and we will certainly increase our missile power every day," Iran's Defense Minister Amir Hatami said on state media. "Nothing can stop this missile because of its high degree of flexibility," Hatami added. Officials said the new version of the Fateh Mobin, the Iran-made ballistic missile whose name means "Bright Conquerer," was successfully tested in early August. It was the first Iranian ballistic missile test in over a year.
The missile is believed to have a range of between 500 and 800 miles and can allegedly evade enemy radars. Iran is estimated to have over 1,000 short and medium-range ballistic missiles.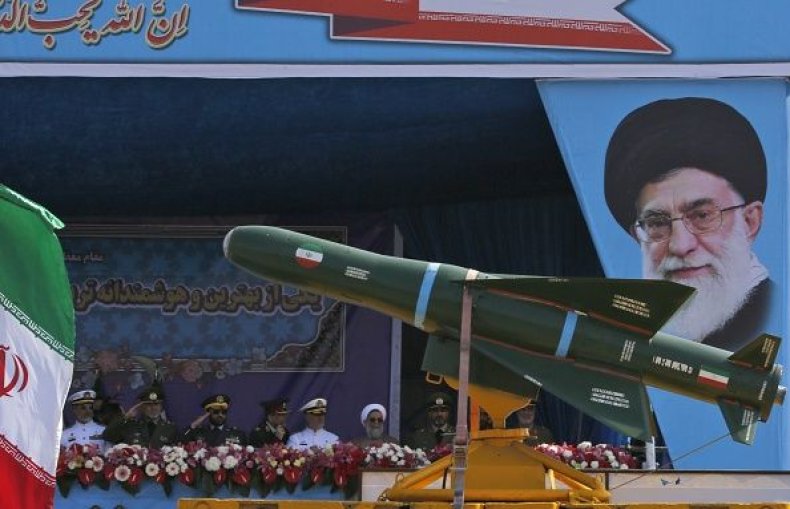 The U.S. has continuously called for Iran to halt both its nuclear weapons and ballistic missiles program, and this new display of arms is likely to rile officials in Washington. In recent weeks, President Donald Trump has engaged in a war of words with Iran's leadership via social media and then proposed a meeting with Iranian President Hassan Rouhani. But Rouhani does not have the most political power in his country, and he has little to gain domestically from cozying up to Trump.
On Monday, Iran's supreme leader Ayatollah Ali Khamenei, one of the country's most powerful leaders, specifically ruled out the possibility of talking to the Trump administration.
"Even if we ever—impossible as it is—negotiated with the U.S., it would never ever be with the current U.S. administration," Khamenei said Monday. He later tweeted a list in English of all of the reasons Iran will not negotiate.
In May, Trump officially withdrew from the Iran nuclear deal, an agreement negotiated under the administration of former President Barack Obama that put restrictions on Iran's nuclear weapons program in exchange for lifting international sanctions. The U.S. then reimposed sanctions on Iran in early August and threatened to sanction any European companies that do business with the country. Both Iran and European countries have been working to find a way to save the deal.
When unveiling the new ballistic missiles, Hatami made a thinly veiled reference to the ongoing tensions with the U.S.
"Be sure that the greater the pressures and psychological warfare against the great nation of Iran, our will to enhance our defense power in all fields will increase," he said.