Iran's Loss to U.S. Sparks Flood of Jokes: 'Should Have to Call It Soccer'
Soccer fans and other observers flooded social media with jokes and memes on Tuesday following the U.S. Men's National Team's (USMNT) major victory in the World Cup.
The USMNT, not usually thought of as a major contender in any given World Cup tournament, pulled off unlikely stalemates against Wales and the highly ranked England to start, capping things off with a 1-0 win over Iran on Tuesday to advance to the knockout stage.
The team will next face off against the Netherlands, which is heavily favored to win.
The unlikely early success of the USMNT has led many fans and general viewers to celebrate with the usual round of jokes and memes on social media.
Prominent among the many posts is the phrase "It's called soccer," a chant and rallying cry used by American fans of the sport. Political analyst Garrett Archer invoked the chant in his own post alongside a comedically patriotic GIF.
"Iran should have to call it soccer for one day a year now," Archer wrote in his tweet.
Other viewers celebrated with simpler pleasures, including a GIF of a man holding an American flag in a windstorm and a video of a crowd dancing at the 1996 Democratic National Convention.
Casey Drottar, an editorial producer with Major League Baseball, took a jab at the Iranian team's questionable strategies in the closing moments of the game.
ESPN writer Ryan O'Hanlon highlighted a few statistics and contended that the run has not truly been satisfying.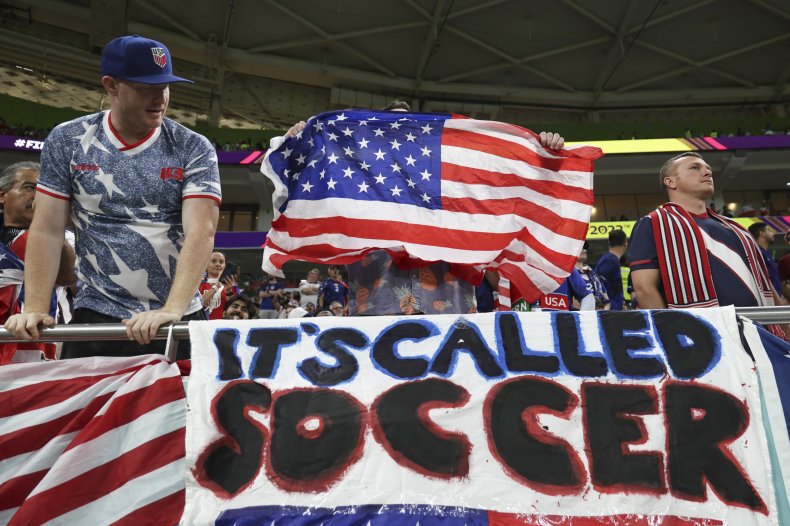 The USMNT was able to pull off the victory over Iran thanks to a single goal scored by Christian Pulisic.
Pulisic, who typically plays for the Chelsea Football Club in England, is often considered one of the most-skilled American professional soccer players, earning him the nickname "Captain America."
His goal on Tuesday came at a price, however, as in scoring the point he collided with the goalie at high speed, seemingly sustaining an injury.
Pulisic's strong performance in the game itself also created a wave of reactions online, some including images of him retouched to look like the Marvel superhero from which he draws his nickname.
Among those reacting with glee to the match result was President Joe Biden, who took a brief aside during a public address to celebrate and chant "U.S.A." He also mentioned a call he made to the team following the tie against Wales in which he encouraged the team to shock the world.
"They did it!" Biden said. "God love 'em."