Iran Says Crew of South Korean Tanker Seized in U.S. Sanctions Dispute Is Safe
South Korea will send a delegation to negotiate the release of a tanker and its crew seized by Iran. The move is linked to a dispute over funds frozen due to U.S. sanctions on the Islamic republic. Iran said on Tuesday that the crew is safe.
The Iranian Revolutionary Guard's fleet seized the Hankuk Chemi, which was carrying up to 7,200 tonnes of oil-based chemicals, off the coast of Oman. Images published by Iranian agencies showed the tanker being escorted to shore on Monday.
South Korea has demanded the vessel's release and dispatched forces stationed in the Strait of Hormuz, with presidential spokesman Kang Min-seok saying: "The government is taking the seizure of our ship very seriously."
Iran claimed that the vessel, which was traveling from Saudi Arabia to the United Arab Emirates, was seized due to violations of marine environmental laws, which Seoul has denied.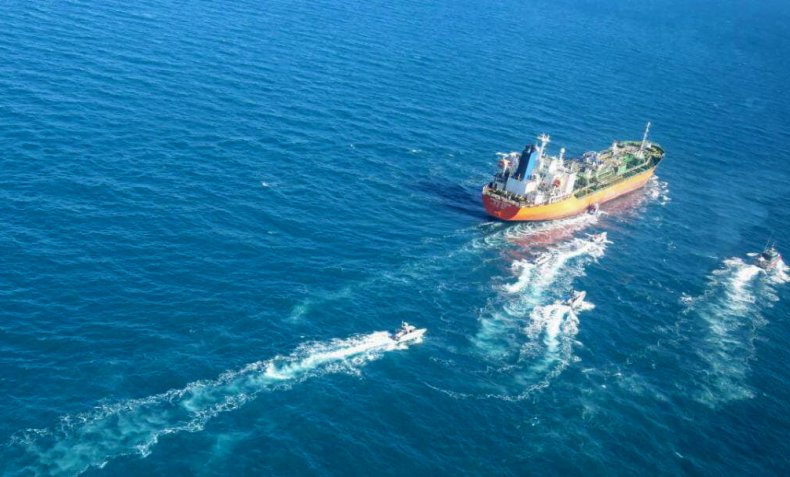 But it comes amid tensions over $7 billion in Iranian funds frozen in South Korean banks since September 2019, when Washington's sanctions waiver for South Korea's imports of Iranian oil expired. In 2018, the U.S. reimposed sanctions on Tehran that had been lifted under a 2015 nuclear deal negotiated by the administration of President Barack Obama
Iran's ambassador to Seoul, Saeed Badamchi Shabestari, vouched for the wellbeing of all 20 crew members, who have been detained at Iran's Bandar Abbas port. He told reporters on Tuesday: "All of them are safe. Nothing to worry about."
But a tweet from the office of the South Korean president on Tuesday said that its Office of National Security was discussing "specific countermeasures to this situation."
South Korean foreign ministry spokesperson, Choi Young-sam, later told a press briefing that a delegation "will be dispatched to Iran at the earliest date."
The seizure of its vessel is thought to be a move by Iran to strengthen its hand ahead of a three-day visit to Tehran starting on Sunday by South Korea's deputy foreign minister, Choi Jong-kun.
Iranian government spokesman Saeed Khatibzadeh said the agenda will include discussions surrounding Iran's demand that South Korea release the frozen funds. It says the funds are needed to purchase anti-coronavirus medicines, including possible vaccines, trade that is exempt from U.S. sanctions.
The incident comes amid a backdrop of increasing tensions between Iran and the U.S.
The U.S. State Department said in a statement that Iran "continues to threaten navigational rights and freedoms in the Persian Gulf as part of a clear attempt to extort the international community into relieving the pressure of sanctions."
Meanwhile, only two weeks ahead of the inauguration of President-elect Joe Biden, Tehran said on Monday that it had resumed 20 percent uranium enrichment.
This is a significant breach of the 2015 nuclear accord that Biden is seeking to rejoin, posing a tricky foreign policy challenge at the start of his administration.
The graphic below from Statista shows the strategic significance of the Strait of Hormuz.