Iran Stoning Woman 'Confesses' on State TV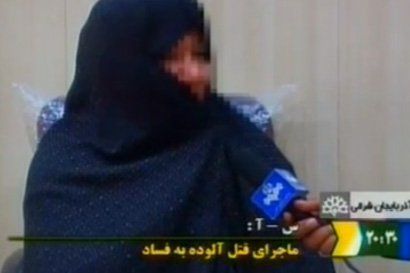 An Iranian woman granted a reprieve from being stoned to death on dubious adultery charges has appeared on state-run TV to "confess" to complicity in murder and denounce the lawyer who previously saved her life. There are reports that she was tortured before the appearance.
Sakineh Mohammadi Ashtiani, a 43-year-old mother of two, initially was convicted of an "illicit relationship" after the death of her husband in 2005. She suffered 99 lashes and was sentenced to be stoned to death. Ashtiani had retracted a confession she said was obtained under duress in 2006, and strenuously denied all the charges against her. Her lawyer, Mohammad Mostafaei, launched a campaign that brought international condemnation of her death sentence, which authorities eventually stayed.
But since the Iranian judiciary granted her a reprieve, the government in Tehran, reportedly embarrassed by the global attention, brought Mostafaei in for hours of questioning at the notorious Evin prison. When he used a brief release to flee the country by car, on foot, and horseback into Turkey and then on to Norway, his wife and brother-in-law were arrested as a way to try to pressure him into returning.
Now, with the high-profile Mostafaei unable to work for his clients, Ashtiani apparently was forced to appear last night on a television show called "20:30." Another of her lawyers, Houtan Kian, told The Guardian newspaper that "she was severely beaten up and tortured" for two days, "until she accepted to appear in front of camera."
The purported TV confession, made by a woman named as Ashtiani, with her face covered, moves away from the adultery charge that initially led to her stoning sentence. In the interview, according to the BBC, the woman says she knew that her husband was to be murdered by his cousin in 2005, and that the man came to her house with "electric devices, wire, and gloves. He then killed my husband by electrocuting him. He asked me before to send my children to their grandmother's house."
A judge, also interviewed during the show, according to Agence France-Presse, said Ashtiani had injected her husband with a substance to make him fall asleep before the electric shock was administered.
The broadcast also denounced "Western propaganda" about Ashtiani's case, and the woman criticized Mostafaei, asking, "Why has he taken my case to the TV? Why has he disgraced me?" There are widespread fears that despite (or perhaps because of) worldwide condemnation by governments and human-rights groups, Ashtiani will now be swiftly executed, probably by hanging rather than stoning.