Iran-Supplied Drones Were Modified to Fit Putin's War Needs, Report Finds
Iranian-made drones supplied to Russia were modified to meet President Vladimir Putin's needs and to "ensure maximum damage to targets," according to a new report.
On Thursday, the U.K.-based organization Conflict Armament Research published a report about Iranian-made Shahed-131 drones believed to be used by Russia in its ongoing war against Ukraine.
"In January 2023, a CAR field investigation team documented the warhead of an Iranian Shahed-131 single-use UAV [unmanned aerial vehicle]. This is the first time that analysis of these warheads has been released in the public domain. CAR's analysis shows that this multipurpose warhead was designed to ensure maximum damage to targets such as critical infrastructure, while also having a significant impact on the ability to undertake quick repair efforts," the report said.
The report comes as the war between Russia and Ukraine nears its one-year mark, as Putin initially announced the "special military operation" on February 24, 2022. Amid the ongoing war, there have been numerous reports of Iran supplying Russia with Shahed-131 and 136 drones.
The deputy head of the Main Intelligence Directorate of Ukraine's Defense Ministry, Vadym Skibitsky, said this week that Russia was planning to "swarm" Ukraine with Iranian-made Shahed drones.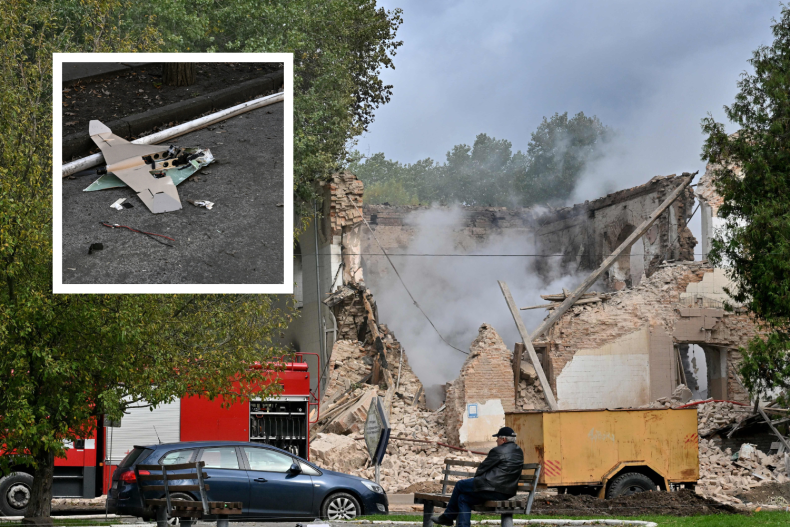 According to CNN, Conflict Armament Research first began investigating Shahed-131 drones last month, after an unexploded warhead was found in Ukraine's Odesa region in October. The report stated that the drones appear to be modified to fit "multiple effect warheads" and "may have been designed specifically for attacks against large targets like energy infrastructure."
"This observation is supported by the fact that, while the overall finish of the warhead seems well done, the fragmentation matrixes appear to be a later addition, with poor fit, finish, alignment, and quality," the report said. "CAR's analysis shows that the documented warheads enable the Shahed series UAVs to be versatile enough to be used for different targets by Russian forces in Ukraine."
In a statement to Newsweek, Damien Spleeters, the deputy director of operations at Conflict Armament Research, said, "As our report states, seeing how the Shahed drones have been used to target critical energy infrastructure in Ukraine, it appears the warhead observed is built for purpose: to inflict maximum damage to such infrastructure almost on 360 degrees over a large area, and hinder repair efforts."
Earlier in the ongoing war, Iran denied that it had supplied Russia with drones, and the country's U.N. ambassador, Amir Saeid Iravani, said that the claims were "unfounded and unsubstantiated."
"Iran has consistently advocated for peace and the immediate end to the conflict in Ukraine," Iravani said in October, according to CNBC.
However, in November, Iranian Foreign Minister Hossein Amir-Abdollahian reportedly said that Iran had supplied Russia with a "small number" of drones prior to the start of the war.
"The drone part is true, and we provided Russia a small number of drones months before the Ukraine war," the foreign minister was quoted by the IRNA news agency.
Newsweek reached out to the Russian Foreign Ministry for comment.