Iran's Supreme Leader Reinforces Attacks On Trump And 'American Clowns' On Twitter After First Public Sermon In Eight Years
Iran's supreme leader, Ayatollah Ali Khamenei, slammed President Donald Trump and other U.S. officials as "American clowns" Friday on Twitter following a rare public sermon.
"The past two weeks were eventful and exceptional weeks. There were bitter and sweet events for the Iranian nation to take lessons from," Khamenei said in a public sermon in Tehran, according to a partial transcript on his website.
The sermon marked the supreme leader's first public prayer service in eight years. Khamenei has done public sermons only a handful of times since he became the nation's religious leader in 1989.
In his speech, Khamenei went on to criticize American leaders, who he said only pretend to support the Iranian people but in reality want to "stab them in the heart with your venomous daggers." In the past few weeks, Trump and other officials like Secretary of State Mike Pompeo have offered statements of support for Iran's anti-regime protesters.
"These American clowns lie in utter viciousness that they stand with the Iranian people," the supreme leader added on Twitter. "See who the people of #Iran are."
The sermon and subsequent social media posts came two weeks after a U.S. drone strike killed Iran's top general, Qassem Soleimani. Trump and his top officials have defended the strike as necessary to deter future Iranian attacks. But the action nearly brought Washington and Iran to the brink of war.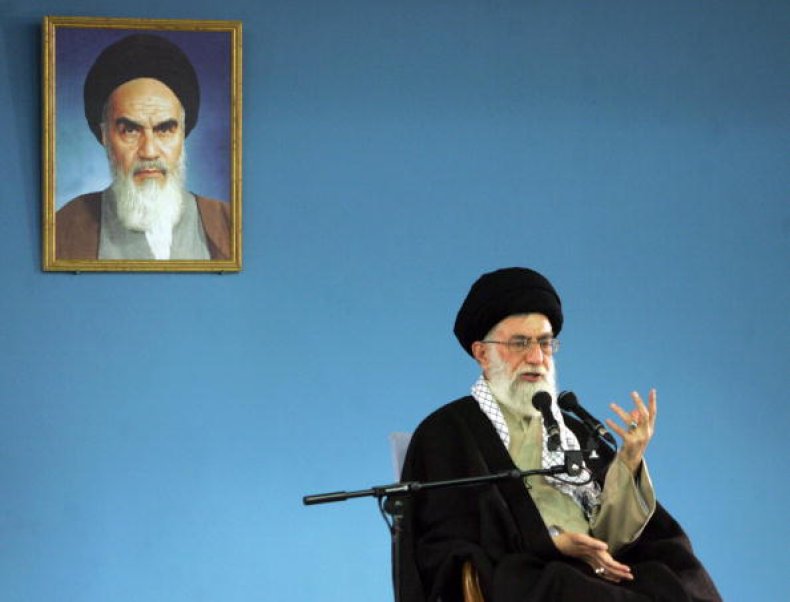 Khamenei described the "martyrdom" of Soleimani in his sermon and described Iran's retaliation against the United States as "acts of God, not man." Following Soleimani's death, the nation launched ballistic missiles targeting U.S. troops in Iraq, but there were no casualties. Still, Khamenei said the retaliation was a "blow to the dignity and awe of the U.S. as a superpower."
Trump held back from ordering a U.S. counterstrike and instead imposed more sanctions on Iran. But as Iran braced for a counterattack, its Revolutionary Guard mistakenly shot down a Ukrainian passenger jetliner shortly after it took off from Tehran's international airport. All 176 passengers were killed.
In his sermon Friday, Khamenei expressed his condolences to the families of the victims but then claimed that the foreign press tried to deceive Iranians about the tragedy. "Our enemy tried to manipulate the bitter crash of the plane to overshadow our accomplishments," he said.