Coalition of Unwilling and Unsavory Battles ISIS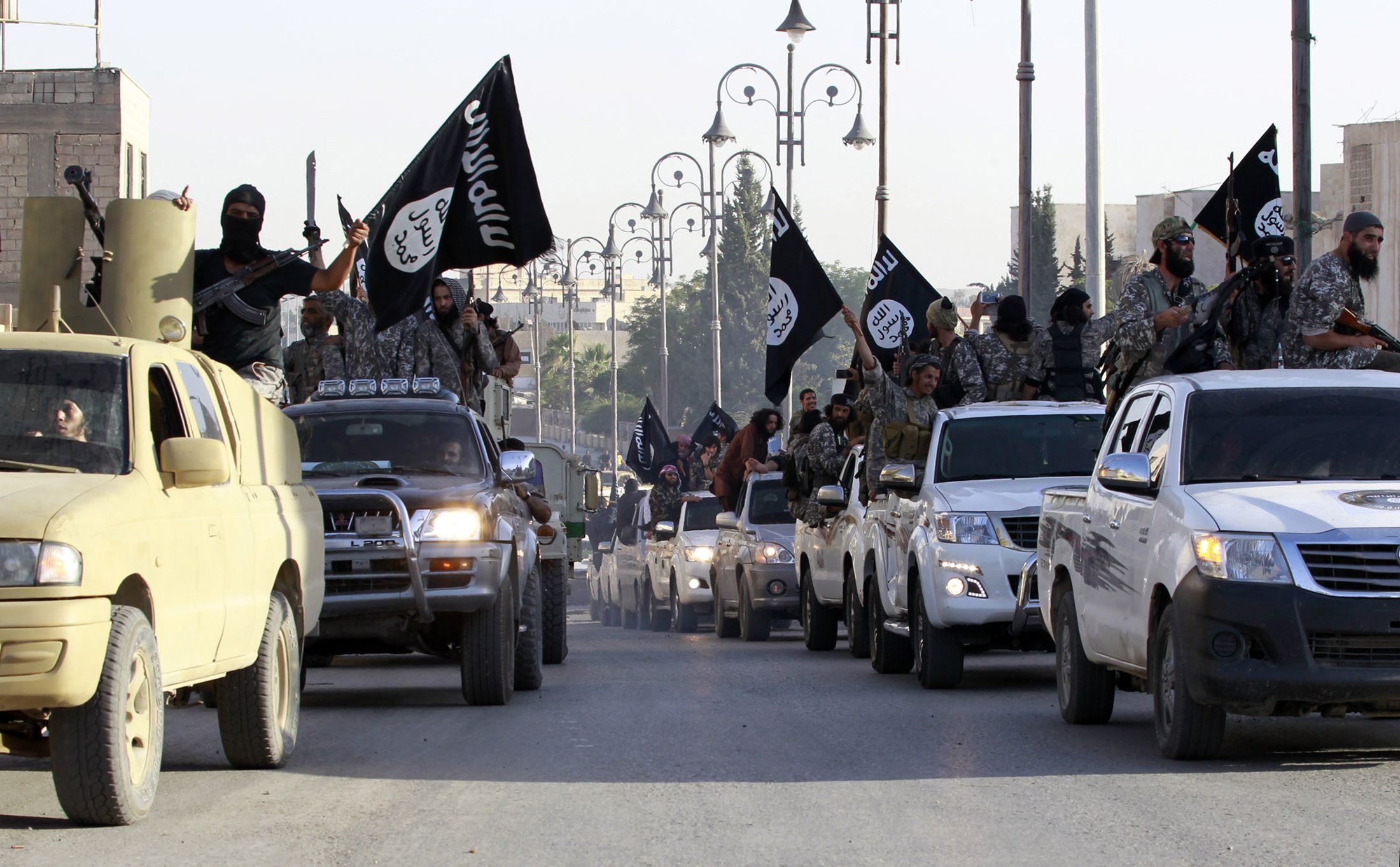 With Middle Eastern leaders mired in disputes, consumed by rivalries and besieged by conflicting interests, President Barack Obama's job of forging a global coalition to fight the jihadist Islamic State—a group that menaces all of them—is extremely complex.
Some neighbors of Iraq and Syria—two countries where the Islamic State, widely known as ISIS, has swallowed large swaths of territory—are ambivalent about the barbaric group's agenda. Others live in fear of the butchering jihadists' speed and reach. Yet others remain consumed mainly by the ongoing struggle over primacy in the region.
Obama has propelled the building of an anti-ISIS coalition to the top of the agenda during his visit to New York this week, as heads of state gather for the annual debate at the United Nations General Assembly, which starts on September 24.
"There's a role for nearly every country in the world to play, including Iran, whose foreign minister is here today with us," said Secretary of State John Kerry, as he presided over a U.N. Security Council session on September 19. Although the topic was Iraq, the meeting was framed as a step in forming a worldwide anti-ISIS coalition.
But the mere mention of Iran by Kerry as a possible member of what he called a "holistic campaign" against ISIS may well deter other Middle East partners—especially Sunnis who fear the growing influence of Shiite Iran over the governments in Baghdad and Damascus.
Similarly, there is the question of whether the government of Bashar Assad, the murderous president of Syria, should be invited to join the fight against ISIS. The law of unintended consequences kicks in: Will a worldwide fight against ISIS, one of Assad's fiercest rivals, strengthen Assad's despotic rule in Syria, which his neighbors, as well as America, have long deemed illegitimate?
To be sure, there have been recent signs of limited American success in settling some rivalries among would-be Middle East allies in the war on ISIS. A planned October meeting of some of them in Bahrain will deal with limiting the global financial support for ISIS and will attempt to block the flow of money to ISIS from smuggling oil and other resources from the territories it controls.
The fight against ISIS may lead to a broader reshuffling of the Middle East. There are indications, albeit faint, that the seriousness of the ISIS threat is beginning to dawn on rival regional leaders and may force them to unite. The leaders of Saudi Arabia and Qatar, both longtime Washington allies, have been at each other's throats for years. "It is mostly personal," a Western diplomat who often visits Riyadh and Doha explained recently. "Whatever the Saudi king does, the Qatari emir would do the opposite—and vice versa,"
Yet, under heavy American pressure, Tamim bin-Hamad al-Thani, the emir of Qatar, recently gave in to a longtime Saudi demand: the expulsion of seven leading members of the Muslim Brotherhood, whose presence in Doha has long angered the leaders of Jordan, Egypt, the United Arab Emirates and others.
The move may have eased somewhat the widespread simmering anger at Qatar, but suspicion lingers. "I'll know that everyone is on the same page when Al-Jazeera and Al-Arabyia broadcast the same message," said the Western diplomat, referring to the Qatari-based and Saudi-backed pan-Arab satellite networks. "It won't happen anytime soon," he added.
Another shaky member of the proposed coalition, Turkey, is a NATO member with a strong military contingency and long borders with Syria and Iraq, whose participation in the anti-ISIS coalition is crucial. Turkey's president, longtime ruler Recep Tayyip Erdogan, recently presented a new plan to create a buffer zone on Syrian soil along the Turkish border, in an area of Syria now controlled by ISIS. As of yet, though, he has refused to allow U.S. or European Union members of the brewing coalition access to the air force base at Incirlik, which would be highly useful from which to mount bombing campaigns against ISIS in Syria.
Like Qatar, however, Turkey is widely eyed with suspicion in the region. Neighbors are angered about Erdogan's support for the Muslim Brotherhood government in Egypt, its offshoot Hamas in Gaza and a range of other Islamist radicals. Recently it was reported that Turkey was allowing ISIS to smuggle oil from territory it captured in Iraq. And no sooner had the Muslim Brotherhood leaders been expelled from Qatar then they set up shop in their new home, Turkey.
This jostling for position among Sunni members of the coalition ignores a far more important player whose role remains uncertain: Iran. The Shiite Islamic Republic enjoys a great deal of influence in Baghdad, the beleaguered capital of Iraq, where the new majority Shiite government of Prime Minister Haider al-Abadi, like its predecessor, is heavily influenced by Tehran.
"Iran is the only country in the region that is both capable of and has shown unqualified determination to help the Iraqi government and coordinate with it to assist all those threatened by [ISIS]," Iran's deputy foreign minister, Abbas Araghchi, told the Security Council on September 19.
Leaving aside John Kerry's hint at the Security Council that Iran has a role to play in the fight against ISIS—and his wrong assertion that foreign minister Mohammad Javad Zarif, rather than his deputy, Abbas Araghchi, was present at the council meeting—America has until now ruled out cooperating with Iran and Kerry had insisted on keeping it out of a previous coalition-building gathering, in Paris.
Syria, too, has been shunned and did not attend last Friday's Security Council session, but there is a growing sense that neither country can be ignored for much longer. "You can't exclude Iran and Syria" from the war on ISIS, Syrian U.N. ambassador, Bashar Jaafari, told reporters outside the council's hall last week.
According to recent reports, Assad has been going easy on ISIS—while fiercely fighting more moderate rebel groups—in order to present the world with a choice: him or the region's most extreme and brutal Islamist group. Jaafari has accused France of spreading that "false rumor." He also took to task the plan for the coalition to increase support for moderate anti-Assad Syrian groups that would also fight ISIS. "We are wondering, where is that moderate opposition?" Jaafari said.
But many in Washington and elsewhere believe that ISIS rose to power because of the exclusion of Sunnis from government by the Shiite leaders of Iraq and by the Alawites led by Assad in Syria. "As long as you have Assad, who kills Sunni Muslims with chemical weapons, you'll see support for ISIS on the ground," said David Schenker of the Washington Institute for Near East Policies. He added that the same can be said about the new government in Iraq, which he said continues to exclude Sunnis from the levers of power.
Schenker, a former Middle East adviser to President George W. Bush, said that part of the problem is that each of the warring factions in the Middle East believes America is supporting their enemy. "When I go to the region, I'm often asked why we support the Muslim Brotherhood" or why "we've thrown our lot with Iran," he said.
Obama will only be successful in gathering what Bush called a "coalition of the willing" if he manages to answer such challenges—and if the region's would-be partners become convinced that he has a solid plan to defeat ISIS. As of yet, such a plan—beyond the gathering together of a suspicious coalition—is proving elusive.