Iran Is Testing Us. So Far, We Are Failing | Opinion
In February, a jet carrying Iran's minister of the interior, Ahmad Vahidi, landed at Pakistan's Nur Khan air base and he was not arrested.
He should have been.
Vahidi, and four other senior Iranians, are wanted by INTERPOL for "aggravated murder and damages," for their role in the July 18, 1994, bombing of the Argentine-Israelite Mutual Association (AMIA in Spanish) center in Buenos Aires.
On that day, a Renault van laden with 600 pounds of ammonium nitrate rammed into the AMIA building, killing 85 Jews and non-Jews. Vahidi was then head of the Quds Force, the external operations arm of Iran's Islamic Revolutionary Guards Corps (IRGC). The Quds Force is labeled a terror organization by the United States and is considered responsible for the death of hundreds of Americans in Iraq since the second Gulf war. Vahidi is sanctioned by the U.S. government for proliferating weapons of mass destruction. INTERPOL has issued a red notice (provisional arrest warrant) for his detention because of the 1994 bombing.
My research shows these five Iranians have flown to at least 20 countries without being apprehended since the red notices were issued in 2007.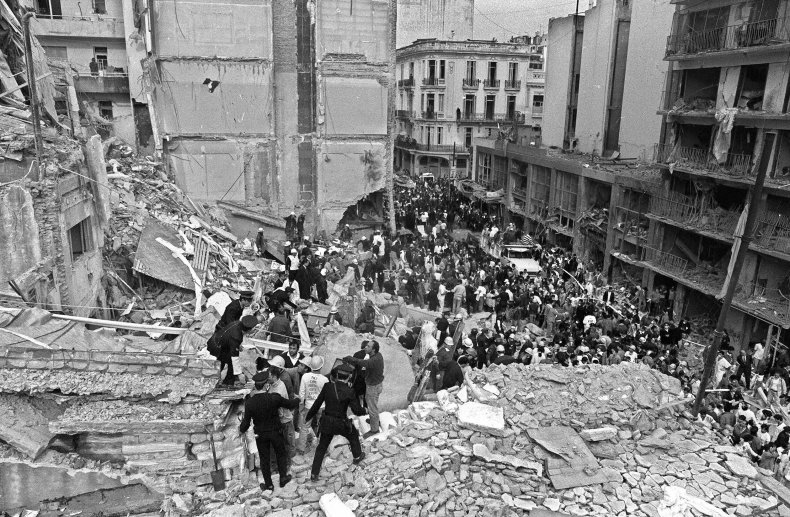 The AMIA bombing, the deadliest terrorist attack in Argentina's history, was not just a single crime on a single day.
Argentina's AMIA prosecutor, Alberto Nisman — who was assassinated during Cristina Kirchner's presidency likely for his investigation into the AMIA bombing — described in granular detail how Iran used embassies in Argentina, Brazil, Chile, Uruguay, and Germany in the planning of the 1994 attack. Iranian ambassadors from several of these countries, including Iran's ambassador in Buenos Aires, all flew out of their respective posts just days before the bombing.
Today, another crisis is brewing in Argentina, pointing to Iran's malign activities in the region. It has seized the attention of Argentine lawmakers who are determined to prevent another Iran-backed attack on their soil.
A Boeing 747 cargo aircraft was grounded at Buenos Aires' Ezeiza airport on June 8. The suspicions are that the Venezuelan plane, recently owned by Iran's U.S.-sanctioned Mahan Air and sold to Emtrasur airlines, is not what it seems to be. The plane's crew included 14 Venezuelans and five Iranians. At the helm of this suspiciously large crew — normally no more than five people are required on such a mission — is the IRGC's Gholamreza Ghasemi, a board member, shareholder, and manager of Fars Air Qeshm, an Iranian airline sanctioned by the U.S. The reason for the sanctions? The airline ferried Iranian weapons and personnel to Syria to help crush the uprising against the Bashar al-Assad's regime.
Lawmakers are now demanding of their intelligence services to know why an Iranian official would be piloting a routine cargo flight to Argentina.
Moreover, Argentine opposition leaders have demanded a transparent investigation into what's happening and filed a series of legal complaints. Among the questions they want answered is whether the co-pilot is a collaborator with Iranian intelligence and the principal link between Venezuela and nefarious activities in Argentina. They questioned whether he had worked closely with now deceased Quds Force head Qassem Soleimani. They are insisting on knowing whether the intel agencies were aware of — and disregarded — early warnings about the plane from foreign intelligence counterparts.
Particularly noteworthy in the legal complaints filed by Parliamentarian Gerardo Milman and Ricardo Lopez Murphy is the question of whether one of the crew members is associated with Mahvash Monsef Gholamreza, an employee who was based in the Iranian Embassy in Buenos Aires at the time of the AMIA bombing. Argentina ordered his arrest as a suspect in the attack. Little has been heard about him in recent years until his name popped up in legal filings in recent weeks, but investigators are determined to learn if the "cargogate" crisis was a mission in progress, foiled just in time. They have grounds to believe this is the case, sources tell me.
An intelligence memo leaked by one source has indicated that Venezuela made a remarkable request through a longtime crony of Kirchner: that Argentina's national security apparatus not interfere with the plane and its crew, saying the plane was under surveillance and needed to carry out a maintenance operation in Argentina.
While questions remain about the real mission of the cargo plane sitting in a Buenos Aires airfield, this much is clear: Iran is seeking to build up its military muscle in the Western Hemisphere. In August, Venezuela is hosting war games in the form of a sniper competition, with Iran, China, and Russia participating. The exercise is reportedly meant to telegraph that these militaries can reach the United States.
Mohsen Rabbani, cultural attaché at Iran's embassy in Argentina at the time of the AMIA bombing, continued to recruit and radicalize his followers. While not charged in the case, U.S. court records state that Rabbani maintained contact with his recruit, Guyanese politician Abdul Kadir, who in 2010 was sentenced to life in prison for plotting to blow up fuel lines at New York's JFK airport. Had it not been foiled, it may have been more deadly than the terrorist attacks on 9/11.
After taking office last year, Iranian President Ebrahim Raisi ensured that having an AMIA-related red notice was career-positive. Raisi appointed Rezaei and Vahidi to serve in Raisi's cabinet, poking his finger in the eyes of world. Forty percent of Raisi's cabinet is sanctioned by the U.S. or the United Nations.
Iran is testing the world to see whether the passage of time has eroded its commitment to accountability. How can we ensure that these men, and Iran itself, are punished for these acts?
U.S. Secretary of State Tony Blinken said the Biden administration believes in "bringing to justice those suspected of complicity in the [AMIA] attack," and that he discussed cooperation with Argentina to do that. The administration needs to act, beginning with a push for enforcement of the INTERPOL red notices already intended to bring the AMIA attack suspects to justice.
The administration should ensure the red notices are extended when they come up for review in November 2022. While Argentina has filed the paperwork for their extension, Iran's extortion practices can derail this if not kept on track.
Additionally, the Biden administration must maintain and fully enforce the sanctions already in place. Though it ultimately held firm, the administration considered lifting sanctions during its recent nuclear negotiations. And there remains the risk the administration will weaken those sanctions without technically lifting them. It has already indicated it is poised to lift sanctions on banks and companies designated for terrorism, even while they are not designated for nuclear activities.
Successive administrations have successfully urged more than 20 countries to sanction Hezbollah as a terrorist organization. To its credit, Argentina took that action on the 25-year mark of the AMIA bombing and added those with AMIA-related INTERPOL red notices to their terrorism list.
Finally, make sure there are diplomatic and political consequences when Iran promotes their terrorists to senior government positions.
Iran is challenging us to see where our limits are. Terrorism should be a red line. Countering it should have no statute of limitations. Impunity of the kind we see today will breed more terrorism. The AMIA families, all Argentinians, and those committed to justice and our national security, deserve better.
Toby Dershowitz is Senior Vice President for Government Relations at the Foundation for Defense of Democracies, a nonpartisan think tank based in Washington, DC. Follow her on Twitter @tobydersh