Iran Threatens to Destroy Israel's Tel Aviv, But Gulf Arab States Appear Closer to Former Foe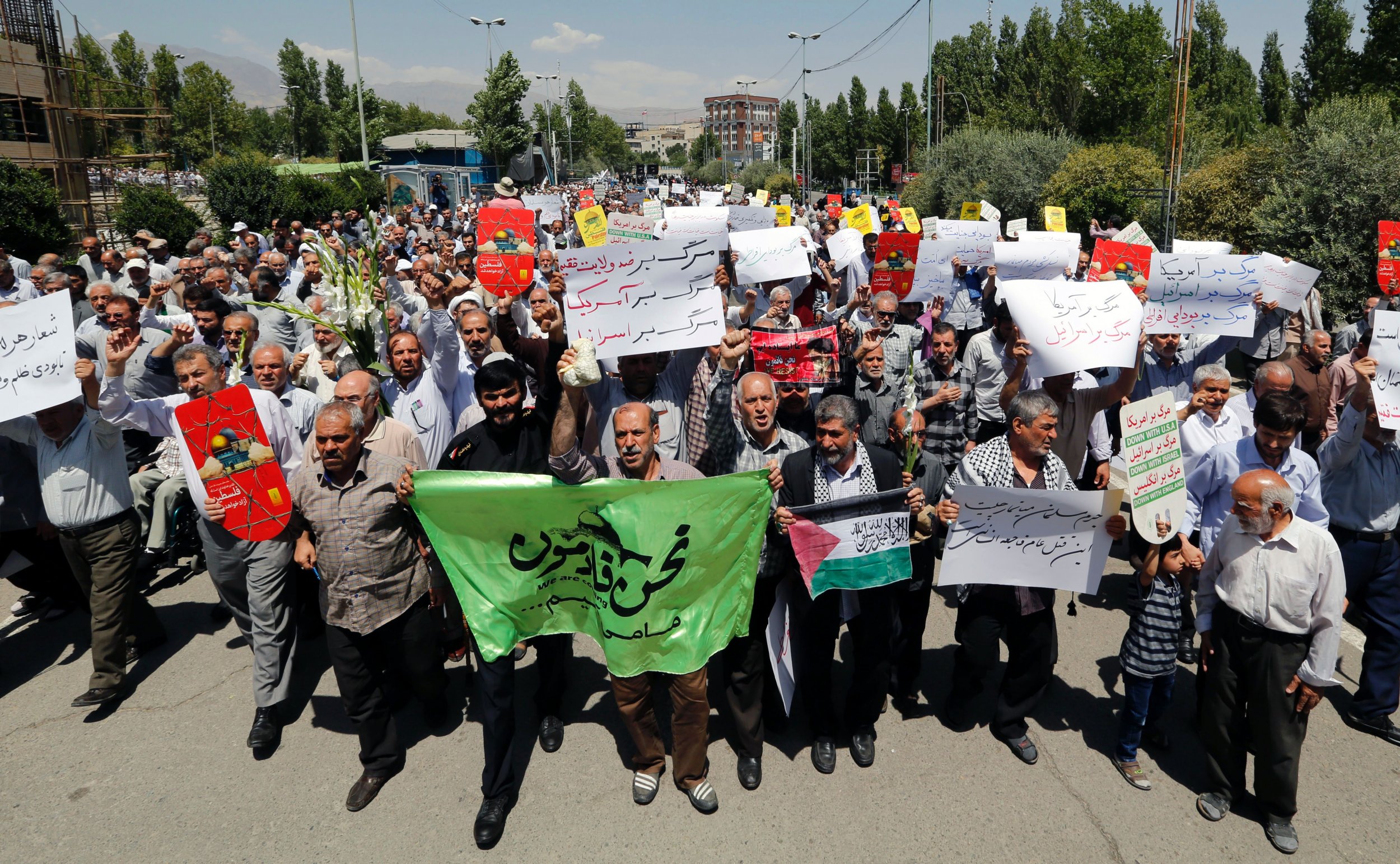 Iran's army chief warned Monday that his country would immediately lay waste to Israel's commercial capital of Tel Aviv should Israeli leaders make any mistakes.
The threat came just a day before Israeli Prime Minister Benjamin Netanyahu was set to take the stage to deliver a U.N. General Assembly speech widely believed to center on Iran's growing influence in the Middle East. Israel's traditionally dismal relationships with other countries in the majority-Muslim region have shifted, with some Gulf Arab states reportedly moving away from a decades-long boycott established after Israel's founding in 1948 and the subsequent expulsion and exodus of hundreds of thousands of Palestinians.
Related: War in Syria: Assad thanks Iran and North Korea for help in letters to two supreme leaders opposed to U.S.
Iran's Major General Abdolrahim Mousavi, however, expressed Tehran's staunch opposition to Israel, which has joined the U.S. and Gulf Arab states in lobbying the international community to contain Iran's expanding sphere of influence with increasing urgency. Mousavi warned that Israel would likely not exist in 25 years if it remains on its current geopolitical path.
"We today, with the help of the great Lord, full of self-confidence and power, are ready to defend the ideals and values of the Islamic Revolution everywhere and at any level," Mousavi said, according to the Iranian Students News Agency.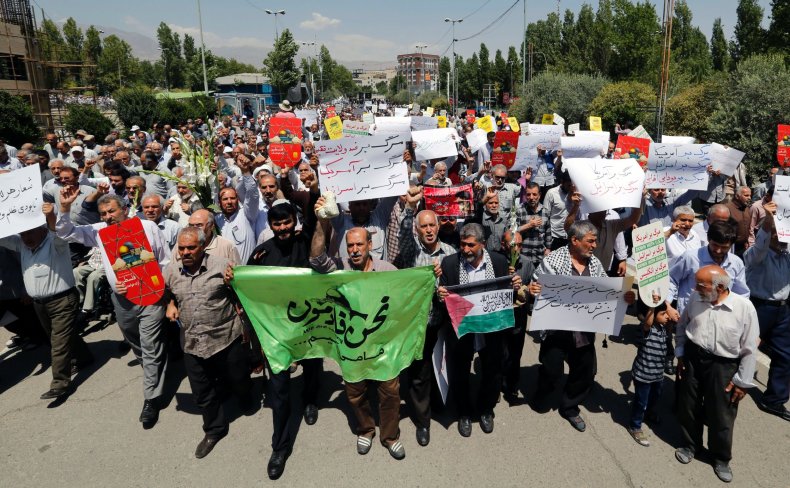 Iran and Israel have accused each other of destabilizing the region in pursuit of their respective, conflicting goals. While former President Barack Obama sought to engage Iran in direct talks, resulting in the landmark 2015 nuclear treaty known as the Joint Comprehensive Plan of Action, President Donald Trump has partnered with Israel and Saudi Arabia in trying to isolate Iran diplomatically. All three have expressed deep criticism about Obama's deal.
The agreement, which was applauded by most other leading powers, unfroze billions of dollars' worth of Tehran's assets in exchange for extensive restrictions on Iranian nuclear production. Iran has repeatedly been found to be in full compliance with the deal by the International Atomic Energy Agency and the State Department, but Trump has still sought to undermine the treaty, which he and his supporters have said was too soft on Iran.
Among the mostly majority-Sunni Gulf countries, enmity toward majority-Shiite Iran has, in some ways, recently outweighed the traditional opposition to majority-Jewish Israel. Last year, Saudi Arabia and regional allies cut ties with Iran completely. In May, the United Arab Emirates and Israel flew together during a Greek air force exercise, according to The Times of Israel. Shortly after Trump flew directly from Riyadh, Saudi Arabia, to Tel Aviv during an international anti-Iran rally in May, Saudi Arabia quickly dismissed photographs purporting to show a Saudi airplane in Israel's Ben Gurion Airport. In June, Riyadh led a multinational boycott of Qatar partially due to its alleged relations with Iran.
In the latest and most important move, Bahrain's King Hamad bin Isa al Khalifa announced last week that he no longer supported the Arab boycott of Israel and said Bahrainis were now permitted to visit that nation, a first for the region, The Jerusalem Post reported. Bahrain, the only Gulf Arab country to host a Shiite majority, has been criticized by the U.S., Iran and other nations for alleged human rights abuses, and its Sunni royal family has accused Iran of fostering dissent in the tiny island kingdom.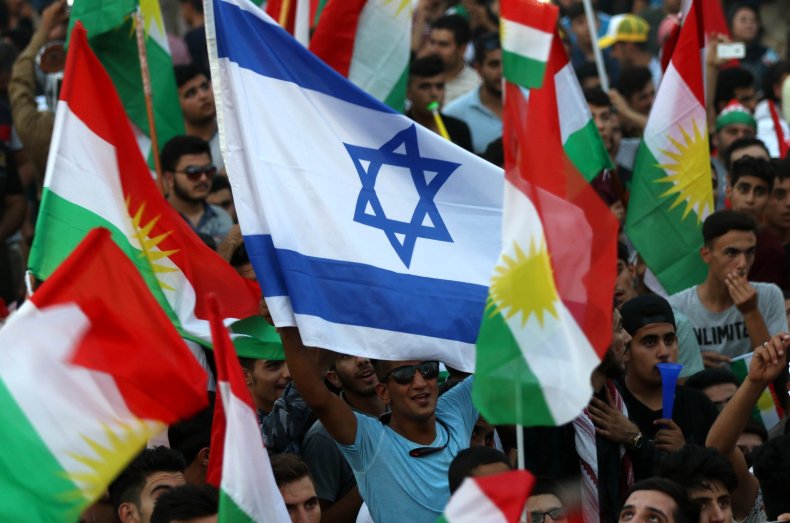 Iraqi Kurds have also apparently warmed to Israel ahead of a controversial referendum for statehood that has been denounced by Iraq, Iran and Turkey and has been met with great concern in the West. While Kurdish and Turkish reports that Kurdish leaders made a secret deal to resettle Israeli Jews to northern Iraq in exchange for Israeli support for the September 25 vote have been widely dismissed, numerous Israeli flags could be seen at pro-Kurdish independence rallies in Iraq.
As Netanyahu, Trump and Iranian President Hassan Rouhani prepared their appeals to other world leaders at the U.N. this week, the shifting alliances of the region have been put in the spotlight. Israel has become increasingly vocal about its opposition to the Iranian presence in neighboring Syria, where Iran has helped Syrian President Bashar al-Assad regain control of much of the territory his forces lost to jihadis and rebels after the 2011 uprising. However, Assad's other major backer, Russia, has safeguarded Syrian, Iranian and other allied forces in opposition to Israeli and U.S. interests.