Iran Threatens to Punch Mike Pompeo in the Mouth
A senior Iranian military commander reacted on Monday with scorn to Secretary of State Mike Pompeo's threat to impose new economic sanctions on the Islamic Republic, pledging that the Iranian people would punch Pompeo in the mouth.
Pompeo said Monday that Washington would impose new penalties if Tehran did not make sweeping changes, including dropping its nuclear program and pulling out of the Syrian civil war.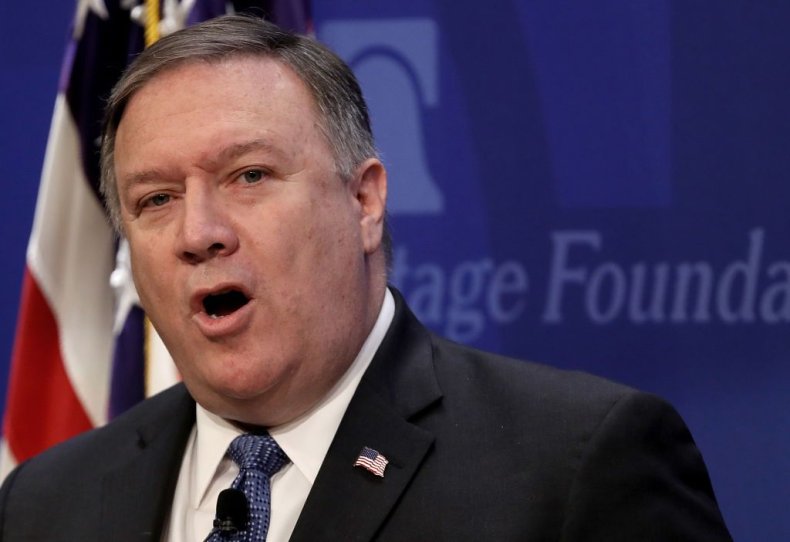 In his first speech as secretary of state, Pompeo called for the Iranian people to oppose their government. "What has the Iranian revolution given to the Iranian people?" he said. "The hard grip of repression is all that millions of Iranians have ever known."
Two weeks after President Donald Trump pulled out of the international nuclear deal with Iran, his administration has threatened to impose "the strongest sanctions in history," setting Washington and Tehran on a course of confrontation.
"The people of Iran should stand united in the face of this, and they will deliver a strong punch to the mouth of the American secretary of state and anyone who backs them," Ismail Kowsari, the deputy commander of the Sarollah Revolutionary Guards base in Tehran, said, according to the Iranian Labour News Agency (ILNA).
Limiting Iran's missile capabilities was one of Pompeo's main demands, as the Iranian military has carried out a series of ballistic missile tests in recent years.
"Who are you and America to tell us to limit the range of ballistic missiles?" Kowsari said, according to the ILNA. "History has shown that with the attacks on Hiroshima and Nagasaki, America is the top criminal with regard to missiles."
Qassem Soleimani, head of the Iran Revolutionary Guard branch that carries out operations outside Iran's borders, was singled out by Pompeo as a top troublemaker in the Middle East.
Kowsari said that the Iranian people back Soleimani. "Soleimani is not a single person. The great people of Iran support him."
Separately, Iran's government spokesman said that the plan outlined by Pompeo would exacerbate the public's hostility to the United States.
"Do the Americans think that the silk glove that they've taken out and the iron hand that they've extended to the people, a hand that's backed by Israel and the [Mujahedeen-e-Khalq organization], will make Iranian people think that America wants democracy?" Mohammad Baqer Nobakht said Tuesday, according to state media.
Mujahedeen-e-Khalq is an exiled Iranian armed opposition group that has called for the overthrow of the Iranian government for decades. John Bolton, the U.S. national security adviser, has expressed support for the organization, which the Iranian government sees as a terrorist group.