Iran Threatens to Sink U.S. Warships as Trump Considers Leaving Nuclear Deal
The naval chief of Iran's elite Revolutionary Guards has warned that the U.S. underestimates his country's power at sea and may only appreciate it when it's too late.
Commander Rear Admiral Ali Fadavi said Sunday that Iran's military speedboat force could travel at 80 knots, or about 90 miles per hour, giving them the ability to maneuver around enemy vessels and evade fire. Tensions once diffused by a 2015 nuclear deal with Iran have again risen as President Donald Trump threatened to scrap the landmark agreement, while Fadavi joined other high-ranking Iranian political and military figures who warned the nation would be capable of defending itself should a conflict break out with the U.S.
"The Americans have little information about Iran's naval power and they understand our real power when either their vessels are sunken or entangled in a terrible situation," Fadavi told the semiofficial Fars News Agency.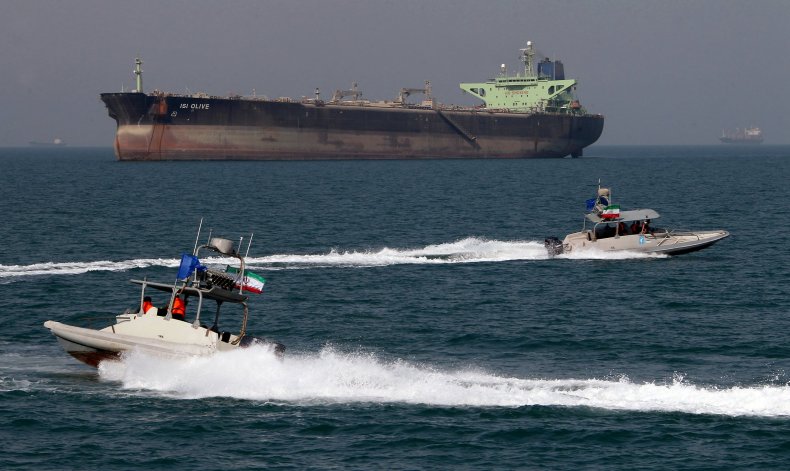 Fadavi also said that he planned to boost Iran's naval presence in the Persian Gulf and nearby Sea of Oman, saying, "We should also deploy in the free waters in future." These waters have hosted tense encounters between Iranian vessels and U.S. warships before, some of which have involved live fire and the use of lasers.
While many hailed the 2015 Joint Comprehensive Plan of Action that saw Iran agree to cut nuclear production in exchange for international sanctions relief, conservatives in both the U.S. and Iran criticized the deal. Trump became a leading opponent of the plan as he came to office and later decertified it, threatening to pull out altogether if it was not renegotiated to include harsher restrictions against Iran's ballistic missile development and support for armed militias abroad.
Related: Can Iraq get U.S. to join Russia and Iran's war against ISIS in Syria?
Signatories China, France, Germany, Russia and the U.K. have encouraged Trump to remain in the deal, while Iran has increasingly warned the U.S. against going back on the commitment as a May 12 deadline approaches. Iranian President Hassan Rouhani, who spearheaded the agreement along with former President Barack Obama, warned Saturday that the U.S. may "not expect" how Iran will respond to a U.S. exit.
In an interview that aired Sunday, Iranian Foreign Minister Mohammad Javad Zarif told CBS News's Face the Nation that one of Tehran's options "would involve resuming at a much greater speed our nuclear activities." Iran has claimed its nuclear program was explicitly for peaceful purposes, but the U.S., Israel and Saudi Arabia have accused it of seeking nuclear weapons.