Iraq Militias at the Center of U.S.-Iran Tensions to Protect Pope Francis
Fighters under the umbrella of Iraq's paramilitary command will be tasked with protecting Pope Francis during his historic visit to the troubled nation, which comes as violent tensions simmer between the United States and pro-Iran forces linked to the same organization of Iraqi militias.
A spokesperson for the Popular Mobilization Forces, a semi-state-sponsored collective of at least tens of thousands of units, told Newsweek that the group "is participating in the process of securing the visit of Pope Francis."
And the fighters will be doing so "specifically in Mosul," the largest city once held by the Islamic State militant group (ISIS), according to the spokesperson. Here, they'll be "securing the churches" in what's likely to be one of the most iconic stretches of Francis' journey, the spokesperson said.
The depth of the symbolism of the pontiff walking through pummeled streets where vicious battles played out in recent memory, pitting an array of groups including Iraqi security forces and the Popular Mobilization Forces against ISIS, may only be matched by his scheduled meeting with the highly influential Shiite Muslim cleric Grand Ayatollah Ali al-Sistani.
Sistani is credited with establishing the Popular Mobilization Forces by means of a 2014 call to action as ISIS rapidly spread throughout the country. Its members are predominately Shiite Muslims, but also include some Sunnis, Christians, Kurds and other religious and ethnic minorities.
The Popular Mobilization Forces also received substantial support from neighboring Iran, which rushed to support Iraq even before the establishment of a U.S.-led coalition that would also aid in the fight. ISIS' standing army was decimated over the next few years thanks to efforts by local security forces and by both the U.S. and Iran.
While the Sunni Islamist force remains an avid threat today, Washington and Tehran's own differences risk escalating into a greater conflict amid recent exchanges of violence.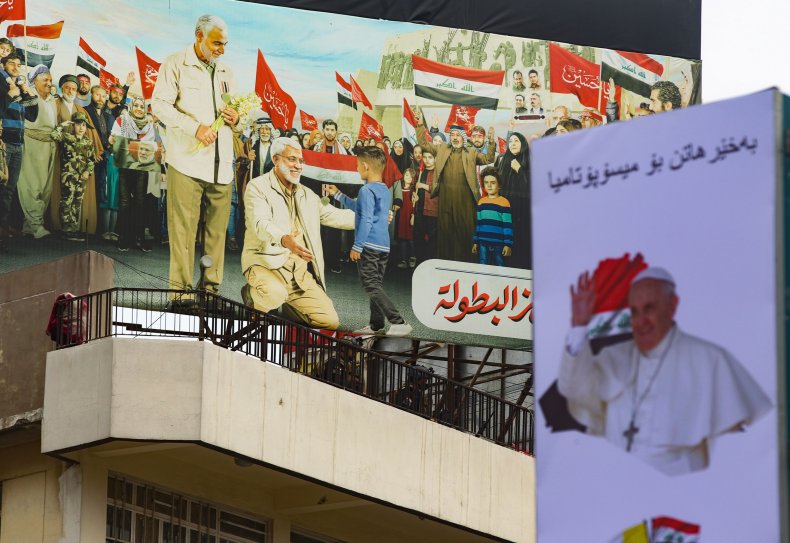 Just earlier this week on Wednesday, unidentified assailants conducted a rocket attack against Ain Al Asad Airbase in Iraq's Al-Anbar province in an operation widely shared on channels supportive of the pro-Iran "Axis of Resistance" that calls for U.S. military withdrawal from the country. A U.S. contractor died during the barrage of cardiac arrest, according to the Pentagon.
The attack, which remains under investigation by both U.S. and Iraqi personnel, comes roughly a week after Biden ordered airstrikes against sites in eastern Syria held by two "Iranian-backed militant groups" identified as the Shiite Muslim Kataib Hezbollah and Kataeb Sayyid al-Shuhada, both members of the Popular Mobilization Forces.
The operation, which took place near the border with Iraq, came in retaliation for a similar rocket attack that was claimed by an Axis of Resistance group called Saraya Awliya al-Dam—or Guardians of the Blood Companies—and killed another contractor in the northern city of Erbil last month.
White House Press Secretary Jen Psaki has said such retaliation "will be our model moving forward" in wake of the most recent attack.
"If we assess a further response is warranted, we will take action, again, in a manner and time of our choosing," she said Thursday, "and we reserve that option."
But the pope's high-profile visit, intended to send a message of peace, could complicate the U.S. calculus for military action.
"Assalam lakum!" Francis proudly stated, conveying a message of "peace be upon you" in Arabic, for his latest video previewing his upcoming visit.
"In a few days, I will be at last in your midst! I have greatly desired to meet you, to see your faces and to visit your country, an ancient and outstanding cradle of civilization," Francis said. "I am coming as a pilgrim, as a penitent pilgrim, to implore from the Lord's forgiveness and reconciliation after years of war and terrorism, to beg from God the consolation of hearts and the healing of wounds."
Reciting from the Gospel, he added, "I am coming among you also as a pilgrim of peace, to repeat the words: You are all brothers and sisters."
The message was well-received by a number of groups, including Saraya Awliya al-Dam, which claimed last month's deadly Erbil attack.
"We welcome the visit of the Father of the Vatican in the Holy Land," the group said in a statement shared Thursday, "the land of the prophets, imams and righteous people, and the land of the Mujahideen resistance."
The group promised a moratorium on military operations throughout the pope's visit.
"We in Saraya Awliya al-Dam, will stop military action in all its forms and specializations during the period of the Pope's visit out of respect for Imam Sistani," the group said, "and because we are Arabs, we honor the guest and we are not as treacherous as the Americans, the guest who betrayed Iraq and the soldier of Islam Hajj Qassem Soleimani and his companions."
Soleimani, commander of Iran's Revolutionary Guard Quds Force, was killed alongside Popular Mobilization Forces deputy chief Abu Mahdi al-Muhandis in a U.S. drone strike ordered last year by former President Donald Trump.
The operation sparked outrage across Iraq and marked a major escalation as Trump pursued military action alongside his "maximum pressure" campaign of sanctions after dropping out of a 2015 nuclear deal forged under his predecessor, former President Barack Obama.
Biden, who served as Obama's vice president, has said he sought to rejoin the agreement but has so far refused to lift Trump-era sanctions until Iran first reinstated nuclear enrichment caps suspended in retaliation for non-compliance by the U.S. and European signatories fearing Washington's sanctions.
Francis came out in support of the nuclear deal in 2015 and met Iranian President Hassan Rouhani the following year, just days after the accord went into effect. He's since called for restraint as tensions between Washington and Tehran continue to threaten stability across the Middle East.