Iran Builds Closer Ties With Iraq, Just as Secretary of State Mike Pompeo Leaves Iraq to Continue Anti-Iran Tour
Iran and Iraq held a meeting designed to boost their bilateral ties just one day after Secretary of State Mike Pompeo met with Iraqi officials as part of a broader Middle Eastern tour aimed at curbing Tehran's influence in the region.
Iranian Petroleum Minister Bijan Zangeneh met Thursday with Iraqi Prime Minister Adel Abdul-Mahdi, whose office said he "confirmed the deep relations between the two countries, the two neighboring peoples and the importance of strengthening them in areas that serve the interests of the two peoples, foremost of which is cooperation in the fields of oil and gas."
The Iraqi premier's office also said Zangeneh "expressed his country's pride in the level of relations with Iraq and the aspiration to develop them, and hoped to achieve more cooperation and to meet the needs of Iraq's gas."
The meeting followed Secretary of State Mike Pompeo's meeting with Abdul-Madhi on Wednesday, where the two discussed "U.S. support for Iraq's energy independence," among other things.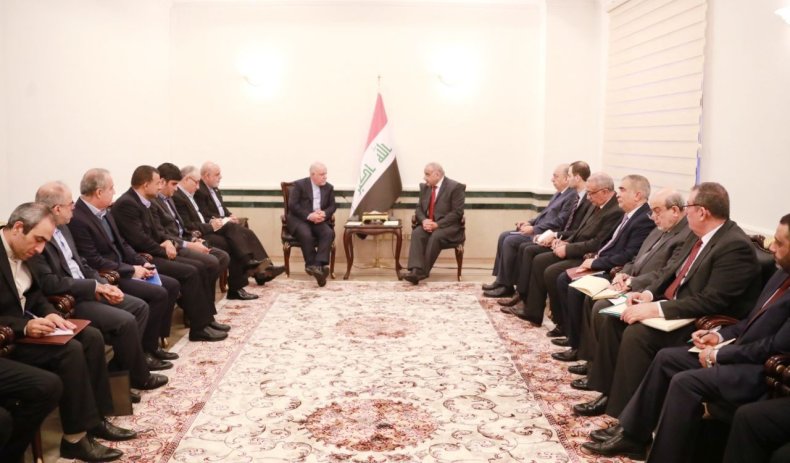 Iran and Iraq, two majority Shiite Muslim neighbors, have a tumultuous history that grew violent after the outbreak of a bloody, eight-year war in which the U.S. quietly backed both sides, despite considering both to be foes. Relations only began to take hold after the 2003 U.S. invasion that overthrew Iraqi President Saddam Hussein, replacing the secular Sunni Muslim leader with a Shiite Muslim-dominated leadership that brought Baghdad closer to the revolutionary clerical government in Tehran.
Iraq has attempted to balance its ties between the U.S. and Iran ever since. Both foreign powers contributed extensively to efforts to defeat the Islamic State militant group (ISIS), which spawned out of the Al-Qaeda-led insurgency that took hold after the U.S. intervention. Though united against these jihadist groups, the U.S. has accused Iran of sponsoring terrorism via support for various Shiite Muslim movements across the region. Meanwhile, Tehran has charged Washington with destabilizing the Middle East through its 17-year "war on terror" and ongoing support for Israel.
Ties between the U.S. and Iran have only deteriorated since President Donald Trump pulled out of a landmark 2015 nuclear deal signed alongside Iran as well as China, France, Germany, Russia and the United Kingdom. Sanctions once waived due to Iran's compliance with nuclear restrictions have again been imposed the U.S., further damaging Iran's already crisis-ridden economy.
Last month, the U.S. gave Iraq—which relies on Iran for electricity and natural gas—an additional 30 days to comply with the restrictions. But Iraqi Foreign Minister Ibrahim al-Jaafari told journalists last week that Baghdad was "not obliged" to follow Washington's measures, as online news outlet Middle East Eye reported. Zangeneh called the sanctions "illegal" on Thursday, according to Reuters. Still, Iraqi Oil Minister Thamer al-Ghadhban said Thursday that no deal to jointly develop oil fields with Iran was reached.
The official Islamic Republic News Agency reported that Iranian gas exports to Iran were at about 15 million cubic meters day, with a planned increase to about 40 million cubic meters daily.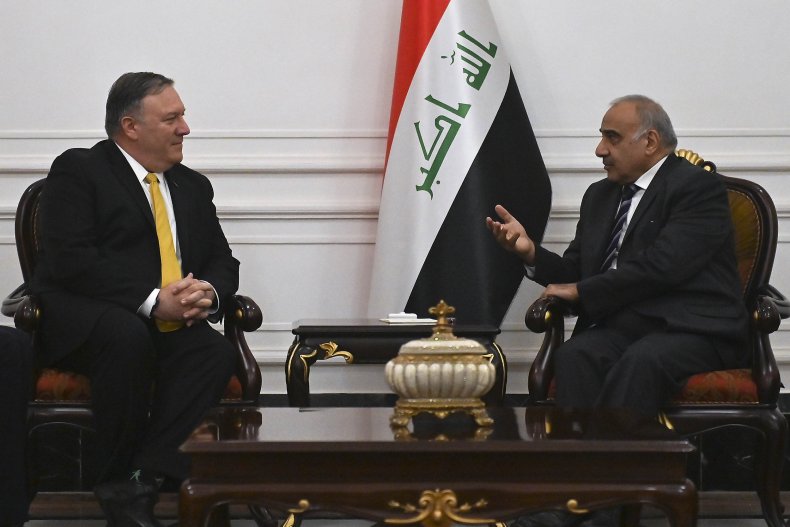 Pompeo's trip to Iraq, which followed a controversial visit by Trump late last month, was notable in that Iran was not mentioned in any official readouts, despite Pompeo referencing the "counter-Iran revolution" between the U.S. and its Mideast allies during a press conference Tuesday in Jordan. He did say, during a visit to Washington's consulate in the northern Iraqi city of Erbil, that the two countries had "a common understanding that the battle against Daesh [the Arabic-language acronym for ISIS], to counter Daesh, and the fight to counter Iran is real and important and something each of us needs to be active participants in."
During a speech at his next stop in Cairo, the words "Iran" and "Iranian" were among his most frequently used, as he painted the Tehran as a "common enemy" of the U.S. and other countries in the region, The National reported.
Despite its close relationship with the U.S., Iraq also maintains close ties to Russia and neighboring Syria, whose government has faced a 2011 rebel and jihadi uprising sponsored by Washington and its regional allies. Support from Russia, Iran and (to some degree) Iraq have allowed Syrian President Bashar al-Assad to retake much of the country and begin rebuilding diplomatic ties with fellow Arab states.
Last week, Jaafari called on the Arab League to reinstate Syria after it was suspended due to alleged human rights abuses committed as the government attempted to crack down on the 2011 uprising. The comments came after Iraqi National Security Council adviser Falih al-Fayadh said Assad had granted Baghdad permission to strike ISIS targets on the border, where Shiite Muslim militias supported by Iran were already battling the jihadis.