Iran Says Donald Trump's Middle East Policy Is All About Selling Weapons, Sending More Troops
Iran's ambassador to the United Nations has accused President Donald Trump and his administration of stirring up unrest in the Middle East simply to sell more arms to regional allies and to expand his own country's military presence there.
Hours after Trump signed into action new sanctions designed to further cripple the Iranian economy at a time of critical tensions between Washington and Tehran, Iranian U.N. representative Majid Takht Ravanchi defended the Revolutionary Guard's decision days ago to shoot down a U.S. Navy RQ-4A Global Hawk spy drone. The envoy claimed to have "irrefutable information on the incident" that would prove to the U.N. Security Council that the unmanned device had violated Iran's airspace, an account disputed by the Pentagon.
"We want neither war nor an escalation of tensions in the Persian Gulf region, but certain circles from inside and outside of the region, through dangerous acts are attempting to escalate tension. This helps them justify further foreign military buildup and sell more American and Western arms to certain countries, including to continue committing the gravest crimes in Yemen," Ravanchi said, referring to the U.S.-backed, Saudi-led war against a Zaidi Shiite Muslim rebel group that Washington and Riyadh have accused Tehran of supporting.
As for the new round of U.S. economic restrictions, which target Iranian supreme leader Ayatollah Ali Khamenei ⁠— whom Trump mistakenly referred to Monday as "Khomeini," his predecessor who died in 1989 ⁠— among other senior officials, Ravanchi said they were "yet another indication that the U.S. has no respect for international law and order as well as the views of the overwhelming majority of the international community."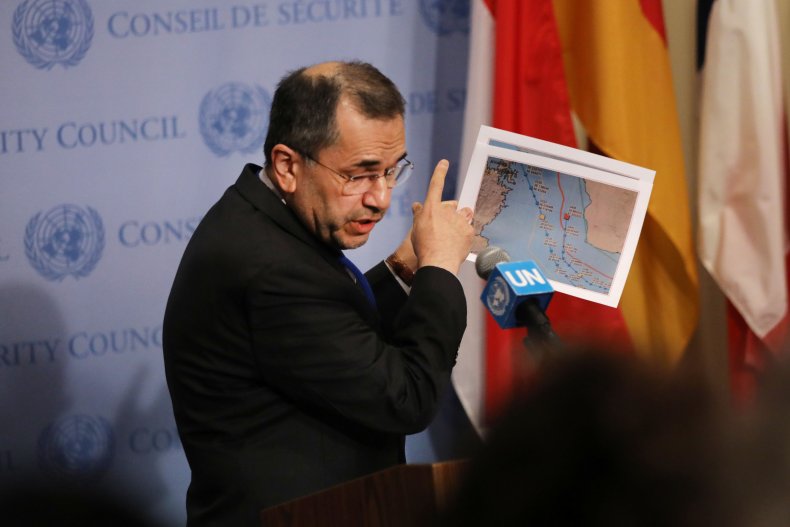 As Newsweek and other outlets reported, Trump initially greenlit military action Thursday against several Iranian sites in response to the unmanned drone shootdown, but suspended the order at the last minute, later explaining that he did not want to inflict an estimated 150 casualties in response to a bloodless incident. The incident came about a week after two oil tankers in the Gulf of Oman were damaged by explosions that the U.S. also blamed on Iran, which has denied any responsibility for the acts.
Tensions have risen in the Persian Gulf since Trump's decision last year to withdraw from the 2015 nuclear deal with Iran, also signed by China, the EU, France, Germany, Russia and the United Kingdom. These parties continue to support the agreement, but Europe has struggled to normalize trade ties as stipulated due to the threat of U.S. sanctions and Iran has announced its intentions to begin enriching uranium at higher levels — though it has consistently denied seeking nuclear weapons.
Since White House national security adviser John Bolton warned last month of a heightened Iranian threat to U.S. interests in the region, the Pentagon has committed up to 2,500 additional troops, a carrier strike group and a bomber task force to the Middle East. Prior to endorsing the new sanctions on Monday, however, the president called on other countries to step up guarding the waters near and around the Strait of Hormuz.
Noting that countries such as China and Japan rely substantially on the world's most important seaborne oil route, Trump asked on Twitter "why are we protecting the shipping lanes for other countries (many years) for zero compensation." He added. "All of these countries should be protecting their own ships on what has always been....a dangerous journey. We don't even need to be there in that the U.S. has just become (by far) the largest producer of Energy anywhere in the world!"
Just a half an hour later, Secretary of State Mike Pompeo released a readout of his meeting that same day with Saudi Salman, with whom he discussed "heightened tensions in the region and the need to promote maritime security in the Strait of Hormuz," noting that "Freedom of navigation is paramount."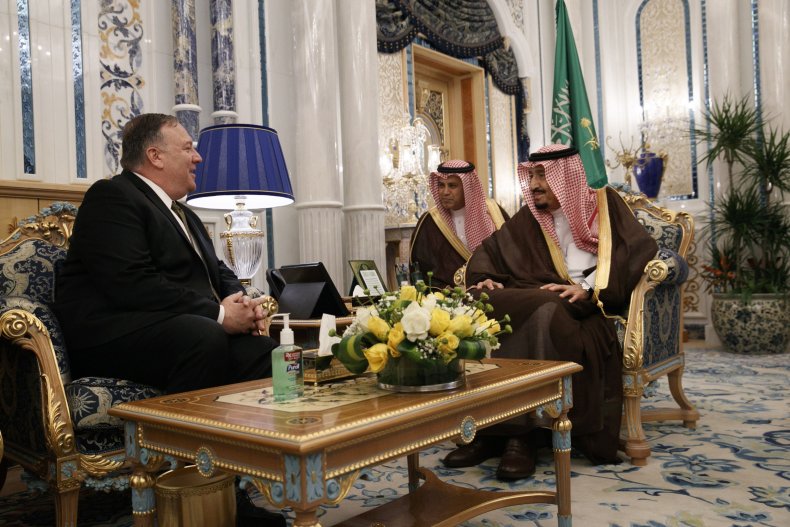 The Trump administration's intimate ties to the Saudi royal family have increasingly come under scrutiny, especially since October's slaying of journalist Jamal Khashoggi at Riyadh's consulate in Istanbul. A number of reports have suggested that Saudi Crown Prince Mohammed bin Salman had a role in the killing, but the administration has refused to assign blame and has recently resisted U.N. calls to open an FBI investigation into the incident.
Asked Sunday by NBC News about the matter, Trump insisted that the issue already been "heavily investigated" and shifted the subject to Iran, which he said had "killed many, many people a day." He called the Islamic Republic "a vicious, hostile place" and said that, "if you're going to look at Saudi Arabia, look at Iran, look at other countries."
Trump also touted "$400 to $450 billion" that Saudi Arabia ⁠— the world's number one buyer of U.S. weapons⁠ — has spent in the U.S. Earlier this year, Congress voted for the first time in history to invoke the War Powers Resolution in an attempt to cut U.S. military support for the Saudi-led war in Yemen, where the kingdom has been accused of perpetrating war crimes, but Trump vetoed the measure in April.
On Friday, a court of appeals in the U.K., another close Saudi ally, ruled that 2016 weapons sales to the kingdom were illegal as officials did not properly assess the potential risk to civilian life.