Iranian Official Calls On World to Unite Against 'Savage Monster' U.S. As GOP Lawmakers Push for 'Striking' Militarily
The secretary of Iran's Supreme National Security Council called on the world to unite against the "terrorist policies" of the "savage monster" the United States on Tuesday, as several Republican lawmakers in Washington have been urging the administration of President Donald Trump to carry out military strikes on the Persian Gulf nation.
"The U.S. has destabilized security of the international system through unilateralism and extra-terrestrial sanctions and has been using [the] financial and banking system as a weapon," Ali Shamkhani said during an international security conference in Russia, the English language Iranian daily newspaper Tehran Times reported.
"It is essential that the independent countries in the world adopt multilateral mechanisms and stand against this savage monster and stop it and break up the dominance of the U.S. over the world's financial system," the Iranian official urged.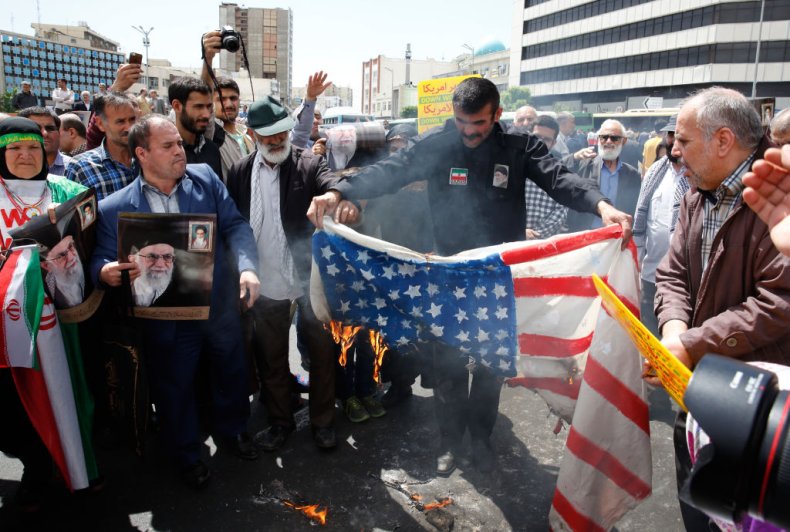 Meanwhile, some Republicans in Congress have begun beating war drums. Several have suggested bluntly that Trump should use military force to respond to attacks on allied oil tankers, which were allegedly carried out by Iranian-backed militants. Tehran has denied any involvement in those attacks, as well as any plans to carry out such strikes. Key U.S. allies in Europe have also expressed skepticism of the Trump administration's insistence that the attacks were supported by the Iranians.
Pointing to the hardline stance that former Republican President Ronald Reagan took against Iran in the 1980s, GOP Representative Michael Waltz from Florida suggested Trump should begin "escorting ships through the Straits of Hormuz" and begin "striking some of Iran's boats."
"I would support those actions moving forward today as a deterrent and as a defensive measure," he said during a Tuesday morning interview on Fox News.
Arkansas Republican Senator Tom Cotton also called for military strikes on Iran during an interview with CBS News on Sunday. "These unprovoked attacks on commercial shipping warrant a retaliatory military strike," Cotton argued, also referencing actions taken by Reagan against Iran.
"We can make a military response in a time and a manner of our choosing," the senator insisted.
Last Thursday, Republican Congressman Adam Kinzinger, who represents Illinois and often expresses hardline criticism against Iran, argued that it would be easy for the U.S. to defeat Iran. "If push came to shove, I mean, the U.S. Navy would push, shove, stomp and destroy 'em in a heartbeat if we had to," he said in an interview with Fox News. Despite Kinzinger's confidence, similar rhetoric was used prior to U.S. military action against Iraq and Afghanistan, proving to be gravely inaccurate.
Although tensions have been high between Iran and the U.S. for decades, they have increased significantly under Trump after a brief period of improvement under former President Barack Obama. In 2015, Iran signed the landmarks Joint Comprehensive Plan of Action (JCPOA) – commonly known as the Iran nuclear deal – with the United Kingdom, the European Union, France, Germany, Russia, China and the U.S. The international agreement offered Iran sanctions relief and international investment in exchange for curbing its nuclear program.
Consistent reporting by the United Nations nuclear watchdog has found that Iran remained in compliance with the treaty's terms and U.S. intelligence leaders, who were appointed by Trump, also said earlier this year that the deal had worked to curb Iran's nuclear capabilities. But Trump officially withdrew the U.S. from the treaty last year and his administration moved to re-implement harsh financial sanctions.
The treaty's other signatories, including close European allies, have strongly criticized the White House's decision and attempted to keep the international pact alive. But feeling the pressure of economic sanctions, Iran told JCPOA signatories last month that it planned to step back from some of its commitments under the treaty. This week it further announced an "unlimited increase" in uranium enrichment, meaning it plans to surpass the limits set by the JCPOA before the end of the month.
Some top Trump administration officials, such as National Security Adviser John Bolton and Secretary of State Mike Pompeo, have taken a more hardline stance toward Iran, threatening the possibility of military confrontation. Trump has often appeared more reluctant to get the U.S. involved in another Middle Eastern conflict, after campaigning on withdrawing troops for expensive foreign wars. His administration has, however, already deployed additional military forces to the region and just announced plans to send an additional 1,000 troops.
Some lawmakers in Washington have raised concerns about Trump's stance toward Iran, worrying that the administration is acting similarly to that of former President George W. Bush prior to the invasion of Iraq in 2003. That war launched based on false intelligence, with top administration officials claiming Iraq had weapons of mass destruction that, in fact, did not exist.
Democratic Representative Ilhan Omar of Minnesota, who is a harsh critic of U.S. foreign policy and serves on the House Foreign Affairs Committee, blamed Trump directly for the escalated tensions with Iran.
"None of this would be happening if Trump didn't back out of the Iran nuclear deal," Omar tweeted on Monday. "America's response should be to return to the table and reinstate the Iran nuclear deal. Increasing tensions and threats of war serve nobody's interests," she wrote.