Iran Says It Took U.K. Oil Ship as Tanker and Drone Crisis Worsens
Iran announced Friday afternoon it had seized a U.K.-flagged, Swedish-owned oil tanker it accused of illegal activities. The seizure came just hours after the Islamic Republic presented evidence purporting to prove the United States did not down an Iranian drone in the same strategic region the day before.
In a statement, Iran's Revolutionary Guards announced that "an English tanker named 'stena impero' was seized by a flotilla unit of the first naval zone while crossing the Strait of Hormuz due to non-observance of the laws and regulations at the request of the Ports and Maritime Organization of Hormozgan province." The vessel was to have been "guided to shore" in preparation for "legal procedures" and "necessary inspections."
The news came less than a week after Iran seized a small Panamanian-flagged, UAE-based vessel called MT Riah for allegedly smuggling oil in the region and weeks after the U.K. seized Iranian supertanker Grace 1 and accused it of trying to transport oil to Syria, whose Tehran-backed government was subject to European Union sanctions.
Iranian officials vowed to respond to the incident that both supreme leader Ayatollah Ali Khamenei and Foreign Minister Mohammad Javad Zarif likened to an act of "piracy."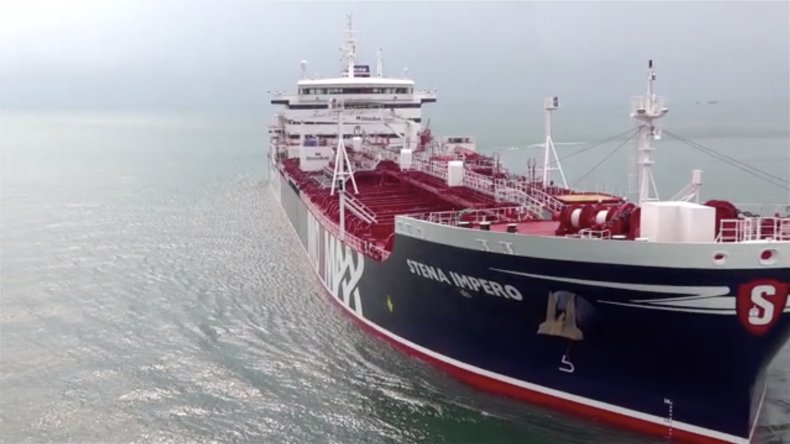 After the announcement, reports surfaced that the Revolutionary Guards may have seized a second vessel, a Liberian-flagged and U.K.-owned Mesdar. Trump told reporters that he would be "working with the U.K." on the issue, even though the two have "no written agreement."
"This only goes to show what I've been saying about Iran, trouble nothing but trouble," Trump said. "Let's see what happens, it's not American ships, it's the U.K, it may be one it may be two."
The U.S. has accused Iran of previously attempting to capture a U.K. vessel earlier this month when the Revolutionary Guards' navy allegedly approached the British Heritage, only to be forced away by the U.K.'s HMS Montrose. Iran denied the incident and have also denied U.S. and U.K. allegations that it was behind attacks that targeted commercial vessels of various nationalities last month and May in the nearby Gulf of Oman.
U.S.-Iran tensions have worsened since President Donald Trump withdrew last year from a 2015 multi-national nuclear deal promising Tehran sanctions relief in exchange for agreeing to curb its nuclear activities. The deal was also endorsed by the U.K., along with the EU and allies France and Germany, as well China and Russia—all of whom still support it.
Trump's exit from that agreement, however, has been followed by mounting sanctions against Iran and, with European nations struggling to normalize trade ties as promised, Tehran has resumed enriching uranium at higher levels, though it has always denied seeking nuclear weapons. Iran has engaged in successive rounds of talks with the remaining parties to the nuclear accord, but has called on the U.S. to lift sanctions before engaging in diplomacy.
The U.S., for its part, has called on Iran to end its alleged backing for militant groups and to halt its ballistic missile development, something Tehran has said was vital for to its survival in the face of threats posed by regional foes such as Israel and Saudi Arabia. The U.S. has also bolstered its own military presence in the Persian Gulf by sending additional assets at land, air and sea.
The precarious security situation nearly came to a head last month when Iran shot down a U.S. drone it accused of breaching its territory. The Pentagon claimed the unmanned device remained in international airspace and Trump ordered retaliatory strikes that were called off at the last minute.
Less than a month later, Trump announced Thursday that Wasp-class amphibious assault ship USS Boxer "took defensive action against an Iranian drone which had closed into a very near distance, approximately 1000 yards, ignoring multiple calls to stand down and was threatening the safety of the ship and the ship's crew." He said the drone was "immediately destroyed."
Iran has disputed this narrative and the Revolutionary Guards posted a video Friday that they claimed proved the drone conducted its operations in the Strait of Hormuz.