One of Iran's most senior security officials has condemned extensive U.S. intervention across the Middle East, arguing that even Washington officials have been forced to recognize their failures in the region.
In an article carried by the semi-official Mehr News Agency, Iranian Supreme National Security Council Secretary Rear Admiral Ali Shamkhani pointed out three instances in which "senior U.S. officials in the past two months reveal some truths which the country's governing body previously lacked the courage to accept and express." His remarks came as U.S. troops withdrew from northern Syria, ceding the city of Manbij to Russian forces, which has joined Iran in backing Syrian President Bashar al-Assad.
Shamkhani referenced President Donald Trump's decision to pull troops from positions among Kurdish-led allies who have since made a deal with Assad in the face of a Turkish assault. Justifying the move, Trump has criticized his predecessors' open-ended, costly commitments in the Middle East, dating back to the 2003 invasion of Iraq.
"Recently and after Turkey's aggression on northern Syria and the US's turning its back on its Kurd allies, American officials admitted to having caused a bloody war in Iraq under the false pretext of weapons of mass destruction and stated that stepping into the trap of the Middle East was the worst decision America has ever made in history," Shamkhani wrote, echoing Trump's social media commentary.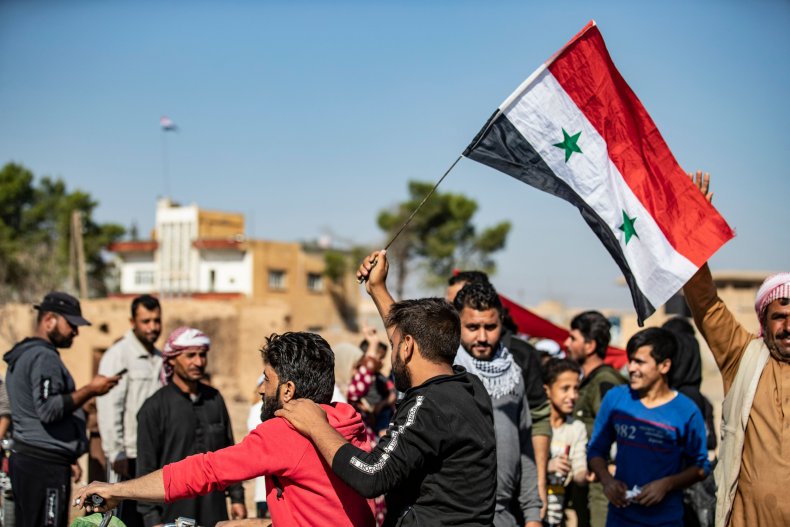 Days after the White House announced a U.S. withdrawal from northern Syria, Trump tweeted Wednesday that "GOING INTO THE MIDDLE EAST IS THE WORST DECISION EVER MADE IN THE HISTORY OF OUR COUNTRY!" He also argued that the U.S. "has spent EIGHT TRILLION DOLLARS fighting and policing in the Middle East."
Shamkhani also referred to this figure, referring to what he said were the U.S.' "consecutive political and military defeats in the region." He added: "The $8 Trillion costs of U.S. military presence in the region came to light and it was announced that America's presence in the Middle East has yielded no result and was a foolish act."
He also pointed to Washington's lack of military response to what the Trump administration has claimed was an Iranian missile and drone attack on two oil facilities in Saudi Arabia. The operation was claimed by the Zaidi Shiite Muslim rebel movement Ansar Allah, or the Houthis, of Yemen.
"After Yemeni Ansar Allah's drone attack on Aramco oil facilities in Saudi Arabia and in response to Saudi Kingdom's pressure to confront the perpetrators of this attack, U.S. officials clearly emphasized on not meeting the Saudi request and it was announced that it is the Saudi Arabia which has been attacked not the U.S.," Shamkhani said.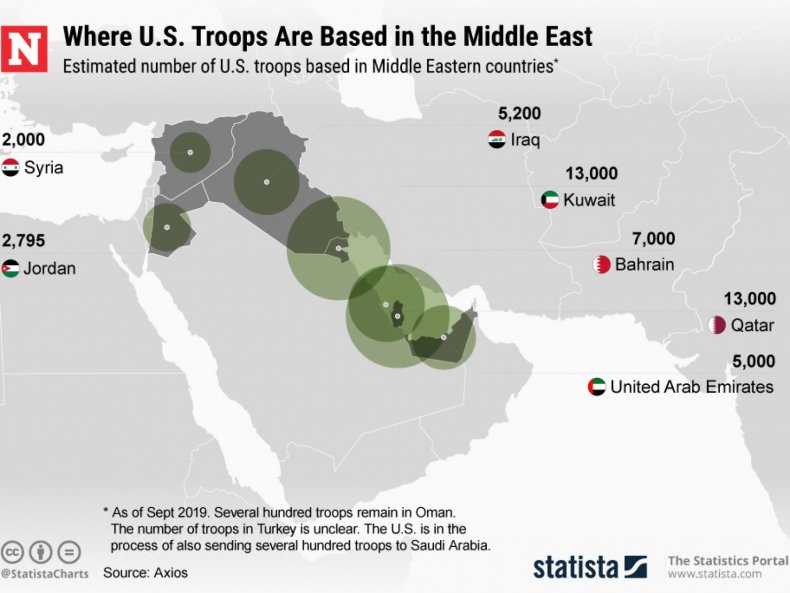 The U.S. has charged Iran with disrupting the flow of international oil through the Persian Gulf region, where unclaimed attacks hit tankers in May and June. One of Iran's own ships, Sabiti, was apparently targeted in a suspected missile attack Friday while transiting the Red Sea between Saudi Arabia and Sudan, marking another the latest incident shrouded in mystery to ratchet up international tensions and rock the global energy market.
As Trump announced a U.S. pullout of from much of Syria, where his administration had sought to expand its mission of defeating the Islamic State militant group (ISIS) to also countering Iranian influence, Defense Secretary Mark Esper announced the deployment of up to 2,800 troops to Saudi Arabia. The move came in what Esper called "the wake of an Iranian attack" on the kingdom.
"There are things we pick up, if you will, through intelligence that we thought it was important to continue to deploy forces to deter and defend, and to send the message to the Iranians: do not strike another sovereign state, do not threaten American interests, American forces, or we will respond," Esper told a press briefing Friday.
"I've said time and time again, do not mistake our restraint for weakness," he added. "If you will, you will regret that."