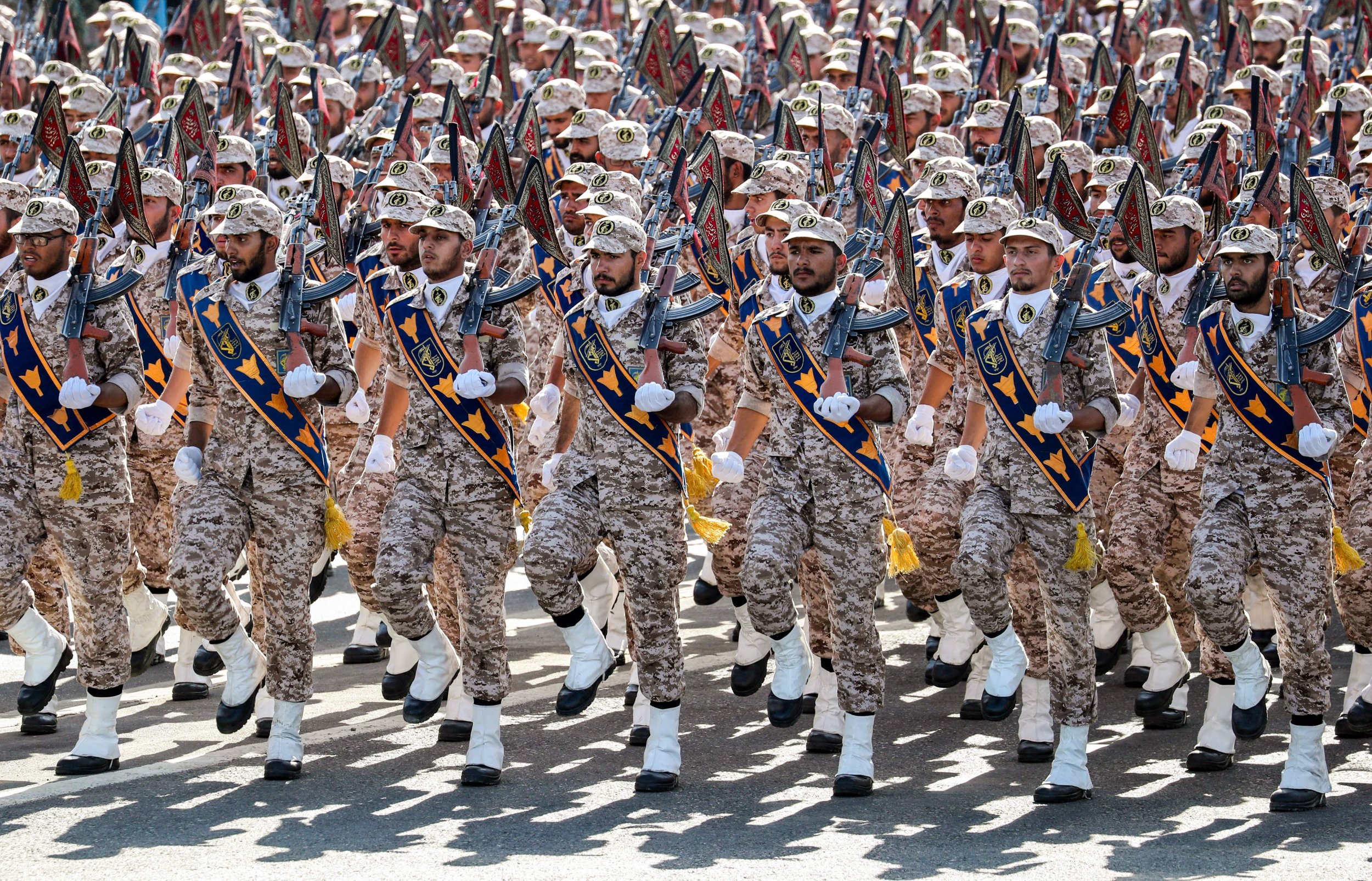 The Revolutionary Guard's deputy political chief and the head of the Iranian army warned that the United States would not make good on its threats to attack their country, as President Donald Trump's administration was accused of using similar tactics in the lead-up to the Iraq War to pave the way toward conflict with the Islamic Republic.
In yet another week of escalating tensions between Washington and Tehran, Trump said Thursday that Iran was "risking military confrontation" and that its leadership should "call" him as U.S. warships and aircraft headed to the region. The following day, Revolutionary Guard's Brigadier General Yadollah Javani dismissed the threat and defended Iran's decision to withdraw from some commitments to a 2015 nuclear deal already abandoned by the U.S., saying "Negotiations with Americans will not take place, and Americans will not dare to take military action against us."
"Trump had thought that with the new sanctions and pressures imposed on the Islamic Republic by the U.S. after its withdrawal from the Joint Comprehensive Plan of Action, Iran would face a kind of internal turmoil and would eventually negotiate with the U.S., but in practice, it did not happen," he told the semi-official Tasnim News Agency. "The Americans are in a state of turmoil and anger, and because of their desperation, they have done whatever they can to break the Iranian nation's 40-year-old resistance."
That same day, Iranian Army commander Brigadier General Kioumars Heydari issued a statement of his own, arguing that "the armed forces are ready, awake and vigilant and are monitoring the developments, none of our enemies dares to attack the dear Islamic homeland."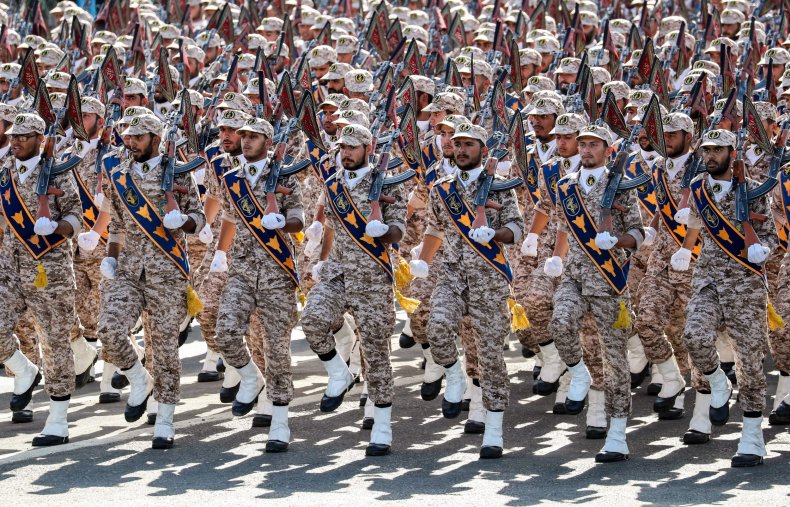 The nuclear deal, officially known as the Joint Comprehensive Plan of Action, was signed by the U.S. and Iran, along with China, the EU, France, Germany, Russia and the United Kingdom. Under its terms, Tehran agreed to limit nuclear production in exchange for sanctions relief, but the Trump administration unilaterally withdrew from the agreement last year in violation of an accompanying United Nations Security Council resolution.
Trump and his officials have accused Iran of using unfrozen funds to develop ballistic missile technology and to support militant groups abroad, especially via the elite Revolutionary Guards, which the State Department declared a terrorist organization last month in an unprecedented step. Iran's Supreme National Security Council responded by brushing the Pentagon's Central Command with a similar label.
As U.S. sanctions continued to strangle Iran's economy, the nuclear accord's other signatories have continued to support it, but while China and Russia have continued to work with the country, Europe has struggled to uphold its end of the deal in the face of the Trump administration's threats of punishment. With the deal's incentives dwindling, Iran announced its decision to quit some procedures Wednesday and warned it would continue to walk away should Europe fail to come up with a mechanism for normalizing trade with Tehran.
Meanwhile, White House national security adviser John Bolton announced Sunday the deployment of the USS Abraham Lincoln aircraft carrier strike group and bomber task force two weeks early amid "troubling and escalatory indications and warnings" of an Iranian plot against U.S. interests. With Bolton seemingly heading a hawkish charge on Iran—along with Venezuela, Cuba and more of his longtime stated foes abroad—some observers have linked his rhetoric to that employed during his tenure under former President George W. Bush, which they said played a crucial role in steering the country toward war with Iraq in 2003.
In an interview with NBC News on Thursday, Majid Takht Ravanchi, Iranian ambassador to the U.N., called Bolton's claims "fake intelligence" that was "being produced by the same people who, in the run-up to the U.S. invasion of Iraq, did the same." Charges that Iraqi President Saddam Hussein was producing weapons of mass destruction and supporting militant groups such as Al-Qaeda later proved false, after he had been overthrown, an act that shook the region.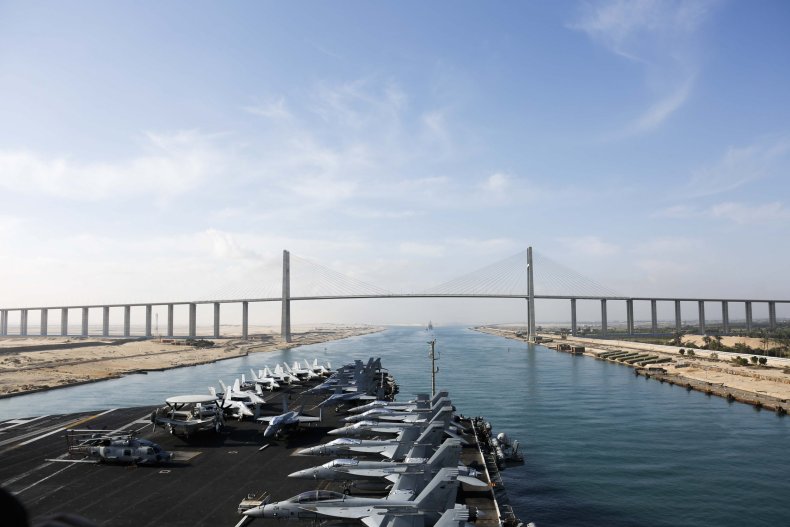 Hussein's downfall led to a massive surge in Sunni Muslim militancy that later gave a platform for groups such as Al-Qaeda and, later the Islamic State militant group (ISIS). It also gave Iran a stronger foothold in Iraq, where Tehran sponsored numerous Shiite Muslim militias that also battled U.S. troops at the time.
By the time ISIS began to sweep across both Iraq and neighboring Syria in 2013, these Iran-backed paramilitary forces focused on supporting government forces against the jihadis, who were then targeted by a U.S.-led coalition formed the following year.
ISIS has since been largely eradicated due to the efforts of both rivals, as well as Russia, which worked alongside Iran to support the Syrian government, which the U.S. and its regional allies attempted to overthrow through support for a 2011 rebel and jihadi uprising. With their common enemy defeated, however, competition for regional influence has escalated, with the U.S. being joined by Israel and Saudi Arabia in efforts to contain Iran's growing footprint.
While the EU has so far rejected Iran's ultimatum on the nuclear deal, it has also expressed "regret" toward the U.S.'s ongoing refusal to adhere to the agreement. Russia and China have called on both the U.S. and EU to resume trade with Iran and have condemned U.S. military threats against the Islamic Republic.