Russia Slams Trump Administration's 'Deliberate Policy to Instigate War' With Iran
Russian government officials slammed the Trump administration's approach to Iran on Tuesday, arguing that the U.S. government is purposefully aiming to provoke a conflict.
"For quite a while, we have been witnessing the United States' continuous attempts to increase political, psychological, economic and military pressure on Iran. I think that such actions are rather provocative and cannot be considered as anything other than a deliberate policy to instigate a war," Russia's Deputy Foreign Minister Sergei Ryabkov told reporters during a press briefing on Tuesday.
Russian President Vladimir Putin met with Iranian President Hassan Rouhani on Friday, at a time when the U.S. is increasingly isolated in its approach to Iran.
A special adviser to Federica Mogherini, the European Union's top official for foreign affairs, similarly blamed the U.S. for the tensions escalating between Washington and Tehran.

"This is happening for one reason that has not been cited so far, which is the fact that the United States has violated the Joint Comprehensive Plan of Action, meaning the Iran deal," the adviser Nathalie Tocci told BBC in a radio interview on Tuesday.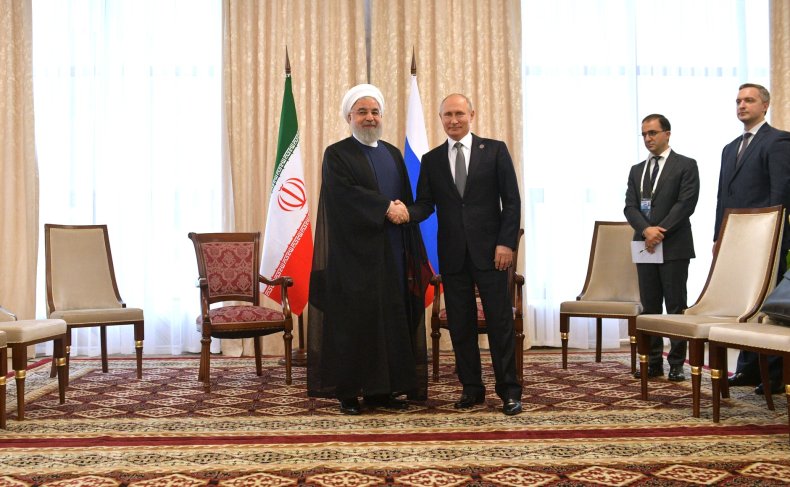 Secretary of State Mike Pompeo will meet with Mogherini at the State Department on Tuesday. European officials have been working to save the Iran deal despite President Donald Trump's decision to abandon it completely last year and reinstate sanctions against Iran. Mogherini in particular has been an advocate for saving the deal and has called on the U.S. to practice restraint and present more credible evidence of Iran's malign activities.
The Pentagon announced on Monday that it would send an additional 1,000 U.S. troops to the Middle East as tensions with Iran escalate. Acting Defense Secretary Patrick Shanahan said that the troops were being sent for "defense purposes."
The U.S. has received "credible intelligence…. on hostile behavior by Iranian forces and their proxy groups that threaten United States personnel and interests across the region," Shanahan said, adding that the troops are being sent to "ensure the safety and welfare of our military personnel working throughout the region and to protect our national interests."
"We will continue to monitor the situation diligently and make adjustments to force levels as necessary given intelligence reporting and credible threats," Shanahan added.
The U.S. published new photos on Monday that purportedly show members of Iran's Revolutionary Guard removing an unexploded mine from an oil tanker that was attacked last week in the Gulf of Oman. Iran has denied responsibility for the attack, and countries around the world, including U.S. allies, have said that the evidence presented by the Trump administration is insufficient to decisively prove Iran's culpability.