Iran and Venezuela Could Help Biden's Gas Crisis If He Lifts U.S. Sanctions
Iran and Venezuela, two countries with some of the largest oil and gas reserves on Earth, could serve as unlikely allies to the United States as consumers face soaring energy prices.
But President Joe Biden would have to first lift sanctions put in place by his predecessor if these two nations were to play a productive role in the crisis, potentially between 2 million and 2.5 million more barrels per day (bpd) of oil to the global market.
And while engaging with the two designated adversaries would likely stir a degree of criticism from hawkish factions at home looking to portray the president as soft on U.S. foes, the rising cost of gas now fluctuating around the unprecedented $5 mark threatened to exact an even higher toll on Biden as his Democratic Party prepared for a contentious midterm election season.
"The fact is that if Biden doesn't take a dramatic step to get more oil flowing, he will pay a political price," Esfandyar Batmanghelidj, CEO of the Bourse & Bazaar Foundation, an economic think tank, told Newsweek. "So any diplomatic process that ends with the lifting of oil sanctions on Iran and Venezuela is probably worth it."
The magnitude of the threat has has already prompted a foreign policy shift as Biden sought to offset the loss of Russian energy due to Western sanctions in response to the war in Ukraine by traveling to oil-rich Saudi Arabia, a nation he once dismissed as a "pariah."
Saudi leadership, however, has signaled there was little more their kingdom could produce in alignment with the Organization of Petroleum Exporting Countries (OPEC) and its partners. On the sidelines of Monday's G7 summit, French President Emmanuel Macron could be heard telling Biden that United Arab Emirates (UAE) President Mohamed bin Zayed Al Nahyan told him Saudi Arabia could only produce about an additional 150,000 bpd, "maybe a little bit more, but they don't have huge capacities before six months' time."
Batmanghelidj said that, should U.S. sanctions be reversed, Iran could double its current exports of "a little over 1 million bpd of crude oil and condensates," allowing trade to flow freely to refiners in European nations such as France, Spain and Italy, which are trying to reduce dependence on Russia.
Venezuela, he said, "has less spare capacity as its oil production has dwindled, but it could probably contribute around 400,000 additional bpd to the oil market."
And while this may not be all that's needed to compensate for some 4.7 million bpd of crude exported by Russia, according to last year's figures gathered by the International Energy Agency, Batmanghelidj said that "any additional supply will help ease energy prices, especially as the prospect of a global recession softens energy demand."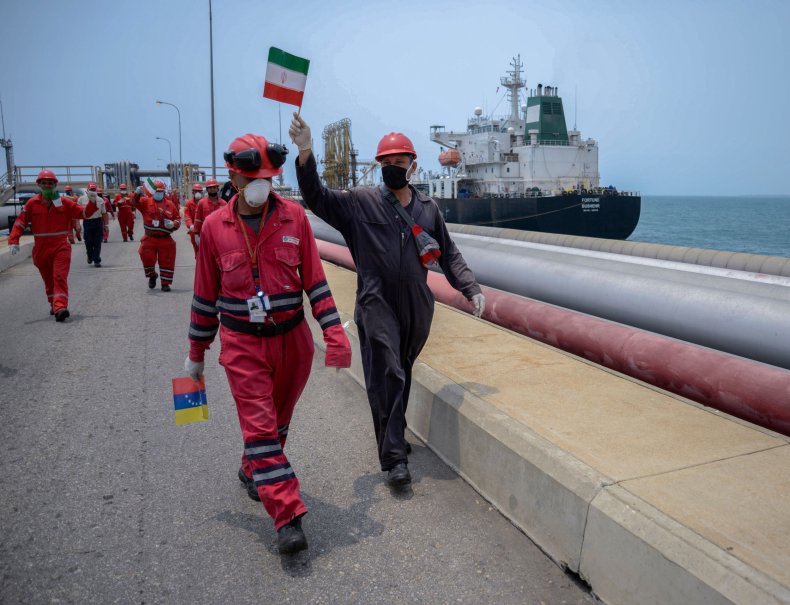 Estimates of just how much lifting sanctions on Iran and Venezuela would add to the oil market vary as a result of the effects that external pressure and domestic policies have had on the energy sectors of both countries.
Reid I'Anson, a senior economist at the Kpler data and analytics firm, estimated that a sanctions-free Iran could presumably increase its exports to about 1.5 million bpd. But "Venezuela is more of an open question given just how badly upstream infrastructure has degraded over the past several years," he said, leaving it likely able to add about 400,000 to 500,000 barrels per day to the market, roughly in line with Batmanghelidj's estimate.
Still, I'Anson told Newsweek that "the issues in the United States are more complicated," especially due to a "decoupling between crude and product prices." He attributes this phenomenon largely to transportation and logistics issues related to disparities in the inventories of different U.S. districts and both pipeline constraints and clean energy requirements limiting the movement of gasoline and diesel within the country.
Even with these complications at hand, however, Argus Media oil and gas analyst Nader Itayim said freeing up Iranian and Venezuelan exports could "help the current situation."
This was particularly the case, he argued, "given the well-documented struggles OPEC and its non-OPEC partners (OPEC+) are having to fully deliver the production increases that they have been pledging on a monthly basis."
"Outside the likes of Saudi Arabia, the UAE, and to a lesser extent Kuwait, there is very little spare capacity left to tap among the countries in the OPEC+ group, and those countries would be loathe to deploying what little they have left unless absolutely critical," Itayim told Newsweek. "Saudi Arabia, and OPEC+ as a whole, have made clear on numerous occasions that they do not think we are at that point at the moment—a big reason why the Biden administration has had very little joy when it has come to asking the Saudis and OPEC+ to raise output more quickly."
"So any additional supply made available from outside that group [Iran and Venezuela have been exempt from the OPEC+ agreement and quotas because of the sanctions] will of course be very welcome," he added, "particularly when you consider that oil demand growth is only likely to accelerate once advanced economies, particularly those in the Asia-Pacific region, fully emerge from the pandemic—something the IEA recently said it expects will happen next year."
Itayim estimated that Iran, unrestrained from sanctions, could add 1.25 million to 1.3 million bpd to the market, "much of it within six months." He put Venezuela at a more conservative estimate of 200,00 to 250,000 bpd, noting "anything beyond that would require serious and sustained investment—we've seen estimates of anywhere between $150 billion to $250 billion—over a number of years, which is unlikely until at least some kind of political stability is restored."
"So, to me, I think we'd be looking more at a figure of around 1.5 million to 1.6 million [bpd] from the two countries if, and that's a big if, sanctions on the two are lifted fully," Itayim said.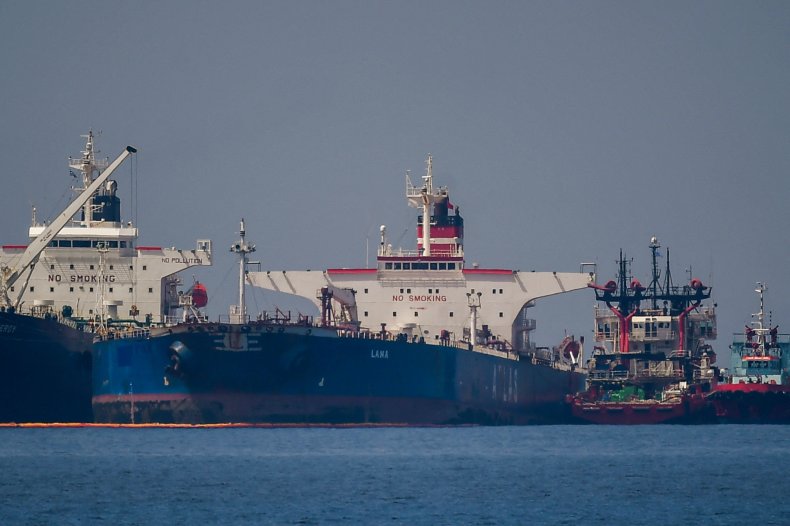 The Biden administration has made diplomatic inroads in Tehran and Caracas to varying degrees, but no clear strategy has emerged for the lifting of former President Donald Trump's "maximum pressure"-style measures against the two countries.
The U.S. leader has entered into indirect talks with Iran in an effort to revive Washington's participation in the Joint Comprehensive Plan of Action (JCPOA), a 2015 multilateral nuclear deal signed during Biden's vice presidency under then-President Barack Obama and later abandoned by Trump in 2018. The accord, also signed by China, the European Union, France, Germany, Russia and the United Kingdom, granted Iran sanctions relief in exchange for strict cuts in its nuclear program, but the U.S. exit and the introduction of a series of new, sweeping sanctions have prompted Iran to suspend its commitments, leaving the two sides at an impasse.
Negotiations reconvened Tuesday in the Qatari capital of Doha as representatives of the U.S. and Iran call on the other to take necessary steps to bridge the gap in their positions.
Biden has also signaled a potential willingness to enter into dialogue with Venezuelan President Nicolás Maduro, with whom the U.S. cut ties in 2019 in an effort to bring opposition-led National Assembly leader Juan Guaidó to power. The leadership crisis has divided the international community, but Maduro remains in office and the White House acknowledged sending a delegation in March to discuss potential dialogue among the rival sides.
Though Biden's decision to exclude Venezuela, along with fellow leftist-led Cuba and Nicaragua, from the Summit of the Americas held this month in Los Angeles prompted further tensions, as well as protests and boycotts from a number of Latin American and Caribbean states, Maduro said Monday that his administration against met with U.S. officials in a previously unannounced visit.
While no breakthroughs have emerged in the Biden administration's overtures to Iran and Venezuela, even these cautious moves have prompted criticism from Republicans as well as some Democrats, such as Senate Foreign Relations Committee Chairman Robert Menendez.
Recognizing this cool reception, Crystol Energy CEO Carole Nakhle told Newsweek that "lifting the sanctions without achieving the objective that led the U.S. to impose those sanctions to start with, will create a more challenging situation in the coming years."
Still, Nakhle said there would likely be some benefit to doing so. While she argued it was difficult for anyone to ascertain exactly how much lifting sanctions would alleviate global energy costs, she argued that "in a tight market with heightened geopolitical risks, every additional barrel helps to ease pressure on prices."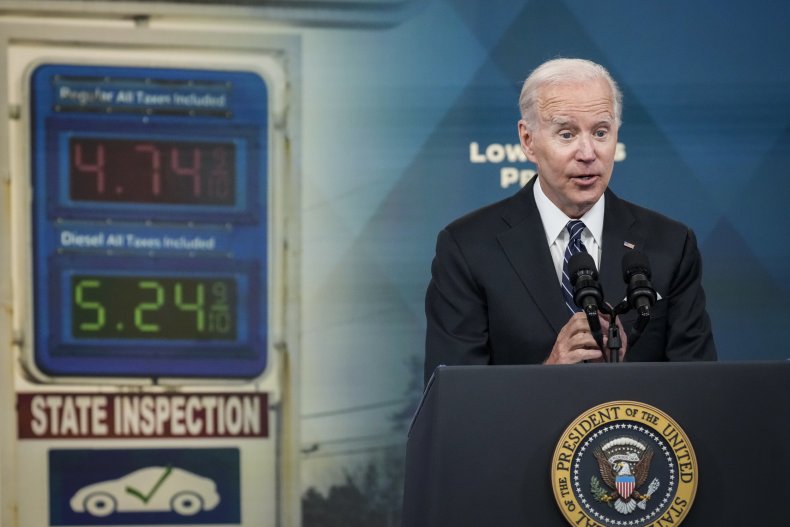 The effectiveness of sanctions has also come growing scrutiny in recent years as countries like Iran and Venezuela press on with policies opposed by the U.S. Caracas and Tehran have, in fact, forged an increasingly tight strategic partnership of their own in the face of Washington's attempts to isolate them, a partnership that includes direct Iranian support for Venezuela's embattled oil and gas sector.
The two nations solidified their ties this month through a 20-year roadmap for cooperation signed during Maduro's visit to Tehran, where he met with Iranian counterpart Ebrahim Raisi and Supreme Leader Ayatollah Ali Khamenei.
And with few alternatives in sight and reports of growing pressure from European nations for new options as Russia's war in Ukraine drags on, some observers see the challenges presented by dealing with Iran and Venezuela as a necessary shock for the administration to absorb in an effort to quell its energy woes.
Those woes may only grow given polls showing that domestic support for U.S. aid to Ukraine is waning as the economic blowback hits home.
"Relaxing sanctions on Venezuela and Iran would be easy wins for the Biden administration," Kevin Cashman, senior associate at the Center for Economic and Policy Research, told Newsweek. "My understanding is that Biden has pathways to do this for each country that are at his prerogative and could be implemented relatively quickly, although I'm sure his team is thinking about political maneuvering around domestic interest groups."
Looking past the six-month mark and toward the next year to two years, he estimated that Iran and Venezuela could eventually ramp up to a combined export capacity of up to 2.6 million bpd. And though Iran already displayed an ability to quickly regain production rates when sanctions were first lifted at the beginning of 2016, Cashman said easing restrictions on less-equipped Venezuela could actually "lower U.S. gas prices faster because the U.S. has refineries that are set up to process Venezuelan heavy crude and because Venezuelan oil is much closer to the U.S. mainland than other large proven sources."
He also argued that any political compromises needed to reach agreements with either or both countries might still pale in comparison to what Saudi Arabia may ask of Biden when he arrives in Jeddah next month in exchange for what is projected to be a relatively marginal increase in exports.
"In this sense," Cashman said, "it does seem like lifting sanctions on Venezuela and Iran would be a prudent, if not necessary, move for the Biden administration—if one of their goals is to ease prices at the pump and more generally."
Newsweek reached out to the White House for comment.