The Israeli military launched strikes on Iranian positions in Syria following an alleged Iranian missile barrage on Israeli positions along the Syrian border, marking the latest escalation in a confrontation that could erupt into a new war in the Middle East.
Dozens of positions were hit as Israel responded to the alleged first incidence of Iranian forces directly targeting Israeli positions from Syria, The Washington Post reported.
U.S. President Donald Trump's decision to withdraw from the Iran nuclear deal—under pressure from Israeli Prime Minister Benjamin Netanyahu—is thought to be the catalyst for the attacks. In the past 48 hours, there have allegedly been three rounds of strikes, two from Israel and one from Iran.
Just hours after Trump announced his decision on Tuesday, a suspected Israeli airstrike hit an Iranian-linked military installation south of the Syrian capital of Damascus. The attack reportedly targeted missiles aimed at Israel, and it killed at least eight Iranians and seven Syrians.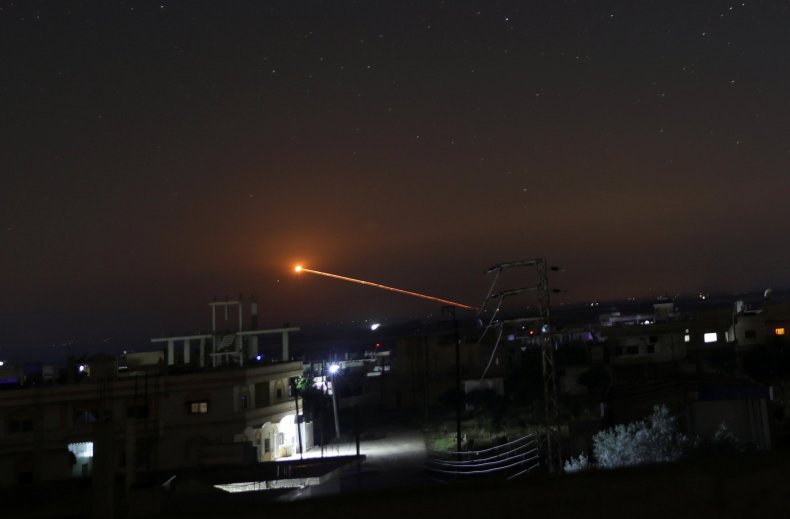 On Wednesday, the Israel Defense Forces (IDF) said Iranian troops based in Syria fired 20 rockets towards Israeli positions in the Golan Heights—the strategic plateau sitting along the Syrian border occupied by Israel in 1967 after the Six-Day War. The IDF said four missiles were intercepted by the country's Iron Dome defense network, and the rest fell on Syrian territory, causing no casualties.
The IDF claimed that Iran's Quds special forces were behind the attack but did not specify how they knew. This is the first time that Israel has directly accused Iranian troops of firing on Israel.
In response, Israel undertook its most extensive bombardment of Syria in several decades, targeting dozens of weapons stores, missile launchers and intelligence facilities in a wave of air and artillery strikes. Although Syria's state news agency Sana claimed that some Israeli missiles had been shot down near Homs, many more found their way through. The IDF also targeted Syrian air defense systems after Israeli warplanes came under fire.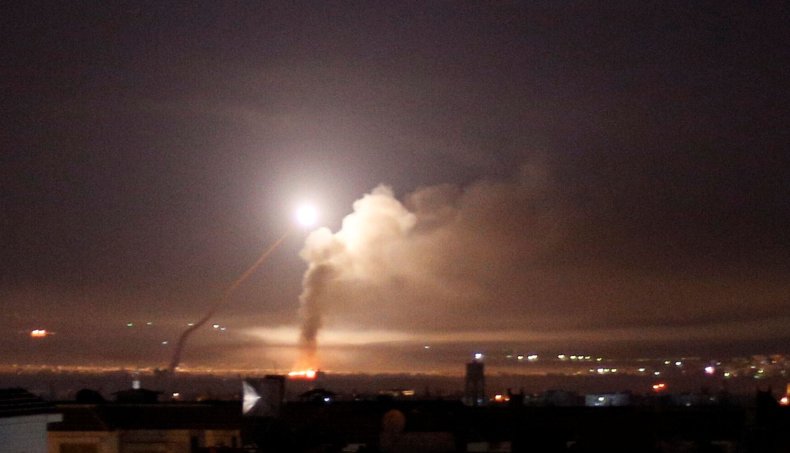 It is not yet clear how many Iranian and Syrian casualties there were from the overnight attacks, which targeted positions in southern and central Syria, including around the capital, Damascus. Russia was reportedly given warning of the strikes.
Israel has repeatedly stated it will not accept a permanent Iranian foothold in Syria, where Tehran's forces are fighting in support of President Bashar al-Assad. Israeli leaders have avoided becoming too embroiled in the seven-year civil war across the border, but have launched more than 100 attacks in the country over the years.
Though most have targeted Iranian weapons shipments destined for the Lebanese militant group Hezbollah, recent months have seen an uptick in direct attacks on Iranian bases and personnel. Victory for Assad's forces looks inevitable, and Israeli leaders fear that increased stability in Syria will allow Iran to cement its military presence.
This week's attacks are the latest in a series of suspected Israeli airstrikes on Iranian positions in Syria this year. Iran had already vowed retaliation for an attack in April on the T4 air base near Homs, in which seven Iranians—including the commander of a drone unit—were killed.
Israel warned Syria not to hit back following last night's attacks. IDF spokesman Lieutenant Colonel Jonathan Conricus noted that Israeli forces are on "very high alert" in case of retaliation. "Should there be another Iranian attack, we will be prepared for it," he said. Conricus believes the strikes will have significantly degraded Iran's ability to target Israel, noting, "It will take substantial time for the Iranians to replenish these systems."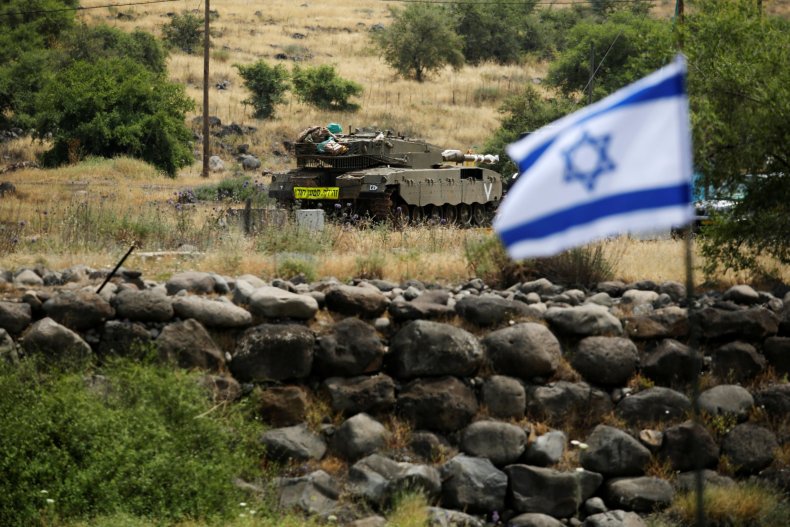 A U.S. State Department official told The Times of Israel, "We stand with Israel in the fight against Iran's malign activities and we strongly support Israel's sovereign right to defend itself."
It is not yet clear how recent developments will change U.S. strategy in the region. There have been suggestions that Iran might respond to the failure of the nuclear deal by launching attacks on the U.S. and its allies via proxy forces in the region, whether in Syria, Iraq, Yemen or Lebanon.
Thousands of American troops are deployed in Iraq and Syria, where Iran has significant influence. During the U.S. occupation of Iraq following the 2003 invasion, there were allegations that Iran was funding and arming the Iraqi insurgent groups that were attacking U.S. troops.
Upon withdrawing from the nuclear deal, Trump reportedly ordered the U.S. military to prepare plans to meet "all possible modes of Iranian aggression against the United States, our allies and our partners."