On a balmy September 28, Sen. Lindsey Graham went golfing with President Donald Trump at the president's private golf club in Sterling, Virginia, about 30 miles outside Washington D.C.
As they played the tree-studded course on the banks of the Potomac River, Graham assured Trump that Senate Republicans had his back on the formal impeachment inquiry underway in the House. But Graham's principal message that day focused on Iran—namely the need to punish the Islamic Republic militarily for what Trump and many others believe was its drone-and-cruise-missile attack on two major Saudi Arabian oil facilities two weeks earlier.
"Make Iran pay a price," Graham, appearing the next day on CBS's Face the Nation, recalled urging Trump. The South Carolina Republican said he also told the president that his last-minute orders in June to call off a planned attack in retaliation for Iran's downing of an American drone had failed to moderate Iran's behavior. "You had a measured response when they shot down the drone. It didn't work, Mr. President," Graham told Trump. "They're running wild, the Iranians. Put 'em back in a box."
So far, Trump has held his fire, wary of igniting a much wider Middle East war that some supporters warn could sink his chances for reelection. But analysts say the region is headed for a major conflagration despite the president's restraint. Here's why: Ever since last year, when Trump quit a 2015 nuclear accord that he castigated as a "bad deal," he has bludgeoned Iran with sanctions that have drastically reduced its oil exports, sending both inflation and unemployment soaring. With characteristic bluster, Trump predicts his so-called "maximum pressure" policy will force Tehran to return to the negotiating table, where it will have no choice but to swallow tighter controls on its nuclear and regional ambitions.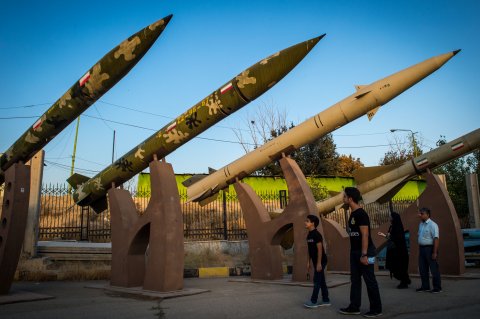 But despite its economic hardships, Iran has responded with its own campaign of maximum defiance. Tehran's campaign has included the harassment and seizure of oil tankers near the Persian Gulf, a halt to its compliance with some provisions of the 2015 accord, Iran's downing of the U.S. drone, and most recently, the attack on Saudi oil facilities, a dramatic escalation that has taken 5 percent of the world's oil supplies off the market in one fell swoop. "If one day they want to prevent the export of Iran's oil, then no oil will be exported from the Persian Gulf," warned Iranian President Hassan Rouhani.
Middle East experts fear that as long as Trump maintains his crippling sanctions, the U.S. and Iran will remain locked in an escalatory cycle that will lead to a major military confrontation.
"President Trump has shown he's a national security minimalist who is not likely to rush into a war," Ryan Crocker, a former U.S. ambassador to Lebanon, Syria, Iraq, Kuwait, Afghanistan and Pakistan, told Newsweek. "The problem is that he and his team are pursuing a maximalist sanctions policy that the Iranians interpret as a policy of regime change. So they're going to be inclined to deliver a maximalist response that the president isn't prepared to deal with."
"Tear off an arm or a leg"
According to Patrick Theros, a former U.S. ambassador to Qatar, Iran's campaign of defiance is based on a two-decade-old strategic assessment that it cannot stop U.S. naval forces from securing the Straits of Hormuz, the narrow channel controlling the sea lanes in and out of the Persian Gulf; nor can it prevent U.S. airstrikes from destroying the country's vital infrastructure. So, Theros says, Tehran devised a strategy that would hurt the United States by targeting the world economy's dependence on Persian Gulf oil and gas. Starting around 1990, Theros says, Iran built up its missiles and amphibious forces so it could destroy the oil production and export facilities of Saudi Arabia, Qatar, the United Arab Emirates and Kuwait, all members of the pro-American Gulf Cooperation Council, or GCC.
"Sometime in 2006, Iran briefed the GCC on its capabilities and told the Arab states to go tell the Americans that if the U.S. attacked Iran, Iran would respond by taking out twenty percent of the world's internationally traded oil and gas export capacity," Theros said in a September 24 commentary published on the website of the Gulf International Forum, a Washington-based think tank where he serves as a strategic adviser. The Iranians, he said, would employ this strategy only in extreme circumstances—much like French President Charles de Gaulle who used the same justification for his country's development of nuclear weapons. "France did not need to destroy an existential threat, only to be able to tear off an arm or a leg," Theros quoted de Gaulle as saying.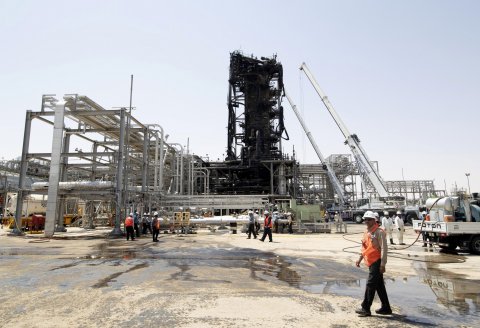 So far, Trump has responded to the downed drone with a cyber attack that hit Iranian systems for monitoring tanker traffic in the Persian Gulf. He also has piled on more economic sanctions and dispatched additional U.S. forces to the region. According to administration officials, Trump favors a second cyber attack in response to the Saudi attack.
During the recent United Nations General Assembly in New York, Trump assured nervous GCC leaders over a private dinner that a U.S. military strike was not under consideration, according to Ian Bremmer, the well-connected president of the Eurasia Group, a political risk consultancy. "The broader question of whether American escalation was likely to follow the recent attacks on Saudi Arabia's oil export capabilities was definitively put to bed," Bremmer told clients in an email. "Trump said he's willing to take a harder line on sanctions with Iran if they refuse to talk, but that he definitely doesn't want war—comments that were well received by pretty much everyone in attendance."
Trump also has defended his reluctance to use force against Iran. "For all of those that say, 'Oh, they should do it; it shows weakness,' actually, in my opinion, it shows strength," he told reporters.
But those sanctions will only provoke Iran to escalate its resistance. "If things continue on this trajectory, some kind of military exchange is inevitable," Ariane Tabatabai, an Iran analyst at the Rand Corporation, a Washington think tank that works closely with the Pentagon, told Newsweek.
Unacceptable Optics
Meanwhile, others have tried to turn the mounting tensions with Iran into a negotiation, but without success.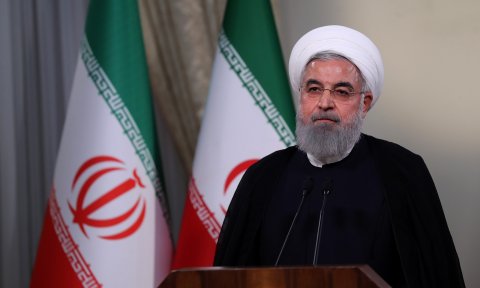 Iranian President Hassan Rouhani.
Iranian Presidency/Handout/Anadolu Agency/Getty
In late August, French President Emmanuel Macron invited Iranian Foreign Minister Javad Zarif to the G7 summit in Biarritz, France, in late August in hopes of arranging a sit-down with Trump. But once there, Zarif refused to meet with him, saying a photo-op was no substitute for substantial negotiations. In September, after another French effort to broker negotiations, Trump reportedly signaled to Tehran his willingness to lift all sanctions, but only after Rouhani had met with him on the sidelines of the U.N. General Assembly and agreed to bilateral negotiations toward a new agreement. That attempt also tanked, this time over Trump's terms—seen by Tehran as both humiliating and disadvantageous.
Rouhani said later on his website that any meeting with Trump before the sanctions were lifted would give the appearance that Iran was negotiating "in the atmosphere of maximum pressure and sanctions," a humiliation Iran refused to accept. Rouhani also said he rejected Trump's demand for bilateral talks, saying Iran was willing to sit down with the Americans as long as they first returned to the 2015 agreement and joined in a meeting that included its other signatories—Britain, China, France, Germany and Russia.
"The optics of [Trump's proposed meeting] were not the kind of optics that would be acceptable to us," Rouhani said on his website.
In response, Trump placed blame for the failed diplomacy on Tehran. "Iran wanted me to lift the sanctions imposed on them in order to meet. I said, of course, NO!"
Despite these failures, French officials say they will continue to try to broker a meeting between Trump and Rouhani. And diplomatic sources say the rising threat of a Persian Gulf war has prompted the Gulf states, Russia, China, the European Union and India to consider new security arrangements for the Persian Gulf that do not rely on the U.S. "The alternative is a major conflict in the Gulf," one official told Politico.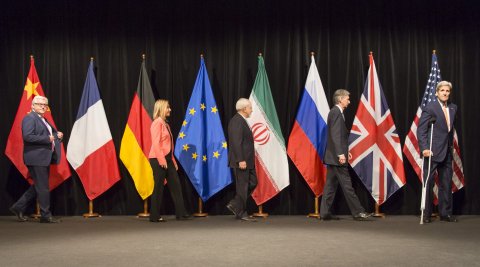 Some analysts who follow Iran say that despite the failed diplomacy at the United Nations, both Trump and Rouhani remain interested in talking, and that the principal obstacle to U.S.-Iran negotiations now appears to be a matter of sequencing.
But others point out that Rouhani's room for diplomatic maneuver is severely constrained by Iranians' anger toward the U.S. over the sanctions, and by hardliners—including Iran's Supreme Leader Ayatollah Ali Khamenei—who deeply distrust the U.S. and would pounce on Rouhani for humiliating Iran, were he to agree to meet with Trump bilaterally before sanctions were lifted.
These analysts also note that despite the pain caused by the sanctions on Iran's oil sales, the country's economy is nowhere near collapse, as Trump and his aides have repeatedly predicted. According to Esfandyar Batmanghelidj, an economist and publisher of the London-based business journal Bourse & Bazaar, Iran has a diversified economy that includes a large non-oil industrial base, significant trade with neighboring countries and an expertise in smuggling honed over 40 years of various U.S. and international sanctions.
"The economy is much more resilient than Washington would have us believe," Batmanghelidj said in a telephone interview, adding this resilience has given Rouhani more leeway to escalate Iran's responses to Trump's sanctions.
Meanwhile, Trump appears in no mood to lift the sanctions before he gets a meeting and a photo op with Rouhani.
No Carrots, Only Sticks
The intensifying stand-off between Washington and Tehran does not bode well for peace in the Middle East, independent experts and former officials say.
The Rand Corporation's Tabatabai worries that Trump's policy of maximum pressure is devoid of any incentives to mitigate the risk of war.
"There's a reason why sticks and carrots go together in diplomacy," she said. "You need to show that you're willing to put some carrots on the table if the other side changes its behavior. Right now, that's not the case. From Iran's perspective, regardless of its compliance with the nuclear accord, it ends up with the sticks. So it might as well not comply."
Jarrett Blanc, a former senior State Department official, says Trump's sanctions-based policy toward Iran is a recipe for war. "The Iranians have demonstrated an alarmingly high risk tolerance in their recent actions," he said in an interview, referring to their downing of the U.S. drone and the strike on Saudi oil facilities. "I'm worried they might cross a line with the United States that leads to conflict."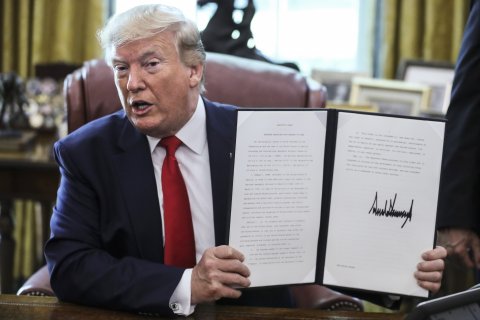 Blanc, who oversaw implementation of the 2015 nuclear accord, also said such a conflict would be hard to contain. "The Iranians have partners across the Middle East," he said, alluding to Iranian-trained, equipped and supported Shiite militias in Lebanon, Syria and Iraq. "If the Iranians feel threatened by our overwhelming military superiority, they're going to use their asymmetrical assets to respond. And that means the conflict spreads across the region."
Any outbreak of war between the U.S.and Iran would put the three European signatories to the nuclear accord in a difficult position. On one hand, France, Germany and Britain are among America's closest allies and, under different circumstances, could be expected to weigh in militarily on the U.S. side. On the other hand, a precedent of allied opposition to U.S. policy was established in 2003, when France and Germany refused to join U.S. forces in the invasion of Iraq.
In the case of Iran, the Europeans also opposed Trump's withdrawal from the 2015 nuclear accord and even developed a financial mechanism that would allow Iran to get around some sanctions, although U.S. threats have prevented any transactions so far. Still, in a possible sign of another refusal to fight alongside the Americans against Iran, France and Germany have not joined a nascent U.S-led. coalition to ensure freedom of navigation in the Persian Gulf.
Echoes of Pearl Harbor
Some observers compare Trump's maximum pressure campaign against Iran to President Franklin D. Roosevelt's embargo on oil and rubber sales to Japan in the 1930s in a move to halt its expansionism in East Asia. As with Iran, the sanctions stiffened Japan's resolve to resist U.S. interference in regional affairs. To defend its position as a major Asian power, Japan eventually attacked the U.S. Navy base at Pearl Harbor, drawing the United States into World War II.
Chas Freeman, a former U.S. ambassador to Saudi Arabia and a student of diplomatic history, called Iran's escalating campaign of provocations against Trump's sanctions a "very clear warning of what we know from past history, namely that if you corner a country, even if it's not your military equal, at some point, you pay a price for that. At some point, you get attacked."
Citing the example of Pearl Harbor, Freeman noted the U.S. employed what is now called maximum pressure against Japan.
"They saw it as an existential threat, and they responded," he said in an interview. "Maximum pressure, it turns out, does not confer immunity from consequences."